Newsletter: GL Announces Enhanced PacketScanWeb™ Software
(Real-time Network Monitoring System for VoIP Networks)
Welcome to a August, 2010 issue of GL Communications' newsletter providing information and insight into our enhanced PacketScanWeb™ software - A real-time network monitoring system for VoIP networks.
Overview
PacketScanWeb™ along with GL's PacketScan™, Listener, and Oracle database, provide the essential elements for a centralized packet monitoring system. PacketScan™ is a powerful tool that captures live IP traffic, and segregates into SIP, H323, Megaco, or MGCP type calls. Hundreds to thousands of calls can be monitored in real-time including detailed analysis of selected voice band streams.
PacketScanWeb™ is a network monitoring extension of PacketScan™, wherein multiple PacketScan's monitor and provide statistics to a central database. With PacketScanWeb™, users can assess in real-time various network wide statistics using a simple web based interface.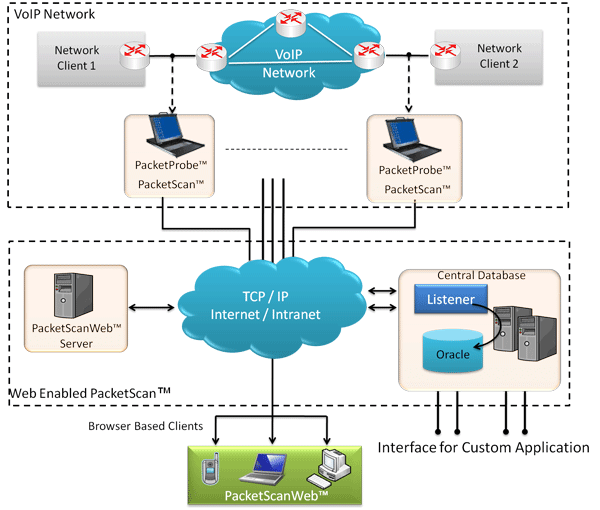 Architecture
PacketScanWeb™ has three-tier architecture. Each PacketScan™ probe in layer 1 captures and transmits measurements and statistics to the central database. This second layer provides a means for storing the captured statistics. The third layer is the Application Server, where the data presentation logic is contained.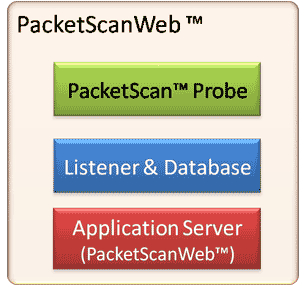 Using the Application Server
Using any browser-capable-device, you can access the results from anywhere in the world. The Real-time data consisting of details of all calls captured or measured by various PacketScan™ probes are be displayed.
PacketScanWeb™ provides various statistics such as, Probe Name, Calling/Called Number, Start Time, Call Duration, Session Request Delay (ms), Session Disconnect Delay (ms), Originating IP Address, and Destination IP Address.
Call Detail Records
Call detail records can be displayed based on time filter or record index and have an option to export into PDF form. Each Call detail is depicted by message sequence which gives ladder diagram of the call flow between the Called and the Calling numbers.
A pictorial representation of Call Flow is shown below.
Graphs & Reports
Reports view provides an overall summary of the captured packet traffic over the entire network with the help of useful graphs such as Call Volume Display, Call Failure Cause, Session Request Delay (SRD), Listening and Conversational MOS Display.
A pictorial representation of Reports view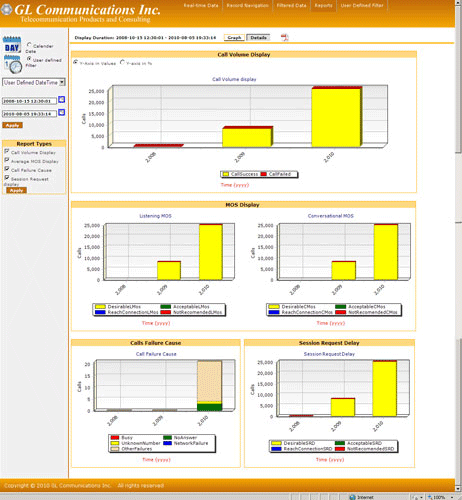 Important New Features
Ability to Export both Reports view(Graphical) and tabular view into PDF


Custom Paging with options like Previous, Next, First, Last and user defined page for navigation of records


Check option to generate all/selected kinds of reports at a glance


Display of records with an option to select Time filter like calendar day or user defined filter
Other Features Include
Accessible remotely via browser based clients


Multi-user support, and user-friendly interface


Database stores the real-time and historic data collected


Supports interfacing with Oracle database


Provides database query methods to gather status, statistics, events & query results


Results are displayed both in tabular and graphical formats


Provides call details such as Call Graph, Frame Summary and Frame Decodes


Custom Filters (Day, Time, Called/Calling Number, Probe, Payload, Duration…)
For comprehensive information on the application, please visit PacketScanWeb™ web page.

Back to Latest News Page