Newsletter: GL Releases Enhanced PacketScan™
IP and VoIP Analyzer Software
Welcome to an August 2009 issue of GL Communicationsí Newsletter providing information on the latest enhancements introduced to our PacketScan™ software.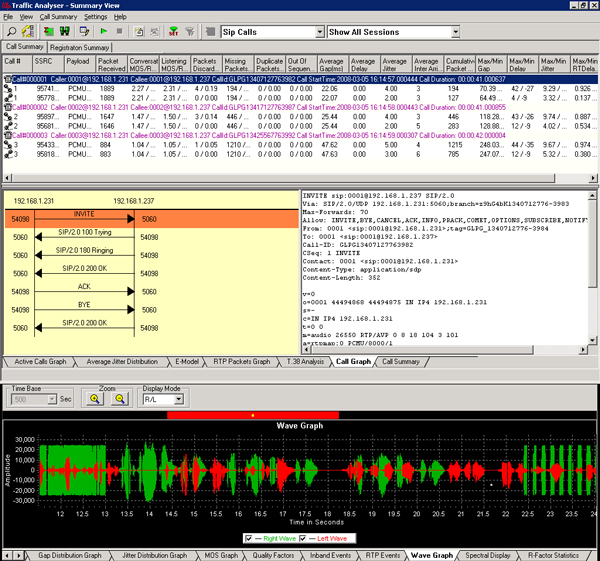 Overview
GL's PacketScan™ is a real-time IP and VoIP analyzer that non-intrusively analyzes and captures live IP traffic, and segregates them into SIP / H323 / Megaco / MGCP calls. It also collects statistics, CDRs, detailed protocol traces, ladder diagrams, and a host of other useful information about VoIP calls. Applications include monitoring of IP phones, Gateways, IP Routers, Switches, and Proxies. Its real-time nature makes it an outstanding tool for live monitoring of VoIP traffic as well as long-term traffic statistics gathering.
PacketScan™ can also monitor, report, analyze, and capture calls for infinite time, limited only by the finite space of your hard disk or network hard drive!
Summary of the New Features
Performance

PacketScan™ breaks ground with high density performance. It can now handle up to 1300 simultaneous calls with bi-directional RTP traffic.

MEGACO Calls Summary

MEGACO is a media gateway control protocol, which is used between Media Gateway and Media Gateway Controller (Call Agent). Megaco/H.248 uses a series of commands to manipulate terminations and contexts using events, signals and other descriptors. PacketScan™ has been enhanced to provide a summary of MEGACO calls. Calls are classified as active, completed, or failed.


MEGACO Call Summary

Summary of each call contains signaling information such as Physical Termination, Ephemeral Termination, Context ID, Call Start Time, Call Duration and information about media sessions associated with it. Media sessions provide detailed information such as codec used, MoS and R-Factor scores, jitter, delay, total number of packets received, missing, duplicate and out of order packets counts and percentage.

Call Graph

Ladder diagrams displays protocol message sequences. They also display the decoded information of the selected message as shown in the above diagram.

MEGACO Statistics

MEGACO Statistics provides all possible statistics about MEGACO calls in the network such as total, active, completed and failed calls. It also provides the total number of MEGACO Add, Modify, Subtract, AuditValue, and Audit Capability message counters. These counters are updated in real time.

Registration Summary

In PDA Summary View the user can see a detail summary for all registration request (SIP) attempts. Each registration summary contains information such as User Agent being registered, Registrar Address, current status of the registration, registered time, registered duration, expiry time and remaining time. The below diagram provides the details of registration summary.


Registration Summary

Registration Graph

Displays ladder diagram for the selected registration attempt. It also displays the decoded information for the selected SIP message on the ladder diagram as shown in the above diagram.

Registration Statistics

The registration information includes counters for total, active, completed and failed registration attempts. And also counters for total registration and de-registration frames.

Active Registration Graph

This graph displays the total number of active registrations over a period of time.

Triggers and Actions

In Triggers and Actions, there is addition to the list of call parameters to add more feasibility to filter the calls. The following call parameters have been added.

Session Request Delay
Session Disconnect Delay
SIP Error Codes
Failed Calls
Call Duration
Incomplete Calls
Other Features Include:
Monitor progress of up to 1300 simultaneous calls with bidirectional RTP traffic

Supported protocols - SIP (SIP Session Initiation Protocol RFC 2543 and RFC 3261), Megaco RFC 3525, Megaco RFC 3015, MGCP, H323/H225, and RTP

Supports decoding of MAC, IP, SIP, UDP, TCP, RTP, RTCP, T.38 (Fax over IP), and SMPP

Call capturing based on call agents or triggered actions such as MOS, R-factor, jitter, packet loss, duplicate packets, or called / calling numbers (SIP/H323)

Full RTP Analysis with audio capture/playback supported for all common codecs
For comprehensive information on the analyzer, please refer to PacketScan™ web page.

Back to Latest News Page