Newsletter: GL Announces Enhanced
Packet Test Tools
Welcome to another February 2009 issue of GL's Newsletter providing information on enhancements introduced to our powerful Packet Test Tools: PacketScan™ , PacketCheck™ , RTP Toolbox™ and PacketGen™.
PacketScan™
GL's powerful and in-depth packet analyzer and packet probe - PacketScan™ with VoIP Protocol Analysis (VPA) and Traffic Analyzer (TA) has now been enhanced with the following new features:
Call Graph: The application has been enhanced with addition of the call graph and T.38 ladder diagram display. Now the user can decode T.38 frames received over VoIP calls and can have ladder diagram for T.38 traffic flow.






SMPP (Short Message Peer to Peer) protocol support: The application has been added with the supported decode of SMPP protocol.


Dynamic Payload Map Table: Now Payload Map Table contains all supported codecs (both static and dynamic payloads). This helps in setting payload type number for all codecs for auto detected traffic.
PacketScan™ can also monitor, report, analyze, and capture VoIP calls (SIP, H323, Megaco, MGCP) for infinite time, limited only by the finite space of your hard disk or network hard drive!
Some of the other features include:
Monitor progress of up to 500+ simultaneous calls with bidirectional RTP traffic


Supported protocols - SIP (SIP Session Initiation Protocol -2543 and -3261), Megaco3525, Megaco3015, MGCP, H323/H225, and RTP


Supports decoding of MAC, IP, SIP, UDP, TCP, RTP, RTCP, T.38 (Fax over IP), and SMPP


Call capturing based on call agents or trigger actions such as MOS, R-factor, jitter, packet loss, duplicate packets, or called / calling numbers (SIP/H323)


Full RTP Analysis with audio capture/playback supported for all common codecs
For comprehensive information on the product, please refer to PacketScan™ web page.
PacketCheck™
GL's newest PacketCheck™ is a PC based Ethernet test tool that is designed to check frame transport ability and throughput parameters of Ethernet and IP networks. It can be used as a general purpose Ethernet performance analysis tool for 10Mbps, 100Mbps and 1Gbps Ethernet local area networks
Some of the other features include:
Test Ethernet traffic of up to 500Mbps bandwidth


Generate full duplex IP, UDP, or Ethernet frame traffic to transmit and /or receive traffic on any of the three layers (Data Link/Network layer/Transport) with on-demand bandwith


Bit-error-rate testing (BERT) on layer 2, layer 3, and layer 4 with detailed runtime statistics for both Tx and Rx


Customizable 2 bytes test pattern


Supports end-to-end (Tx and Rx) performance statistics monitoring
For comprehensive information on the product, please refer to PacketCheck™ web page.
RTP ToolBox™
GL's RTP Toolbox™ is the most comprehensive tester of Gateways, ATAs, and other voice signal processing functions in VoIP networks. The application has been enhanced with the following new features:
If there is no NAT address or not specified, now the address can be specified "0.0.0.0" as default NAT address. Supported NAT address in both RTB GUI and CLI


For G711 appendix 2, now the user can generate both power and spectral information for SID packets


There is a feature now to solve payload mismatch in Profiles
Some of the other features include:
Testing and developing enhanced voice features (VAD, Echo Cancellation, Codec, Digit Regeneration, Digit Generation, Fax over IP, Jitter Implementation etc) within end-user equipment (IP Phones, ATA, MTA etc)


End-to-End network testing before and during VoIP deployment


Testing media gateway telephony interfaces


Voice Quality Testing in VoIP


Automated testing of Digital Signal Processing embedded into network elements
For comprehensive information on the product, please refer to RTP ToolBox™ web page.
PacketGen™
The product is based on a distributed architecture, wherein SIP and RTP software cores can be modularly stacked in one or many PCs to create a scalable high capacity test system.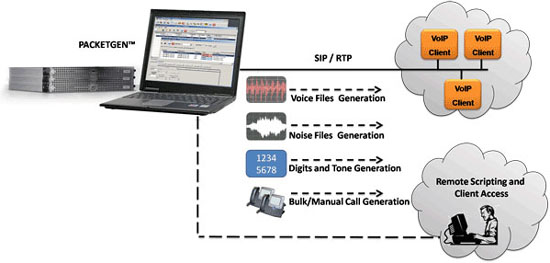 The application has been enhanced with the following new features:
New Codec Support with an enhanced script editor

New codec support EVRC and EVRCB with Silence Suppression and G.711 App II has been added. And RTP script editor has been added with new feature Define User Tone. The feature help user define multiple tones before monitoring receive tone action. The 'Tone Label' helps in identifying the type of tone detected. The user can trigger some actions like IVR application based on the tone detected.

Reliable Provisional Responses (RPR)

Now we can send reliable provisional responses and we can start early media actions. We have two options in Reliable Provisional Responses Viz: Required and Supported. Below diagram shows a SIP call flow with RPR's and early media.




Digit Detection Qualifications

We support both Time and Power qualifications for digit detection. The detected digit's On time or power MUST be >= to the value set by user for the digit to be detected.

Option to turn on/off sending outband digits information in signaling

This new option allows user to decide whether to send outbound digit codec information in the SIP signaling. If option is true, then the RFC 2833 codec will be included in the m= line of the outgoing SDP (either in an outgoing INVITE or in an outgoing 200 OK in response to INVITE). Also, corresponding a=rtpmap and a=fmtp attribute lines are added.

The new command has been added to control the outbound info as in GUI. This option helps user control sending/detecting of outbound digit codec in the SIP signaling. If the option is set to 'true' then PacketGenTM can detect Outbound digits. If the option is set to 'false' the application cannot detect outbound digits.
Significant Enhancements:
RTP Script Editor Changes

Script Editor has been enhanced with Monitor Tone option that help user to detect single/dual frequency of tones. And NAT Address option has been modified so that the PacketGen™ application is configured to send only NAT Address in a contact header while sending any request.

Command Line Interpreter

New command line has been added to set/reset the required or supported flag. It has also been modified to read the G726 Packing Type from the User Agent configuration automatically.

Option to set EVRC Packing Format (Using INI File)

The application supports both LSB and MSB packing for EVRC payload. User can choose his value by editing the appropriate (RTPConfig.ini) file.

UA Configuration

G726 packing type has been moved from SIP Call parameters to Media parameters. G726 codec options dialog now displays the Packing Type. Default value is set to RTP.
For comprehensive information on the product, please refer to PacketGen™ web page.

Back to Latest News Page