Newsletter: GL Announces Enhanced SS7
Network Monitoring
Welcome to another January, 2010 issue of GL Communications' newsletter providing information on our Enhanced SS7 Network Monitoring System.
Overview
The SS7 network is the backbone for fast and efficient signaling irrespective of network type - whether wireless, wired, or VoIP. Also, the inherent database features of SS7 make today's advanced intelligent features and services a reality.
To keep pace with this evolution, GL has enhanced its SS7 monitoring and diagnostic system. Not only can it be used for billing verification, remote protocol analysis, and traffic engineering, but now it can also provide key performance indicators, failure analysis, and call trace capability, to name a few.
GL's SS7 (and ISDN) Network Monitoring System uses an open three tier distributed architecture driven by non-intrusive hardware probes, intelligent software, and a database engine. The system can assist the network operator, service provider, or equipment manufacturer in performing surveillance and monitoring tasks remotely, automatically, and non-intrusively.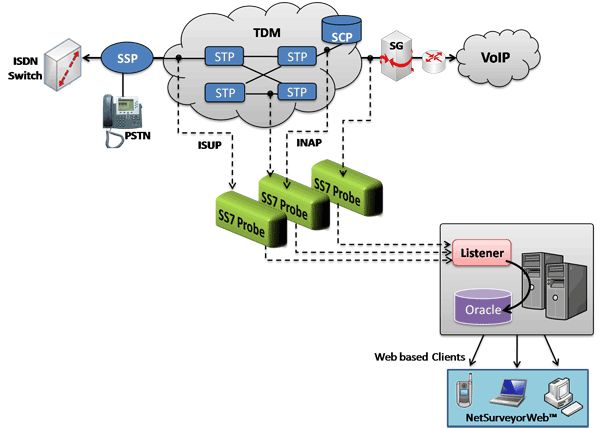 Important elements of the Enhanced SS7 Network Monitoring System are:
T1 / E1 Hardware probes: gather signaling details non-intrusively and forwards call detail records (CDRs) and statistics to a central database


Central Database: stores the data collected by the probes. Records are stored into a relational database (Oracle, DB2, Sybase) using ODBC. This provides a user friendly interface to query and display database custom records


WebServer: Provides real-time and historic views of the data through various 'browser based' clients


NetsurveyorWeb™: The NetSurveyor™ is a user-friendly web-based client which accesses results provided by the GL SS7 an ISDN signaling probes via a web server. As depicted in the screenshots below, one can view real-time and historic data including call ID, probe name/location, call disposition, called and called number, and call duration. Also available is the ability to filter the call records using a variety of filtering mechanisms including time/date, called/calling numbers, SS7 OPC/DPC codes.
The screenshot below depicts a typical Netsurveyor™ user interface.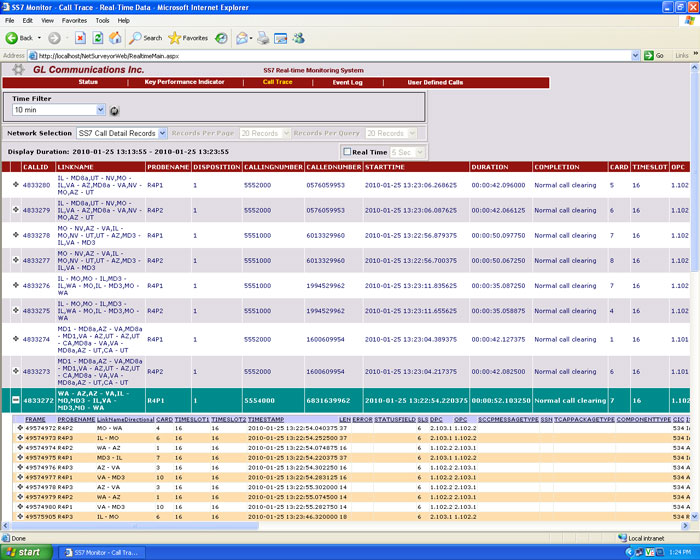 Key Features:
T1 / E1 Probes non-intrusively monitor physical lines of the network


The probes connect via TCP/IP to ODBC compliant real-time database loader


Only precise and filtered data (user selectable) is collected into the centralized database


Users can log into the central system locally or remotely to view the collected data


Users view the collected data for different purposes like Troubleshooting, Call Detailed Records, Traffic Monitoring, Quality of Service, etc


Modular and distributed architecture is capable of theoretically 'infinite capacity'


Interface between the probes and the database is well defined and is called "Listener". Listener is located at the central site and is responsible for listening to the streaming data from probes and entering into the database (usually Oracle)


Listener is modifiable and supportable with MySQL.
Important Applications:
Call Detail Records, fraud detection and location, remote protocol analysis and troubleshooting, real-time signaling monitor, traffic optimization engineering, statistics


Determine actual call signaling routes to verify network functionality under all situations including congestion and loss of SS7 nodes


Revenue and billing verification, alarm monitoring, intrusive testing


Quality of service measurements, call trace and recording
For comprehensive information on the application, please visit Netsurveyor™ web page.

Back to Latest News Page