Press Release: GL Announces Dual UTA
Gaithersburg, Maryland, USA - May 7, 2009 - GL Communications Inc., announced today the release of their new Dual Universal Telephony Adapter (Dual UTA) product. Announcing the news to the press, Mr. Matt Yost, Manager at GL said, " Our new Dual UTA is a versatile hardware/software device designed to interface to a variety of subscriber units including: 2-wire Analog Phones, Mobile Phones, Bluetooth™ Phones/Devices, Military Radios, VoIP phones, and 4-wire handsets". He added, 'Used in conjunction with GL's VQuad™ software, the Dual UTA simplifies end to end testing of voice quality, echo, noise, and other impairments of TDM, VoIP, and Wireless networks. A GPS sync port permits precise synchronization of sending and receiving audio functions, one-way delay (OWD), and round trip delay (RTD) ".
Mr. Yost further added, "The Dual UTA as the name implies provides two sides with identical functionality: Side 1 and Side 2. These sides are completely independent of each other so interfacing with endpoints of a single network or interfacing with two completely separate networks are practical scenarios".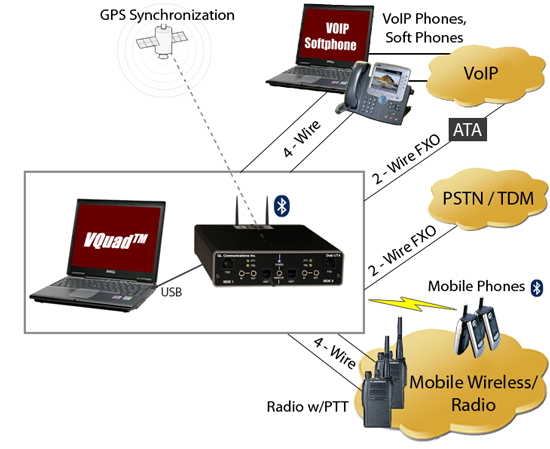 The unit provides the following hardware interfaces:
Mobile Phones



Bluetooth™ - Works with all Bluetooth™ phones for both call control and send/record audio functions
Audio Headset Jack - 2.5mm (typical)



Mobile Radios with Push-to-Talk functionality: Provides radio keying and sends/records audio


RJ-11 POTS lines: Detect dial tone, go off hook, CallerID detection, send digits (two stage dialing), answer calls, detect a variety of Special Information Tones (SIT), and much more as well as send/record audio for Voice Quality measurement


Handset Phones: Replaces handset of any telephone (POTS, Digital, VoIP) that contains a coiled cord and handset


Balanced I/O for connecting to a VoIP Softphone, Head and Torso Simulator (HATS), or any device supporting audio. Send/Record audio for Voice Quality measurements
Important Applications:
Send/Record audio for Voice Quality Testing on all telecom networks including WideBand 16k Samples/sec


One-way delay (OWD) measurements - collocated or geographically separated


Network Round Trip Delay (RTD) measurements - collocated or geographically separated


Echo measurement and analysis


Acoustic echo canceller testing


Automatic control of Push-to-talk phones/radios - key/unkey radio
For comprehensive information on the product, please refer to Dual Universal Telephony Adapter (Dual UTA) as well as VQuad™ and Complete VQT Solutions web pages.
About GL Communications Inc
Founded in 1986, GL Communications Inc. is a leading supplier of test, monitoring, and analysis equipment for TDM, Wireless, IP and VoIP networks. Unlike conventional test equipment, GL's test platforms provide visualization, capture, storage, and convenient features like portability, remotability, and scripting.
GL's TDM Analysis & Emulation line of products includes T1, E1, T3, E3, OC-3, STM-1, analog four-wire, and analog two-wire interface cards, external portable pods, and complete system solutions. Capabilities include voiceband traffic analysis and emulation across all traffic types (voice, digits, tones, fax, modem), all protocols (ISDN, SS7, GR-303, Frame Relay, HDLC, V5.X, ATM, GSM, GPRS, etc.), and with capacities up to thousands of channels.
GL's VoIP products generate / analyze thousands of calls simultaneously with traffic types such as voice files, digits, video, tones, noise, and fax using G.711, G.729, AMR, EVRC, GSM and a range of other codecs. Additional features include visual analysis, real-time listening, and recording. The product line also includes a Software Ethernet Testing capability that checks frame transport and throughput parameters of Ethernet and IP networks.
GL's Voice Quality Testing (VQT) product line complements all of GL's products. Using ITU-standard algorithms (PAMS, PSQM, and PESQ), GL's VQT provides a widely excepted solution across the telecom industry. Voice Quality Testing across multiple networks (T1, E1, T3, E3, OC-3, VoIP, Wireless, and Landline) are all available.
GL's Wireless Products perform protocol analysis and voice quality assessment on GSM, CDMA and UMTS networks. Connections can be made to any wireless phone with automated call control, GPS mapping and real-time signal measurements.
GL's Echo Canceller testing solutions provide the broadest range of simulation and analysis, including compliance testing per G.168 and G.160 across TDM, IP, VoIP and Wireless networks. GL's wirelss VQT solutions help assessing impairments to voice quality such as poor mobile phone quality, voice compression and decompression algorithms, delay, loss and gain in speech levels, noise, acoustic and landline echo, and other distortions are easily assessed and accurately measured.
GL's Handheld data testers can test a wide variety of communications facilities and equipment including T1, fractional T1, E1, fractional E1, T3 and E3 modems, multiplexers, CSU, DSUs, T1 CSUs, DTUs, NTUs and TIUs and more. The testers provide convenience, economy, and portability for almost any interface, including RS232, RS-422, RS-530, X.21, T1, E1, T3, E3, and many others.
GL's Network Surveillance and Monitoring products include Probes for TDM, IP, VoIP, ATM, and Wireless networks. An open standards based approach provides a scalable, feature rich, real-time access to network intelligence. Centralized or distributed access, efficient transport and database loading allow compatibility with 3rd party and standards based monitoring systems.
For more information about GL's complete line of products,
Contact:

Shelley Sharma
Phone: 301-670-4784 ext. 114
E-mail: info@gl.com

Back to Press Releases Index Page