Newsletter: GL Releases Dual Universal Telephony Adaptor
(Dual UTA)
Welcome to an April issue of GL Communications' Newsletter providing information and insight into our products. We introduce our new Dual Universal Telephony Adapter (Dual UTA) - a versatile hardware/software device designed to interface to a variety of subscriber units including:
2-wire Analog Phones
Mobile Phones
Bluetooth™ Phones/Devices
Military Radios
VoIP phones, and 4-wire handsets
Used in conjunction with GL's VQuad™ software, the Dual UTA simplifies end to end testing of voice quality, echo, noise, and other impairments of TDM, VoIP, and Wireless networks. A GPS sync port permits precise synchronization of sending and receiving audio functions, one-way delay (OWD), and round trip delay (RTD).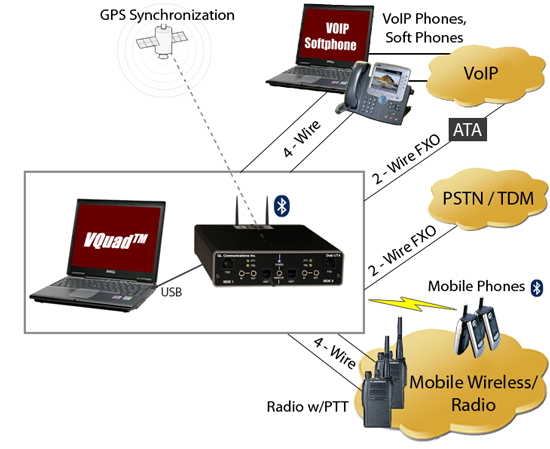 The Dual UTA as the name implies provides two sides with identical functionality: Side 1 and Side 2. These sides are completely independent of each other so interfacing with endpoints of a single network or interfacing with two completely separate networks are practical scenarios.
The unit provides the following hardware interfaces:
Mobile Phones



Bluetooth™ - Works with all Bluetooth™ phones for both call control and send/record audio functions
Audio Headset Jack - 2.5mm (typical)



Mobile Radios with Push-to-Talk functionality: Provides radio keying and sends/records audio


RJ-11 POTS lines: Detect dial tone, go off hook, CallerID detection, send digits (two stage dialing), answer calls, detect a variety of Special Information Tones (SIT), and much more as well as send/record audio for Voice Quality measurement


Handset Phones: Replaces handset of any telephone (POTS, Digital, VoIP) that contains a coiled cord and handset


Balanced I/O for connecting to a VoIP Softphone, Head and Torso Simulator (HATS), or any device supporting audio. Send/Record audio for Voice Quality measurements
Important Applications:
Send/Record audio for Voice Quality Testing on all telecom networks including WideBand 16k Samples/sec


One-way delay (OWD) measurements - collocated or geographically separated


Network Round Trip Delay (RTD) measurements - collocated or geographically separated


Echo measurement and analysis


Acoustic echo canceller testing


Automatic control of Push-to-talk phones/radios - key/unkey radio
For comprehensive information on the product, please refer to Dual Universal Telephony Adapter (Dual UTA) as well as VQuad™ and Complete VQT Solutions web pages.

Back to Latest News Page