DCOSS T3 Solution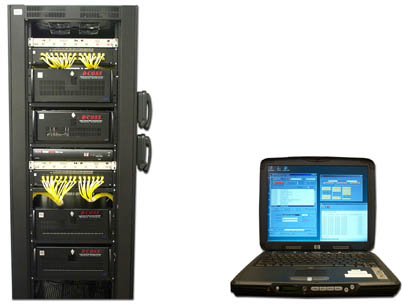 Overview

High-density traffic loading has become an essential testing tool for developing today's Networks and Gateways. Along with loading all DS0's of a complete T3, simulating all types of real-time traffic and providing analysis of the traffic is required.

GL introduces a complete T3 digital Bulk Call/Manual Call emulation system. Using four DCOSS systems, supplying all 56 DS1's, and two T3 Mux's, a fully loaded T3 system can be configured. The entire T3 solution is housed in a single 19' rack and utilizes a single keyboard, mouse and monitor to control all four DCOSS units through a PC switching arrangement. In this configuration, full control of all 672 full-duplex circuits is possible.
Traffic (real-time Voice Calls, Voice Files, Fax Calls, Modem Calls, DTMF/MF digits, and Single-/Dual-Frequency Tones) can be individually assigned to each circuit through Bulk Calling Configurations as well as Bulk Calling Scripting. Each DCOSS call may be tested for continuity, quality, and integrity simultaneously. Two DCOSS units (one with 16 T1 spans, the other with 12 T1 spans with full control of signaling, traffic generation, and traffic detection) are required for fully loading a DS3 line. Thus, four DCOSS units are required for simulating both sides of the DS3 line. In addition, each DCOSS can originate or terminate voice calls from standard telephones. All of the advanced features/functions, available with a single DCOSS, are accessible using the T3 configuration.
Manual calling, including calls generated using analog or BRI phone handsets, is available. Bulk Calling, including Bulk Call scripting and Bulk Call scheduling, for all 1344 DS0's (672 timeslots per T3) is available. Traffic generation on each of the 1344 DS0's can be achieved using Voice Files, Fax Emulation, Modem Emulation, DTMF/MF Digits, and Single-/Dual Frequency Tones.
The four DCOSS systems may be networked together so that a single DCOSS Remote Client can very easily control both sides of the entire T3 configuration (all four DCOSS systems). Also, a single PC station can control all four DCOSS systems using a PC controller switch (switching monitor, keyboard, and mouse).
DCOSS T3 Emulation Main Features:
Full T3 loading with individual control (traffic and signaling) of each of the 1344 timeslots.
Bulk Calling and Bulk Call Scheduling.
Traffic Generation including Voice Files, DTMF/MF Digits, Frequency Tones, Fax, and Modem.
Remote Access, using a single DCOSS client, for the entire T3.
Voice Quality Testing using the stand-alone GL VQT tool.
Creating the GL T3 solution, four individual DCOSS systems are required along with a PC Controller Switch. Traffic can be generated from any or all of the DS0's that comprise the entire T3. Using a network connection, a single DCOSS Remote Client can control the entire T3.


Diagram of DCOSS T3 Solution Setup
The DCOSS Remote Client can control all four DCOSS systems using a single GUI. All functions/features, of each of the DCOSS systems, are accessible using this GUI. Also, the DCOSS Client can grab the event/record screens, from each of the DCOSS servers, and display them on the DCOSS client screen.
Displaying all DS0's of the entire T3 and generating single reports that comprise the entire T3 is also available using the DCOSS client. Thus, the DCOSS client provides the essential link for displaying, controlling and reporting the entire T3 as a single system.

Screen Shot of DCOSS Remote Client

Back to Digital Central Office Switch Simulator (DCOSS) Index Page