DCOSS Signaling System 7 (SS7)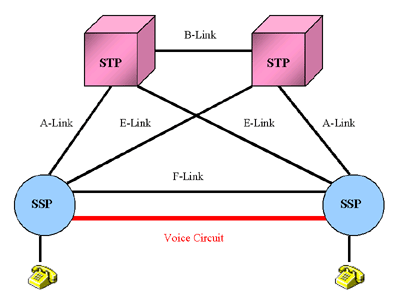 Overview

The Digital Central Office Switch Simulator (DCOSS) offers the Signaling System 7 (SS7) digital protocol. DCOSS SS7 utilizes a user-friendly GUI in which the complex SS7 configuration can easily be created, thus allowing DCOSS SS7 to be fully functional within a few minutes. DCOSS SS7 also incorporates the flexibility to modify SS7 parameters, both at the MTP and ISUP/TUP layers as well as the ISUP/TUP message content. This flexibility ensures that the DCOSS SS7 will communicate with the system under test.
DCOSS SS7 Main Features
All SS7 networks supported.
Build your own SS7 Network with SSP, STP and SCP nodes. Complex STP non-adjacent links supported.
Supports SSP/STP combined nodes for additional flexibility.
User-Friendly GUI for Configuring the SS7 MTP Layers and ISUP/TUP Layers. This includes access to optional MTP/ISUP/TUP parameters such as timers, route masks, and priorities.
4 or 16 Configurable Signaling Links per SS7 board, up to two SS7 boards per DCOSS system.
Supports multiple OPC configuration per SS7 board.
Dual T1/E1 User Defined Interfaces on each SS7 board supports SS7 Signaling Links.
Subsequent Address Message (SAM) configurations available.
TCAP/SCCP functionality supported. Generate a user-defined SCP database. Create a user-defined 800 number or LNP look-up table.
SSP and/or STP Emulation with the capability of Adjacent Routes as well as Non-Adjacent Routes.
Fully Supported Continuity Testing (COT) that includes both COT messages and user-defined loopback tones.
Access to all ISUP and TUP Message Parameters (IAM, ACM, REL, CPG).
User-Friendly GUI for creating the Circuit Mapping. Define Circuit Identification Codes (CIC) and map these CICs to Timeslots/Trunks in order to enable Voice/Data traffic.
Logging of all SS7 Messages in real time. Each SS7 message displays the OPC, DPC and CIC defined within the message.
Save and Load Protocol, Trunk and Dialing Parameters as User Defined Configurations.
Configuring DCOSS SS7 is quite simple, even for the most complex requirements. The DCOSS SS7 utilizes a GUI that provides the user with all required SS7 parameters. These parameters may be saved to the DCOSS database, after modification, for later retrieval.
---
Sample Screenshots

SS7 Configuration

Circuit Mapping

DCOSS SS7 Circuit Continuity

Initial Address Message (IAM)
---
DCOSS SS7 Specifications
SS7 Analysis
If you are looking for GL's SS7 Analysis capabilities, please visit SS7 Analyzer page.
SS7 Board Interface
Two T1/E1 (software selectable) digital trunk interfaces
Two T1 (1.544 Mbps) or two E1 (2.048 Mbps) digital trunk interfaces (software selectable)
On-Board Processors
33 MHz 68EN360 Quad Integrated Communications Controller
(QUICC) with 4 (or 16) MB dynamic RAM
Regulatory Certification
USA and Canada: Complies with FCC Class A
SS7 Standards Compliance
| | |
| --- | --- |
| ITU SS7 | Q.701-Q.704,Q.761-Q.764 |
| ANSI SS7 | ANSI T1.111,113 |
SS7 Signaling
| | |
| --- | --- |
| Available Protocol Layers | MTP1-3, ISUP, TUP (China and ITU), TCAP, SCCP |
| Maximum Links | 4 or 16 |

Back to Digital Central Office Switch Simulator (DCOSS) Index Page