Newsletter: GL Releases Digital Central Office Switch Simulator (DCOSS) Ver 5.2
Welcome to the March issue of GL Communications' Newsletter providing information on latest enhancements introduced to our versatile Digital Central Office Switch Simulator (DCOSS) product - a key analysis and simulation equipment used by telecommunications network engineers. The capabilities are shown below.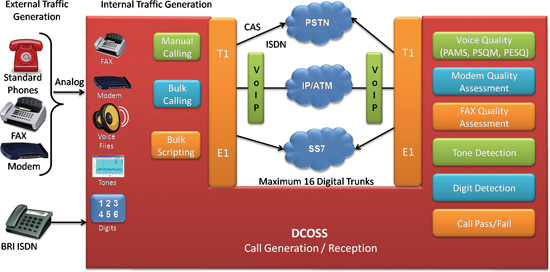 An Overview
DCOSS is ideal for simulating and testing advanced telecom networks/products including switches, gateways, and transmission systems. The DCOSS converts any windows based PC (Windows 2000/XP) into a central office with T1 and/or E1 trunks as well as Analog and/or BRI ISDN phone interfaces. The DCOSS supports a multitude of protocols including SS7 (SSP/STP/SCP), PRI ISDN (all variants supported) and CAS (MFC-R2, E1 CAS, T1 CAS, and SS5). The CAS protocol also provides the versatility of a user-defined State Machine script for simulating any CAS protocol.
The Digital Central Office Switch Simulator (DCOSS) provides carriers and other operators with the ability to test virtually all elements of their networks. In addition, it provides a user-friendly GUI, remote client access (GUI, CLI, SDK), and scripting with which users can capture the performance of networks in a wide variety of scenarios.
New Features & Enhancements Introduced in Latest DCOSS version:
BRI Phone Simulator (BPS)



The BRI Phone Simulator (BPS) converts GL's DCOSS into a BRI ISDN Terminal Phone Simulator. The DCOSS connects to the BRI Phone Simulator (BPS) unit via E1 PRI interface, and outputs eight 2-B/1-D BRI ports. The BPS can simulate a bank of up to 128 BRI telephones (terminal side), each supporting one D-channel and two B-channels.

All functionality currently associated with the DCOSS, including bulk calling, scripting, remote client/server, and traffic generation (Fax, Modem, Voice Files, DTMF/MF Digits, and Frequency Tones) are also fully supported by the DCOSS BPS device.

For more details you can visit: DCOSS BPS webpage.

Enhancements in Scripting

A Traffic Randomizer allows the user to automatically send any traffic (tone, digit, voice files, fax) randomly or sequentially. The Record Voice command through scripts can now include timestamp, trunk/timeslot, called/calling numbers and call id, which facilitates its use with GL's VQT and NetViewer™ applications.

Other enhancements in bulk call scripting includes answering incoming calls with auto busy option, use of wildcards, and rejecting incoming calls based on timeslot, incoming phone number, user specified cause (ISDN/SS7 only), or SIT tone.

CAS State Machine

Commands have been introduced to provide the flexibility in detection and sending capabilities, creating calling procedures, forward/backward tones (for MFC-R2 and E&M scripts), and to send a Flash Hook (either from the GUI or Bulk Call Scripting). Register Tones (Dial Tone, RingBack Tone, Busy Tone) are now modified to be of either single or dual frequencies, and duration. This allows the use of same frequency tones for Busy, Ringback, and Dial Tone.

DCOSS Board Configuration

The Analog Station cards are enhanced with Caller ID and Ring Period features. Caller ID can now be sent to any phone connected to the DCOSS. Ring period functionality permits multiple analog phones to ring immediately with the detection of an incoming call.

Remote Client

The enhanced remote client allows directly streaming audio files to or from the DCOSS to the client remote speakers. Also added is the ability to browse (and view) the directories of the DCOSS server from the DCOSS Client.

Additions in Signaling System 7

Multiple OPC's can be configured within single SS7 board. This allows loopback testing (using a single board) and configuration of both SSP's and STP's simultaneously on a single board. The SS7 IAM Message parameters is added with Information Elements (IE) for incorporating Fax parameters, and TNS (Transit Network Selection) parameter.

Traffic Generation and Reception

The Manual Calling, Bulk Calling, and Bulk Call scripting functions now support Sending/Recording of voice (in 8-bit A-law & µ-law, 16-bit raw & WAV file formats) simultaneously. Also added to Bulk Calling function is auto-disconnect call feature based on time period and ability to manually add/remove trunks during the process.

DCOSS Fax Generation/Reception includes Reset All Fax Sessions feature that helps to reset the Fax licenses forcibly when an abnormal situation occurs.

Other significant changes in GUI



Block / Unblock incoming/outgoing calls from specific timeslots for all protocols (except for R1 Wink and SS7)


Delete Multiple Configurations simultaneously within a single GUI instance


Call ID parameter field is modified to a maximum of FFFF (1,048,575) ID's


Automatic Number Identification (ANI) Digits displays the Called and Calling digits on the Captured Event screen for all outgoing and incoming calls


With the Switch Routing by Called # feature the called/calling number can be changed automatically during a switch call by either adding a prefix/extension or changing any part of the numbers.


MFC-R2 Brazil protocol is enhanced with 'Blocking' on/off feature. This resolves many issues associated with connecting the Brazilian MFC-R2 to a far-end switch.

For more details on the features, you can visit: DCOSS Functions webpage.



Back to Latest News Page