Newsletter: GL Announces the Release of
DCOSS Ver 5.10
Welcome to the February issue of GL Communications' Newsletter providing information about new introductions and enhancements to GL Communications' Digital Central Office Switch Simulator (DCOSS) version 5.10, a key analysis and simulation equipment used by telecommunications network engineers.
The DCOSS equipment is ideal for simulating and testing advanced telecom networks/products including switches, gateways, and transmission systems. It is also used for verifying T1/E1 signaling protocols of new systems. These available protocols include T1/E1 CAS, PRI ISDN, SS7, and SS5. The Digital Central Office Switch Simulator (DCOSS) provides carriers and other operators with the ability to test virtually all elements of their networks. In addition, it provides a user-friendly GUI with which users can capture the performance of networks in wide variety of scenarios as illustrated in the figure below: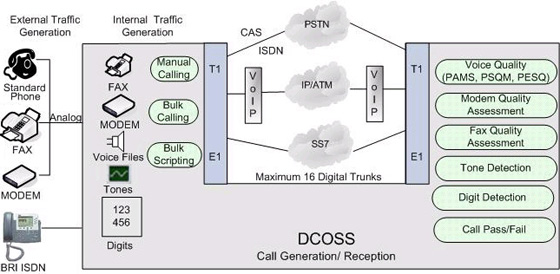 The DCOSS version 5.10 has the following new features and enhancements:
Simultaneous Transmission/Reception of voice files


DCOSS version 5.10 now allows simultaneous transmission/reception of audio data. This new feature is available with Manual Calling, Bulk Calling, and Bulk Call scripting functions.



Remote Client Access


DCOSS Remote Client feature has now been enhanced to allow users to stream audio files currently located on the DCOSS server to the remote clients' speakers. It provides user-friendly interface to explore the directories of the DCOSS server and remote clients, allowing users to easily load or save data at the desired location.



Remote Server Control


DCOSS has been enhanced to support Remote Access Server (RAS) functionality using a Modem. It can be configured to perform RAS functionalities with just a single timeslot or, if desired, the same functions can be configured to utilize up to 96 timeslots simultaneously.



Additions in Signaling System 7


Initial Address Message (IAM) has been enhanced to support Redirecting Number and Redirection Information. Also added is the ability to manually generate CPG messages within an established SS7 call.



Event Logging in Resource Management


DCOSS 5.10 now provides additional logging capabilities by allowing user to automatically capture events to user-defined text files. This information can be saved and later loaded (using Master Configuration) for quick access.



Support for additional Protocols


DCOSS is enhanced to support Australian MFC-R2 as an addition to the E1 MFCR2 protocol variants.



Hardware support


The new additions in the DCOSS hardware are:

DET002 and DET004 (software selectable dual/quad T1/E1 digital trunk boards)
DR040TE (4 link SS7 board with software selectable dual T1/E1 trunks)
DR050TE (16 link SS7 board with software selectable dual T1/E1 trunks)




Boards no longer supported by the DCOSS include:

ISA SS7 board
ISA 8/24 Port Analog Station card
GR-303 board
BRI-U Interface board




Enhancements in Scripting and Switch-routing


The switch routing now includes options for the user to add a prefix, an extension or change the called/calling numbers during a switch call operation as required. Further, the enhanced scripting features in DCOSS allow auto manipulation of the parameters within the script functions.
There have been many other minor enhancements and bug fixes to the DCOSS Version 5.10.



Back to Latest News Page