Press Release: GL Announces Datacom Analyzer/Emulator
Gaithersburg, Maryland, USA - February 1, 2013- GL Communications Inc. announced today the release of its latest tProbe™ Datacom Analyzer/Emulator- a tool that is designed for test and verification of data communications circuits and equipment.
Speaking to reporters, Mr. Jagdish Vadalia a senior manager for product development of the company said, "GL's Datacom Analyzer/Emulator is an optional board available with GL's tProbe™ T1 E1 Analyzer or as a standalone unit. It is designed for test and verification of data communications equipment and circuits - specifically serial interfaces that provide clock, data, and control signals."
He added, "These are commonly encountered in military links, satellite circuits, WAN, and data modem interfaces. Software selectable modes are provided to emulate DTE, DCE and non-intrusive monitoring for both synchronous (sync), and asynchronous (async) modes. Interface standards X.21, V.24, V.35, RS-449, RS-485, EIA-530 and EIA-530A are supported. Also supported are line codings such as Manchester. Various cables are provided for these interfaces to make testing convenient."
Mr. Vadalia further added, "The datacom analyzer supports analyzing HDLC, Frame Relay, and PPP protocols. And it also supports applications: Monitoring of Control Signals and Frequency, Monitoring Multiframe, Record/Playback Applications, Error Insertion, Precision Delay Measurement, Rx to Tx Loopback, and Bit Error Rate Testing."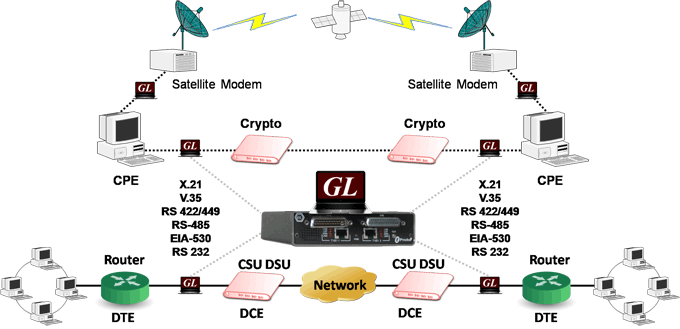 Summary of Main Features
Supported Line interfaces - V.24, V.35, X.21, RS-449, RS-485, EIA-530 and EIA-530A
Sync BER from 300 b/s to 16.384Mbps
Async BER from 300 b/s to 115.2Kbps
DTE or DCE emulation mode
SYNC clock source and sense selection
Frequency measurement
Handshaking signals control and monitoring
Typical Applications
Bi-directional monitoring with Y-adapter cable
Monitor control leads, frequency
DTE/DCE emulation for end-to-end testing of data networks, bi-directional monitoring for a greater level of troubleshooting for data networks
For comprehensive information on the application, please visit tProbe™ Datacom Analyzer application web page.

Back to Press Releases Index Page