Newsletter: GL Announces Wireless Protocol Analysis, Simulation and VQT Products
at CTIA Wireless 2007
Welcome to another March issue of GL Communications' Newsletter providing information and insight into our Wireless Protocol Analysis / simulation and Wireless Voice Quality Testing Products.
Join GL Communications Inc. at booth #4472, Hall B4 at CTIA Wireless 2007! From March 27-29, at Orange County Conference Center in Orlando, Florida, USA, for demonstrations and discussions.
Wireless Protocol Analysis and Simulation
GL has a range of products to support wireless protocol analysis and simulation. They include, CDMA 2000, UMTS, TRAU, GSM, and GPRS Protocol Analyzers, Simulators and Emulators.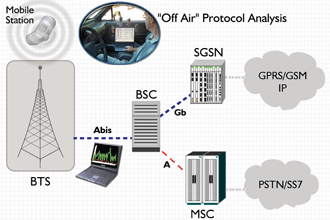 Mobile Voice Quality Testing
Voice Quality Drive Testing

GL's Wireless VQT Drive-Testing platform provides the capability to automatically analyze voice quality of wireless networks on the road, i.e. drive testing.


Important Features


Automated Drive Testing with GPS mapping
Fully portable and self contained
Voice quality per ITU Standards (PESQ)
Round Trip Delay Measurement



The equipment associated with the GL Drive-Test solution can easily be transported within a vehicle… just plug into the cigarette lighter!! (for power) and start the test.

To learn more about the GL's Drive Testing Solutions, please click here

VQuad™ - Voice Quality Testing Across All Networks



GL's VQuad™ makes assessing Voice Quality between and within differing networks easy, portable, and convenient. The system provides all necessary capability for automatic measurement of Voice Quality and QOS for any desired network including VoIP, TDM, Wireless, or Analog.

To learn more about the GL's VQuad™, please click here

Back to Latest News Page