Newsletter: GL Offers Complete Voice Quality Testing Solutions
Welcome to the September Issue of GL Communication's Newsletter.
The three most important features of voice communications are: voice quality, user friendly call control, and cost. The dominant technologies for transporting voice are PSTN (the public switched telephone network), wireless, and VoIP. Service providers and equipment manufacturers must continuously understand and respond to the dynamics of these features and technologies if they wish to compete effectively in today's environment. For example, a service provider or equipment manufacturer may ask himself:
How does voice quality in my network compare to competitive networks and competitive technologies?
How will introducing additional voice compression (for example to increase capacity) affect voice quality?
What codecs should I implement in my ATA to provide high quality voice over VoIP?
How does my VoIP phone compare with others?
How is quality affected when calls are between technologies (landline, wireless, VoIP)?
Where and between what technologies is echo control necessary?
To answer these types of questions (and others that typically arise) requires test and measurement techniques suitable for all technologies in convenient and portable platforms. Shown below are GL's complete answer to test and measurement of voice quality across all three major technologies:
---
Depiction of Voice Quality Testing across VoIP, PSTN, and Wireless Networks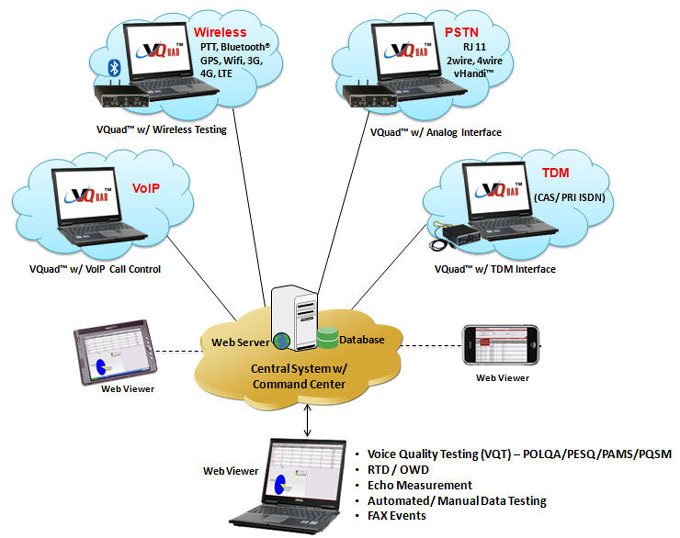 Important elements of the above complete solution are:
Test any type of network
Some Unique Features
Mobile interfaces are GPS based for location logging and time triggering of calls
Portability for drive testing
Automation and remote control
For a complete discussion and details of the software, please visit the following links, "Complete VQT Solutions" and "Wireless Solutions". We would be happy to consult with you on solutions to your testing needs and we look forward to hearing from you.



Back to Latest News Page