Newsletter: GL Announces Voice Call Management System for TDM & VoIP Networks
Welcome to the June issue of GL Communications' Newsletter providing information and insight into our latest product, Voice Call Management System for TDM and VoIP Networks.
GL's Call Management Utility (CMU) is a powerful 'voice call logging' application that can be used to remotely monitor, record, and log every voice call occurring at any or multiple points in a voice network (TDM or VoIP). Distinguishing features that make this superior to a conventional 'voice logger' are its ability to listen to active calls or recorded calls remotely and in real-time. In addition, the CMU can access multiple network locations simultaneously, whether VoIP or TDM, or both. CMU works with GL's Call Capture Analysis (CCA) application, T1/E1 Analysis cards, or GL's VoIP PacketScan™. The supported calling protocols include, CAS, PRI ISDN, and SS7 for TDM networks and SIP and H.323 for VoIP networks.Please refer to Call Management Utility, Call Capture and Analysis, and PacketScan links for further details.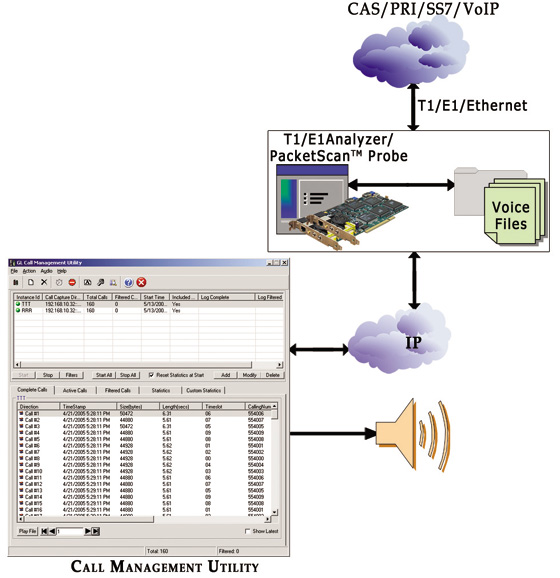 Some main features of Call Management Utility are listed below:
Monitor and Playback Calls In Real-time

A captured call can instantly be played to the PC speakers of the remotely located CMU, either the east, west, or both directions simultaneously. The user may also display the captured call using the waveform viewer for further analysis. Recorded calls can be further filtered, played or analyzed, as required. Using the CMU post-processing feature, one can display call records associated with each instance of capture.



Filter calls

This feature is provided to allow sorting of call records (during real-time as well as after recording) using the following options such as Direction, TimeStamp, Size (bytes), Length (sec), Timeslot, CallingNumber, CalledNumber, CallReference, and FileName.



Search for specific calls

This feature allows you to search the required calls from the accumulated list of calls. Search results can vary based on the parameters set, which include direction, timestamp, calling number, called number, and so on.



Log call recording process

This allows users to store the entire activity of recorded calls or just the filtered set of recorded calls to a Text file. In addition these log files can be loaded in the CMU for post-processing operations.



Statistics generation

This is supported for both completed and filtered call lists providing information about various parameters such as maximum, minimum, average, size and/or length of the call being placed. The CMU also supports customizable statistics for each individual instance so as to display statistics for only the user-defined criteria.
Calls are recorded and generated in real-time at TDM and IP 'probe' sites. The call records are then transferred via IP to the CMU location where they are immediately indexed and displayed as either 'active' or 'completed calls'. Filtering of call records can be based on a variety of user-defined parameters, and is available for real-time capture as well as for post processing. Complete statistics and/or user-defined statistics can be displayed and printed to file.
The recorded voice calls can be played to the CMU speakers, regardless of where the CMU is located with respect to the 'probes'. In addition, all recorded calls are stored on the 'probes' and may be searched/filtered based on called or calling number, time of day, or length of call. There have been many other minor enhancements and bug fixes to the Call Management Utility. Please refer to the Call Management Utility website for further details.

Back to Latest News Page