Newsletter: GL Announces the Release of Channel Associated Signaling (CAS) Simulator
Welcome to the October issue of GL Communications' Newsletter providing information and insight into our latest product Channel Associated Signaling (CAS) Simulator.
CAS protocols are still prevalent in the TDM telephone network and a flexible way of simulating the myriad variations would be very useful indeed. The beauty of GL's CAS Simulator is that virtually any CAS based protocol can be simulated precisely and efficiently, irrespective of its complexity, for both T1 and E1 worlds.
In the T1 world, CAS protocols are implemented thru "robbed bit signaling", a unique way of signaling that has always caused confusion among engineers. In the E1 world, CAS protocols are implemented thru time-shared use of timeslot 16. In both systems, dual tones representing digits are used for called and calling numbers.
Overview of Channel Associated Signaling (CAS) Simulator
Channel Associated Signaling (CAS) is a method of signaling in telephone networks where each channel or timeslot carrying speech also carries with it the signaling and addressing to set up and tear down that same channel. This is commonly referred to as "in-band" signaling as opposed to "out-of-band" signaling, such as ISDN or SS7. Signaling bits associated with each voice channel carry "on-hook" and "off-hook" status and addressing information in the form of dual tone digits to direct the call to its destination.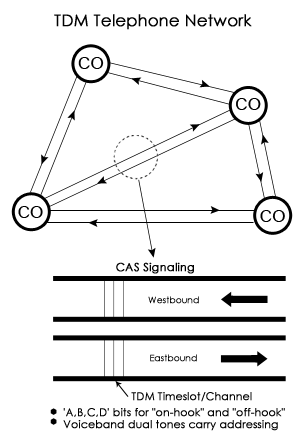 CAS signaling types include Loopstart, Groundstart, Feature Group D (FGD), Winkstart, MFC-R2 and others.
GL's CAS Simulator is a client-side application that works along with the GL's T1/E1 Analyzer Cards and Windows Client / Server software. It is an optional application that simulates any user defined CAS protocol by providing signaling bit transitions and forward/backward frequency tones/digits.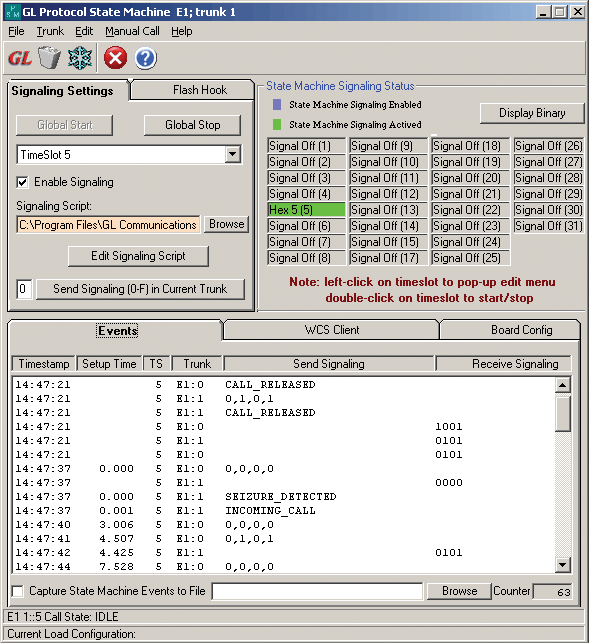 GL's CAS Simulator supports the following protocols:
E1 MFC-R2 (All variants, full /semi compelled)
T1 Winkstart (R1 wink)
T1 Loopstart and T1 Groundstart
E1 European Digital CAS (EUC)
Any User-Defined CAS Protocol
A brief summary of the important features of the CAS Simulator are:
Customized signaling for each channel through scripts

The GL's CAS Simulator provides a script editor. It is based on a self-describable language that can define the behavior of CAS Call Control procedure. Functions such as Place Call, Answer Call, Incoming Call, Disconnect Call are all defined within the script. Additionally, more advanced script may also be defined in the script editor. Definitions for Signalling Bit Transitions and forward/backward digits/tones are user definable within each script.






Call Generation/Reception with Signaling Status

GL's CAS Simulator processes the receipt of Dialed Number Identification Service (DNIS) and Automatic Number Identification (ANI) information, which is used to support addressing and routing and other functions.


Capture Events

GL's CAS Simulator events screen chronologically lists all of the CAS State Machine signaling bit transitions, digit detections, and tone detections, generated by each timeslot of each trunk. These transitions can be directed to an ASCII file in real-time or after they have appeared in the events list.






Flash Hook

CAS Simulator provides a way for users to send a Flash Hook signal manually. Users can vary Flash Hook On Signal (0-F), Flash Hook Off Signal (0-F) and Flash Hook Interval (ms) for a given timeslot.


For comprehensive information on GL Communications' CAS Simulator click here.

Back to Latest News Page