Newsletter: GL Announces Automated
Network-Wide Voice Quality Monitoring
Welcome to another February issue of GL Communications' Newsletter providing information and insight into our Automated Network-Wide Voice Quality Monitoring solution. These array of products offer a complete solution for monitoring voice quality over PSTN, VoIP, TDM, and Wireless telecom networks. Their simplicity and ease of use make them ideal for hybrid networks encountered in today's telecom environment.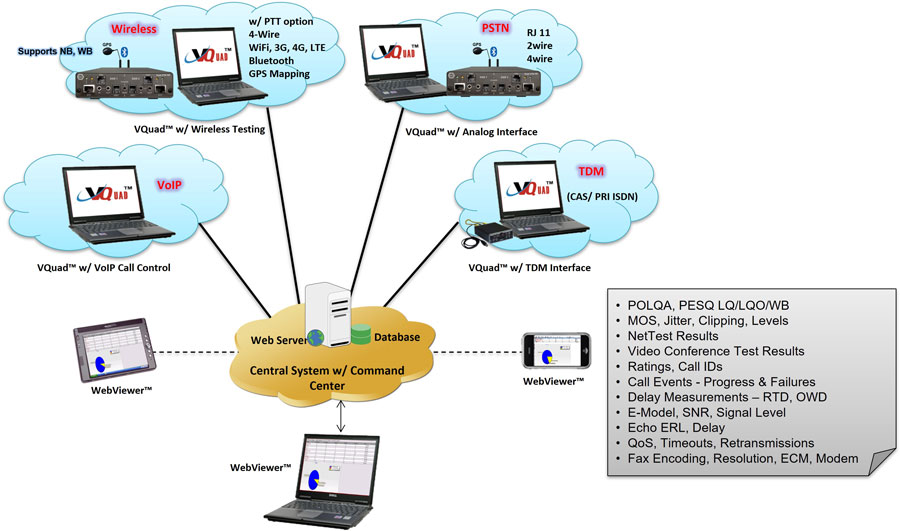 Overview
Automated Network-Wide Voice Quality Monitoring solution provides remote control and analysis of many VQuad™ Nodes (termination points), either mobile or static, within the testing network. The individual VQuad™ nodes support many interfaces and support multiple interfaces per node.
Each VQuad™ node possesses the ability to control its far end termination point using TCP/IP for fully synchronous and flexible automation. Also, each VQuad™ node has a very flexible and complex scripting functionality that provides for most all types of network testing.
The output of each VQuad™ node, including recorded voice files, call events, measurement results, error events, timestamps, call ID, and additional information regarding location and test scenario, are all sent to the Central Location via TCP/IP connections. The Central Location includes a database for maintaining the information, a Command Center for flexible control/scheduling of the Network tests, an email function for automated email generation based on errors or failures, and Analysis algorithms for Voice Quality along with delay and echo measurements.
VQuad™ Nodes
Each VQuad node can be mobile or fixed and each node can support any of the automated interfaces offered including Bluetooth® Mobile, 2-wire Analog (FXO), T1/E1 (PRI/ CAS), and VoIP (SIP). A VQuad™ node can support up to 8 devices, each device fully independent allowing up to 8 simultaneous tests. Individual ports associated with the VQuad™ can call any other VQuad™ using flexible scripting capabilities.
Two-stage dialing is supported by the VQuad™ along with Call ID for most all interfaces and path confirmation once the call is established. The analytical measurements supported by VQuad™ include Round Trip Delay (RTD), One Way Delay (OWD), Post Dial Delay (PDD), Signal-Noise Ratio (SNR), and Transmit/ Receive of Voice for Voice Quality Analysis. In order to support certain delay measurements as well as Echo measurements, the VQuad™ can Transmit/Receive Voice Simultaneously on one side of the call or both ends of the call. GPS is available for each VQuad™ node in order to provide both location and precise timing.
Central Location (Database, Command Center, Analysis, Search engines):
A centralized database stores all analytical measurements, call events, and error events associated with the individual VQuad™ nodes. These results, along with the Voice Quality and Echo measurement results, are automatically transferred to the central location via TCP/IP for processing and analysis. If the TCP/IP connection is unavailable, the transfer process can be handled post-processing in a manual method.
The Command Center, located at the central location, provides additional flexibility and functionality associated with the complete testing scenario. This includes a hierarchy of scheduling scripts and network status scripts for controlling all VQuad™ nodes. Also included with the Command Center is the ability to provide user-defined automated email associated with VQuad™ errors as well as VQT failed results.
Analysis (VQT, Additional Algorithms):
Automated Voice Quality testing using ITU-P.862.1/2 PESQ algorithm


Automated Voice Quality testing using Analog E-Model


Automated Analytical results of recorded voice file using Voice Band Analyzer (VBA)


VQuad™ with Dual UTA provides measurements for Round Trip Delay (RTD), One Way Delay (OWD), Signal-to-Noise Ratio (SNR), Post Dial Delay (PDD)


Automated Echo Measurements for all interfaces


Support for Path Confirmation and Call Failure Testing
Database Results (NetViewer™/WebViewer™ Search and Display of Results):
The centrally located database can be queried using either the NetViewer™ (TCP/IP) or the WebViewer™ (using WebServer capability). Search the central database for test results based on time/date range or based on last x-number of records in database.
Using the Search Criteria associated with both the NetViewer™ and WebViewer™, you can further define the query based on user-defined criteria such as error call progress events, Call ID, location and/or device ID (to name a few).
Both the WebViewer™ and NetViewer™ return a full array of results including the Call Events, Measurement Results, VQT or E-Model results along with full Statistics and graphical displays of the current search results.
Remote operation of the Command Center as well as the individual VQuad™ nodes is supported within the NetViewer™ and WebViewer™ clients. Network status of all nodes and the analysis tools running at the central location are also returned to the NetViewer™ and WebViewer™ clients. Multiple NetViewer™/WebViewer™ clients can access the network and perform database queries simultaneously.
For more information on the application, please refer to the Automated Network- Wide Voice Quality Monitoring web page, or give us a call.

Back to Latest News Page