Press Release: GL Releases Audio Processing Utility (APU) Software
Gaithersburg, Maryland, USA - July 10, 2007 - GL Communications Inc. announced today the release of Audio Processing Utility (APU) Software. Addressing the press conference, Mr. Jagadish Vadalia, Senior Manager of Product Development at GL said, "The Audio Processing Utility is a tool to generate controlled voiceband impairments with known speech levels, line or acoustic echo, noise, attenuation, and delay characteristics. It is a pre-processing application used for manipulating input audio files (such as tones and voice) with impairments such as delay, noise, acoustic echo, line echo, and double talk. A line or acoustic echo filter may be specified to generate an echo file in addition to the degraded file. It analyzes the given filter coefficient files and calculates the applied delay & echo return loss (ERL) parameters". He added, "The degraded audio output file can then be visually analyzed or used further to test P.56 active speech level algorithms, Voice Quality Testing, Digital Echo Cancellers & other applications".
Mr. Vadalia further added, "The tool is quite useful in the evaluation of: Line Echo Cancellers (LEC) and Acoustic Echo Cancellers (AEC) , Noise Cancellers and Automatic Gain Control Functions, Voice Enhancement Devices, Signal Processing Devices in TDM, VoIP, and Mobile Networks".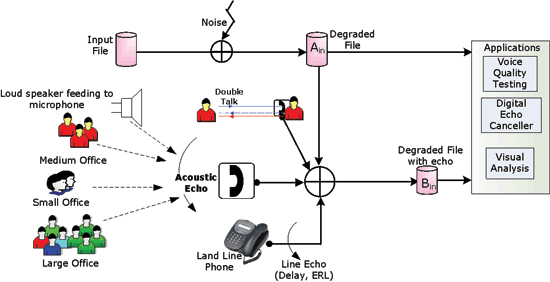 Important features
Add Noise: Generates degraded voice files with noise, power level, & interference


Add Echo: Generate echo files with appropriate acoustic & hybrid echo


Add Double Talk: Generates an output file that contains speech file from both near end and far end


Analyzes filter coefficients, ERL (Echo Return Loss), and delay from the generated files


Supports line echo filter model of ITU-T G.168 specification and three proprietary acoustic echo filter models


Supports A-law, µ-law, Windows PCM (*.wav), and 16-bit Intel linear PCM audio file


Supported Codecs are G.711 µ-law, G.711 A-law, G.723.1, G.726, G.729, G.729a, G.729b, G.729ab, G.729e, G.729g, iLBC (20ms and 30ms frame)


Files generated can be used to test VQT, ECs, & P.56 active speech level


Graphical representation of output file
Typical Applications
P.56 active speech level algorithm testing:

For a well-defined input file, APU will generate a precisely controlled degraded file. This degraded file can be used to test P.56 active speech level algorithm applications.


VQT (Voice Quality Testing):

The input voice file and the controlled degraded file can be fed into a VQT algorithm to test VQT applications.


EC (Echo Canceller) testing:

The input (reference file) file and the echo file can be used to test the ECs. APU can generate line echo and acoustic echo files, and test line ECs and acoustic ECs, which makes it unique.
About GL Communications Inc
Founded in 1986, GL Communications Inc. is a leading supplier of test, monitoring, and analysis equipment for TDM, Wireless, and VoIP networks. Unlike conventional test equipment, GL's test platforms provide visualization, capture, storage, and convenient features like portability, remotability, and scripting.
GL's TDM Analysis & Emulation line of products includes T1, E1, T3, OC-3, STM-1, analog four-wire, and analog two-wire interface cards and solutions. Capabilities include voiceband traffic analysis and emulation across all traffic types (voice, digits, tones, fax, modem), all protocols (HDLC, ISDN, SS7, CAS, GSM, GPRS, CDMA), and with capacities up to thousands of channels.
GL's VoIP products generate / analyze thousands of calls simultaneously with traffic types such as voice files, digits, tones, noise, and fax using G.711, G.729, AMR, EVRC, and GSM codecs. Additional features include visual analysis, real-time listening, recording, and voice quality assessment using ITU algorithms PAMS, PSQM, and PESQ.
GL's Wireless Products perform protocol analysis and voice quality assessment on GSM, CDMA, UMTS, and CDMA 2000 networks. Connections can be made to any wireless phone with automated call control, GPS, mapping software, and real-time signal measurements.
GL's Echo Canceller testing solutions provide the broadest range of simulation and analysis, including compliance testing per G.168 and G.160.
GL's Network Surveillance and Monitoring products include Probes for TDM, VoIP, ATM, and Wireless networks. An open standards based approach provides a scalable, feature rich, real-time access to network intelligence. Centralized or distributed access, efficient transport and database loading allow compatibility with 3rd party and standards based monitoring systems.
For more information about GL's complete line of products,
Contact:

Shelley Sharma
Phone: 301-670-4784 ext. 114
E-mail: info@gl.com

Back to Press Releases Index Page