Mr.Rob Bichefsky, specifically mentioning about GL communications presence in the event said, "GL communications Inc is located at Booth #G69 in Hall 1 with their latest products and services on display. And told this would help the conference delegates to appreciate the latest in wireless VQT solutions."
- A VQT System for Any Network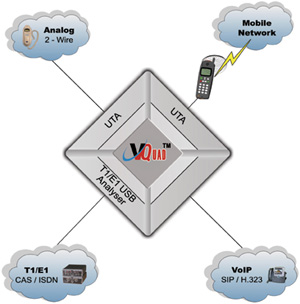 GL's VQuad™ makes assessing Voice Quality between and within different networks easy, portable, and convenient.
Automatic measurement of Voice Quality and QOS for any network, including VoIP, TDM, Wireless, or Analog
Interface support for Wireless/WiFi, VoIP/Digital, PSTN (2-wire) Analog, VoIP (SIP/H.323), and T1/E1 (ISDN and CAS)
Simultaneously controls up to 8 devices on a single portable system
Allows for independent Automated Traffic and Call Control via script configurations
Completely Automated with VQT MOS scores delivered to a remote client
Drive Testing with VQT MOS scores plotted to local street maps using optional GPS receiver (most countries supported)
Click here for more information

- Over air wireless network monitoring and analysis
GL's MobNetMon™ permits automatic "off-air" monitoring of any GSM network directly from a QUAD band wireless phone.
Supports GSM, GPRS, and EDGE networks
Generate calls and view primary and surrounding GSM base stations
GSM Protocol Analysis with real-time call tracing
Full decode of GSM layer 3 messages supports real time and post processing analysis
Force cell towers, induce critical tests within the network, and send/record voice traffic in an automated fashion while the call is connected
Drive testing with results plotted to local street maps using optional GPS receiver (most countries supported)
CDMA network support coming soon
Click here for more information
About GL Communications Inc
Founded in 1986, GL Communications Inc. is a leading supplier of test, monitoring, and analysis equipment for TDM, Wireless, and VoIP networks. Unlike conventional test equipment, GL's test platforms provide visualization, capture, storage, and convenient features like portability, remotability, and scripting.
GL's TDM Analysis & Emulation line of products includes T1, E1, T3, OC-3, STM-1, analog four-wire, and analog two-wire interface cards and solutions. Capabilities include voiceband traffic analysis and emulation across all traffic types (voice, digits, tones, fax, modem), all protocols (HDLC, ISDN, SS7, CAS, GSM, GPRS, CDMA), and with capacities up to thousands of channels.
GL's VoIP products generate / analyze thousands of calls simultaneously with traffic types such as voice files, digits, tones, noise, and fax using G.711, G.729, AMR, EVRC, and GSM codecs. Additional features include visual analysis, real-time listening, recording, and voice quality assessment using ITU algorithms POLQA, and PESQ.
GL's Wireless Products perform protocol analysis and voice quality assessment on GSM, CDMA, UMTS, and CDMA 2000 networks. Connections can be made to any wireless phone with automated call control, GPS, mapping software, and real-time signal measurements.
GL's Echo Canceller testing solutions provide the broadest range of simulation and analysis, including compliance testing per G.168 and G.160.
GL's Network Surveillance and Monitoring products include Probes for TDM, VoIP, ATM, and Wireless networks. An open standards based approach provides a scalable, feature rich, real-time access to network intelligence. Centralized or distributed access, efficient transport and database loading allow compatibility with 3rd party and standards based monitoring systems.
For more information about GL's complete line of products,
Contact:

Shelley Sharma
Phone: 301-670-4784 ext. 114
E-mail: info@gl.com

Back to Press Releases Index Page