2-Wire Traffic Capture & Analysis
The 2-Wire networks typically carry voice, digits, fax, and modem traffic. Because the same twisted pair carries telephone signals in both directions, a frequent problem on these circuits is impedance mismatches that result in echo. Other impairments that may be present due to various transmission equipment include noise, low signal-to-noise, delay, attenuation, and distortion. Hence, a measure the quality of the signals over 2-Wire networks becomes essential for all service providers.
GL provides various solutions to capture calls on 2-wire lines. A voice call can be captured for call and digit analysis. A fax call between two fax machines can be captured and analyzed for fax image, protocol, data rate, and page errors. A modem call between two modems can be captured and analyzed for modem phase changes, retrains, rate renegotiations, data rates, and symbol rates. Not all modem calls can be analyzed completely.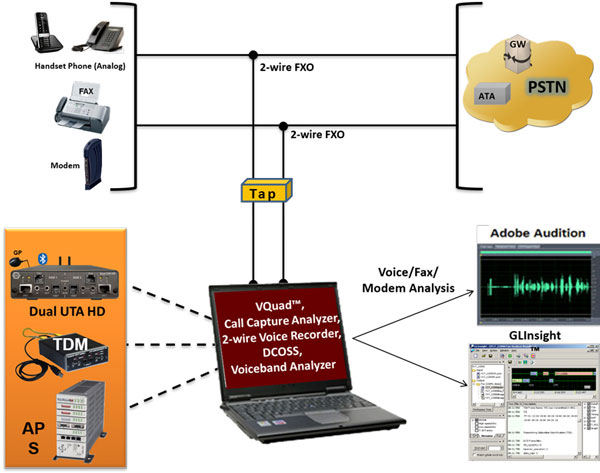 A brief list of 2-Wire Traffic Capture & Analysis solutions is given below.
Voice /Data Capture
Voice /Data Analysis & Decode