Active and Passive Voice Quality Testing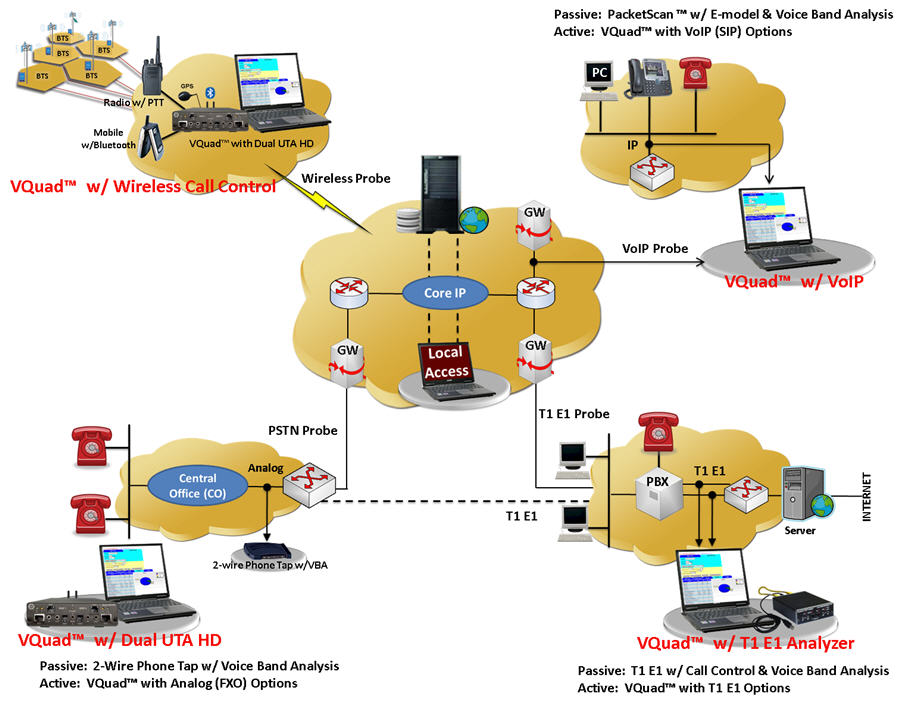 Overview:

The VQuad™ provides the one box active QoS solution for sending/recording voice over a variety of network interfaces in an automated and synchronized manner. Using the GL VQT, analysis of the recorded voice files can automatically be executed from the VQuad™ in an intrusive manner. The VQT utilizes the ITU algorithms POLQA/PESQ LQ/LQO/WB, PSQM, and PAMS. In addition to sending/recording voice, the VQuad™ along with Dual UTA HD also supports RTD/OWD, Voice, Data, and Video quality measurements, drive testing with GPS mapping, & Indoor Tracking System (ITS) to provide tracking information in remote locations. .
The GL Passive Quality of Service testing allows one to monitor voice anywhere within a network (using the desired Wireless/VoIP/TDM/Analog Network probes) and gather statistics and quality of service measurements. The various network probes utilize GL hardware and software applications to support T1/E1, Analog, and VoIP networks. All network probes are non-intrusive and require no active testing on either side of the call. Rather, the non-intrusive Passive Monitoring utilizes the metrics from the voice or VoIP RTP and provides statistics, analytical measurements, and in certain cases MOS results.
---
Main Features
Passive QoS Analysis
Call Quality Of Service (QOS) for all calls with E-Model based (G.107) Mean Opinion Score (MOS) and R-factor with individual and summary statistics presented in graphical and tabular formats
MOS score for VoIP Networks using E-Model
Near Real-Time QoS Measurements of All Networks
Line Echo and Acoustic Echo Measurements
Automated operation
Results can be exported to file
Active QoS Analysis
MOS score using ITU Standard Algorithms POLQA/PESQ LQ/LQO/WB, PAMS, PSQM
Additional Metrics include Jitter, Clipping, Levels, Latency
Automated operation
Results saved to database with full featured Query functionality
Graphical and Tabular results can be exported to file
---
Additional Links
For Wireless Networks
For VoIP Networks
For T1E1 Networks
For PSTN Network
Other Related Products

Back to Complete Voice Quality Testing Solutions Index Page