Automated Analog (2-wire) Voice Quality Testing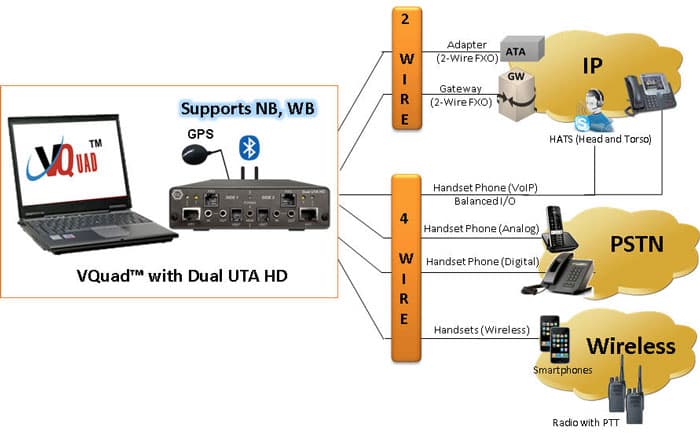 Overview | Main Features | Buyer's Guide
---
Overview

Assuring uninterrupted high quality voice within a network is critical irrespective of the type of network carrying the voice. Testing these networks can become cumbersome, time consuming and quite costly. GL provides the solution for testing analog 2-wire interfaces using GL's VQuad™ with Dual UTA

VQuad™ with Dual UTA provides complete automated network testing solution. This includes analog 2-wire interfaces (RJ-11) and, when coupled with the GL VQT, provides the necessary voice quality measurement and analysis tools.

The analog ports may be connected to any U.S or European PSTN and, using the user-friendly VQuad™ GUI, the user can place calls to any desirable number as well as answer incoming calls in a manual or automated manner. The product can be configured manually to send and record voice files or configured to automatically send/record multiple voice files to be used in the VQT algorithms. While in automode, the GL VQT may be configured to automatically perform the VQT algorithms immediately after the recorded voice file is complete. Each analog port may act independently () or the user may configure multiple pairs of synchronized analog ports (improved handling of call control and sending/recording voice files). In addition, the VQuad™ can send and detect DTMF digits while the call is established. This allows two-stage dialing as well as path confirmation.
The VQuad™ with Dual UTA also adds the functionality for Round Trip Delay and One Way Delay measurements. The Dual UTA also support Echo measurements, multiple tone detection (including busy, fast busy, SIT), Caller ID detection and display, and Flash Hook. The Dual UTA FXO is fully user configurable and allows any type of connection and multiple stage dialing (including immediate connect for PBX systems). Click here for more details on Dual UTA.
VQuad™ can also work with handheld analog tester – vHandi™ to automated voice quality testing on analog lines. vHandi™ is a very compact handheld tester, perfect for field testing designed to simulate an FXO device.
The GL VQT utilizes widely accepted algorithms to perform the voice comparisons, the Perceptual Evaluation of Speech Quality (PESQ LQ/LQO/WB) per Rec. P.862/P862.1/2, the Perceptual Analysis / Measurement System (PAMS) per Rec. P.800, Perceptual Speech Quality Measurement (PSQM) per Rec. P.861, and the POLQA, Perceptual Objective Listening Quality Analysis, based on ITU standard, ITU-T P.863, is the successor of PESQ (ITU-T P.862). PESQ is most widely used and provides the necessary MOS based on both standard 8000 sample files as well as WideBand 16,000 sample files. The PESQ algorithm also provides additional analysis including jitter, levels, clipping, and per utterance measurements. POLQA supports the latest HD-quality speech coding and network transport technology, with higher accuracy for 3G, 4G/LTE and VoIP networks. The GL VQT performs PESQ, PAMS, PSQM (+), and POLQA simultaneously, using two voice files (Reference File and Degraded File) and provides the algorithm results along with analytical results in both a graphical and tabular format.
---
Main Features:
VQuad™ w/ Dual UTA in Analog interface
Two Analog FXO ports per Dual UTA (RJ-11 interface)
Single FXO port per vHandi™ Handheld (RJ-11 interface)
Manual or Automatic operation of traffic generation and full call control
Round Trip Delay and One Way Delay measurements as well as Echo Measurements
Supports all standard and customized call progress tones
Detect user-defined Dial Tone, Ring Back, Busy, Fast Busy, SIT
Send Digits during established call for two-stage dialing and IVR menu systems
Both USA and European standards supported (FCC and TBR-21 certified)
Remote Access for starting/stopping the tests along with retrieving results
GL VQT Automatic Mode supports automatic execution of the VQT algorithms (PESQ, PAMS, PSQM+, POLQA)
Additional measurements include Clipping, Jitter, Latency, Noise and Signal Levels
Results available in real-time or post-processing
Each analog port may be controlled independently for traffic and call control
Fax Testing using the Dual UTA 2-wire FXO or 4-wire analog interfaces. Supports up to 4 simultaneous T.30 faxes

Screen Shot of VQuad™ Main Window

Screen Shot of VQuad™ Manual Call Generation

Screen Shot of VQT Measurement Results

Screen Shot of VQT Cumulative Statistics
Additional Information
---
Buyer's Guide:
* Specifications are subject to change without notice.

Back to Complete Voice Quality Testing Solutions Index Page