Bulk Call Generation for Load Testing Call Centers
Ensure peak performance during high call volume periods with GL Communications' Load Testing solution for call and contact centers.
Request a Quote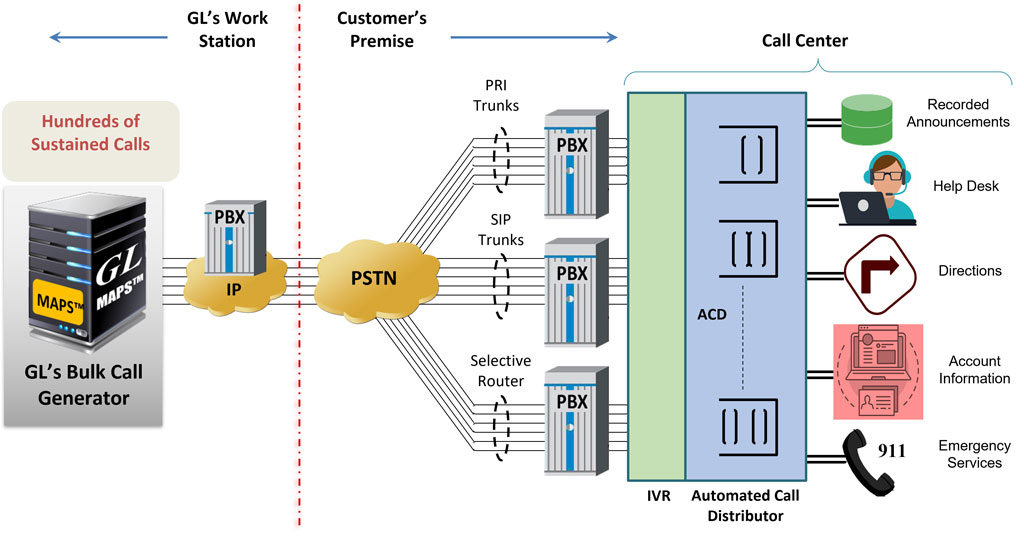 GL's Solution
Testing call volume and routing is essential for Call Centers to confirm uninterrupted operation. GL Communications can generate hundreds of calls through the PSTN – at a sustained call rate – to your Call Center to test the telecommunications infrastructure and services. These calls can be generated as a service by GL for a simple solution or directly from your lab environment by deploying the Call Generation test equipment.
Calls can be generated to any network including VoIP, TDM, and mobile. In addition to testing call density, GL can also test Interactive Voice Response (IVR) and VoiceMail (VM) functionality of the Call Center while also confirming Voice Quality.
Tens of thousands of companies and organizations rely on Call Centers to fulfil their mission critical capabilities and business functions including:
Customer Support
Long Distance Services
These Call Centers can be overloaded in disaster situations or unexpected events. Therefore, organizations use redundant telecommunications connections to the outside world (PRI, SIP trunks, etc.). It is essential to test if these trunks properly rollover under high load.
The GL solution uses the proprietary MAPS™ (Message Automation & Protocol Simulation) application to generate the calls while also generating the necessary traffic. The calls are fully customizable including the ability to send pre-recorded audio, tones and digits. The call duration and call rate can also be controlled.
All tests can be fully automated and scheduled. Tests can be set up for a one-time test or as a weekly or monthly subscription.
Test Solutions
GL's Bulk Call Generator Tools can be utilized in various typical applications, such as:
Test PBX, switch, gateways/routers
Test IVR, voicemail, VoIP phones
Generate hundreds of sustained calls with high call rate
Voice, fax, digits, tones, data, video traffic generation
Automate regression testing
Feature testing
Voice/data quality, Quality of Service
Public Safety Networks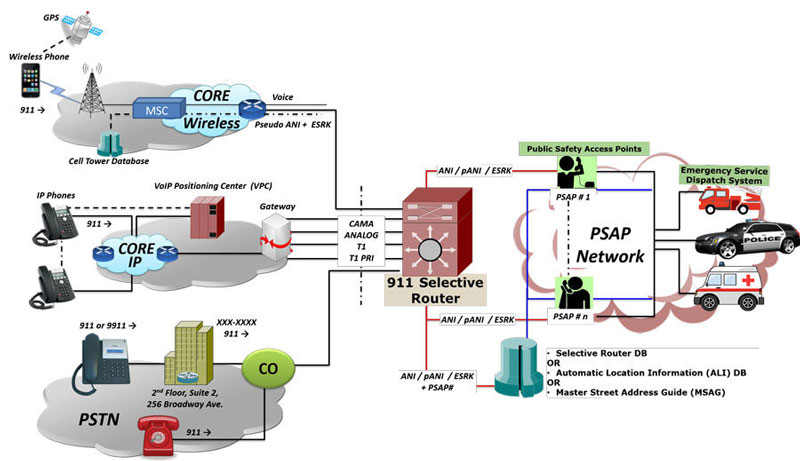 GL offers complete simulation and monitoring solutions for traditional emergency 9-1-1 networks as well as Next-generation IP-based emergency 911 networks.
Supports simulation of CAMA trunks connected to the 9-1-1 selective router (SR). Both analog and digital (T1) CAMA simulations are supported. Bulk analog simulation requires an additional channel bank specially configured for CAMA.
Supports NG 9-1-1 call simulation using SIP/RTP and Instant Messaging using SIP/MSRP.
For more details, please visit Public Safety Networks webpage.
Testing Interactive Voice Response (IVR) and Voice Mail (VM) Systems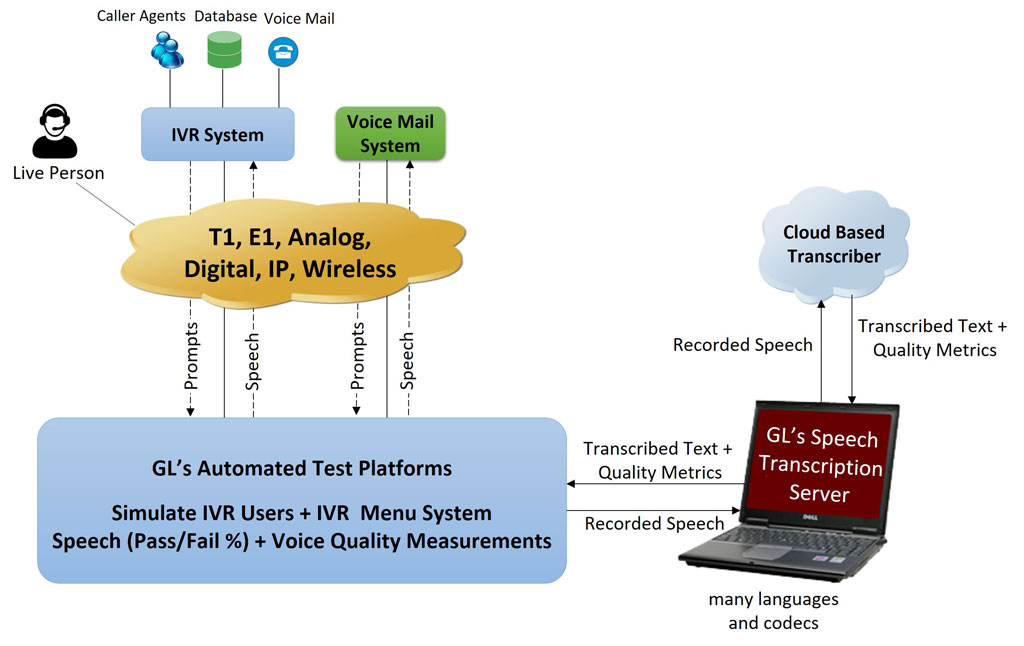 GL's test tools can be used to automate testing of IVR tree traversal for pass/fail conditions with great precision. Record each prompt (IVR menus) to file in an automated fashion and forward the recorded audio files for transcription and analysis. The testing platforms allow IVR testing over various network types such as 2-wire (FXO, FXS), TDM, IP, and Wireless Mobile including phones and radios over all networks. The test procedure adapted by these test tools is not limited to IVR testing but can also be applied to any announcement verification and voicemail (VM) testing, where the voice prompt is recorded, transcribed, and compared with expected text.
For more details, please visit Public Safety Networks webpage.
Audio Quality Testing in Call Centers

Audio quality along with simple audio path confirmation is extremely important within large Contact Centers, irrespective of their infrastructure which can be TDM-based, or VoIP based. In fact, GL test tools were successfully implemented to perform call quality monitoring and audio quality testing across a wide variety of networks (VoIP, TDM, PSTN, and Wireless).
GL test tools are used to test audio at both the Contact Center (incoming calls) and per the customer perspective (calling into the Call Center) to confirm proper Call Center operation and audio communication. The solution also ensures call completion and reliable voice quality in receiving or transmitting a large volume of requests over integrated TDM and VoIP networks.
GL test suite simulates conversations between the customer and the Contact Center, verifying the call as well as audio quality in a fully automated method.
For more details, please visit Public Safety Networks webpage.