Migration from TDM to IP Networks
Gaithersburg, Maryland, USA - July 25, 2018- GL Communications Inc. a global leader in telecom test and measurement solutions, providing information on GL's test solutions for smooth transition of services from TDM to VoIP networks.
Speaking to the press, Mr. Vijay Kulkarni CEO of the GL Communications Inc said, "A traditional communications network uses TDM based PDH and SDH/SONET technologies. Many carriers and enterprises are modernizing their TDM-based network infrastructure to IP to support increased traffic volume, speed, and benefit from the convergence of voice, data, and video. The TDM-to-IP transition minimizes overall operational costs, resources, and quickly roll out new services. Most enterprises still have a mix of TDM, and VoIP infrastructure to support a variety of customer needs."
He further added, "A migration to Voice over Internet Protocol (VoIP) and converged IP networks is inevitable but poses challenges, which requires significant testing, and troubleshooting. As communications network evolve, test and measurement solutions are key to successful transition.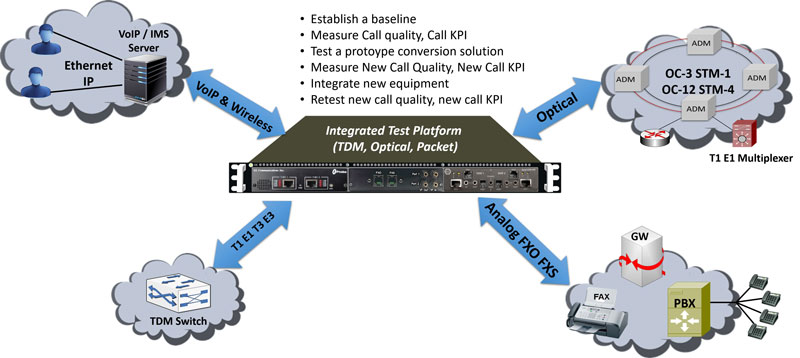 Mr. Kulkarni further explained, "GL's MAPS™ (Message Automation and Protocol Simulation) platform is designed for simulating and testing 'Multiple Protocols' and 'Multiple Interfaces'. MAPS™ platforms can easily simulate and test TDM end points, Analog end points, SIP end points, Signaling/Media Gateways, and the entire core-network. Complex scenarios can be easily setup to perform end-to-end testing of signaling, call flows and traffic.
GL also offers integrated mTOP™ platforms (Multiple TDM Optical and Packet rack systems) that can house any combination of USB based TDM, Optical, and Packet equipment - PacketExpert™, tProbe™ (T1/E1), USB T3/E3, Dual UTAs, and LightSpeed1000™ to support multiple interfaces in a compact rack space."
---
Important Test Solutions GL Offers
End-to-end Assessment of Network Performance
Testing Gateways
Echo Cancellation
Impairment Generation
Voice Feature Tests, IVR Tests, Codec Combability Tests
Delay Measurements
Testing Fax Transmission Quality

Back to Press Releases Index Page