SIP Protocol Emulator for Low- and High-Density Applications
Gaithersburg, Maryland, USA - Jun 11, 2021 - GL Communications Inc., a global leader in telecom test and measurement solutions, addressed the press regarding SIP (Session Initiation Protocol) Emulator for low and high-density applications from hundreds to tens of thousands of simultaneous calls, with signaling and traffic generation as per current standards.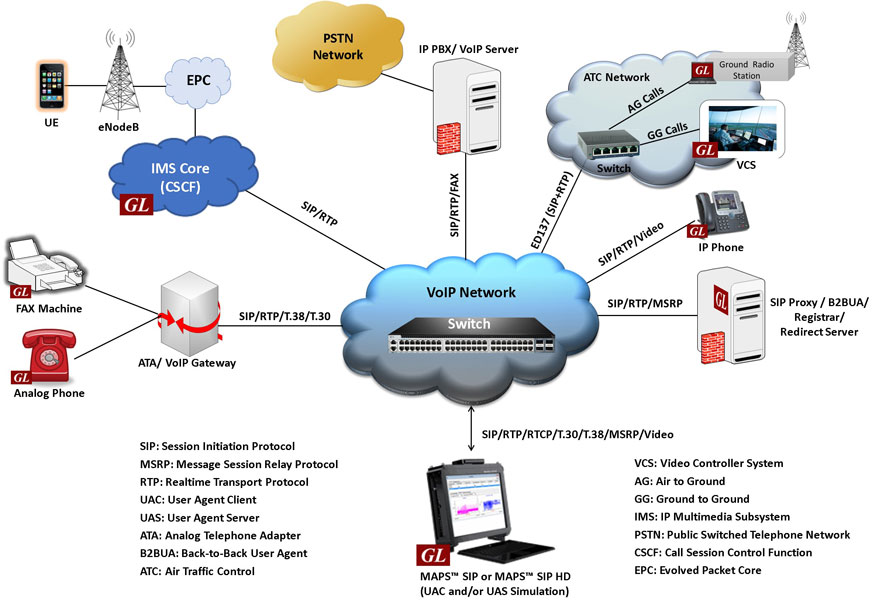 "SIP has become "the IP protocol" for voice connections (wired and wireless), video conferencing, instant messaging, and other forms of media, e.g FAX. Many signaling and traffic services are migrating to SIP, including emergency 911, push-to-talk for air traffic control, and group voice call services used by as First Responders", said Vijay Kulkarni, CEO of GL Communications.
"GL's Message Automation & Protocol Simulation (MAPS™), a general protocol emulation architecture that has been adapted for SIP testing, can simulate User Agents (User Agent Client- UAC, User Agent Server-UAS), Proxy, Redirect, and Registrar servers. GL's MAPS™ SIP test tool/traffic generator can be used to simulate any interface in a SIP network (standard SIP, SIP – I (ISUP), SIP IMS, and SIP MSRP), and perform SIP Protocol Conformance Testing (of SIP protocol implementations). SIP is also used in ED-137, the next generation air traffic control system".
He further added, "A single MAPS™ SIP instance can act as more than one SIP entity and generate any SIP message in a VoIP network, and hence equipment needed to test is reduced. MAPS™ framework allows running a set of tests/scripts sequentially, randomly, and simultaneously for multiple iterations. Users can schedule tests/scripts to run automatically on scheduled days and times. Bulk calls can be generated to simulate different load patterns".
---
Main Features
Signaling

Generates and processes SIP valid and invalid messages
Supports IPv4 /IPv6 and transport over UDP and TCP, and TLS for secure transport
Supports joining the conference call, unattended call transfer, attended call transfer, call hold, auto call rejection, and silence packets generation
Ability to send "reliable provisional responses" and start early media actions
Ability to implement IP Spoofing for any network like Class C, Class B, etc
Supports in dialog and out of dialog transactions for SUBSCRIBE, NOTIFY, OPTIONS, REFER, and INFO SIP methods
Supports simulating custom SIP messages and call scenarios

Traffic

Supports transmission and detection of various RTP traffic such as digits, voice file, single tone, dual tones, IVR, FAX, and Video in IP networks
Supports almost all industry-standard codec types - G.711 (mu-Law and A-Law), G.722, G.729, G.726, GSM, AMR, AMR -WB, EVRC, EVS, OPUS, SMV, iLBC, SPEEX, and more. *AMR, EVRC, EVS, and OPUS variants require additional licenses
Supports SRTP (Secure Real-time Transport Protocol)
Provides Voice Quality statistics such as MOS, Packet loss, and Jitter
Supports both RTP G.711 Pass-Through Fax (PKS200) and T.38 Fax(PKS211) simulation over IP
Message Session Relay Protocol simulation supporting instant messaging
Supports Interactive Voice Response (IVR) testing that recognizes and responds to voice prompts using DTMF digits or voice, allowing automated IVR traversal and testing
Supports Short Message Service (SMS) over IP/IMS communication, SMS is encapsulated in a SIP message and carried over IMS core network

API / CLI (Command Line Interface)

MAPS™ CLI interface based on a client-server model allows users to control all features of MAPS™ through APIs
Supported clients include Python, Java, TCL and others


Applications

Fully integrated, complete test environment for SIP
Supports end-to-end gateway testing
Supports conformance testing UAC, UAS, Proxy, Registrars, Registrants, Redirect Servers, and other SIP entities
Handles strict routing ™ lose routing, when requests are routed through proxies
Functionality and load testing on SIP entities like Proxy, Registrar, IP PBX, B2BUA, VoIP Gateways, IP Phones, etc
Testing NG9-1-1 emergency services (voice ™ text) and components within the ESInet

Back to Press Releases Index Page