GL Enhances IP Network Monitoring Software
Gaithersburg, Maryland, USA - May 09, 2022 - GL Communications Inc., a global leader in telecom test and measurement solutions, addressed the press regarding their enhanced IP Network Monitoring software called PacketScan™ . In this newsletter, we highlight the important enhancements for PacketScan™ software version 22.4.23.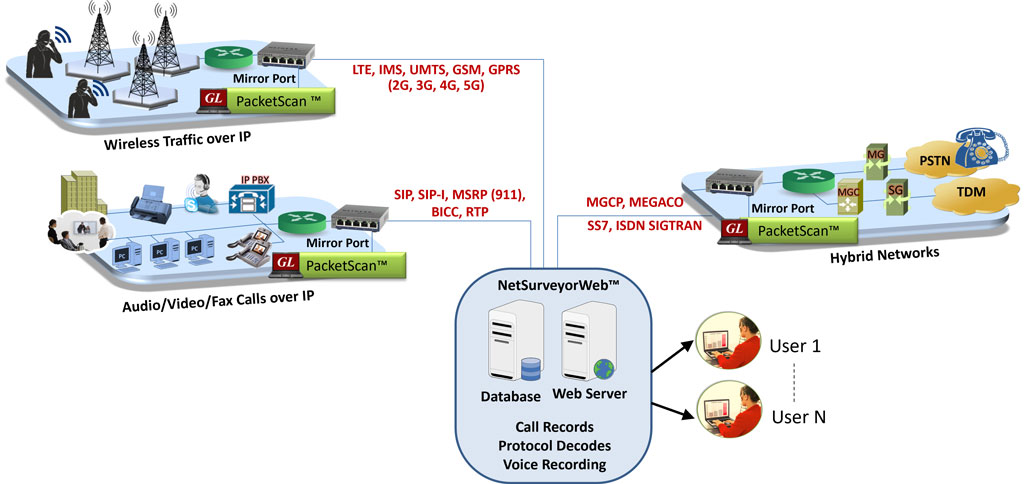 "GL's PacketScan™ is a comprehensive All-IP Network Monitoring software that offers powerful features to capture and monitor live signaling and traffic over IP (versions 4 and 6). The application can capture, segregate, monitor, and collect statistics on all types of calls over IP. It can decode all VoIP and Wireless protocols and provides Quality of Service (QoS) statistics on voice calls", said Vijay Kulkarni, CEO of GL Communications.
GL's PacketScan™ software is enhanced with the following:
Provides options to configure the whitelist numbers with wildcards to mark and act on such calls
Filtering and searching through packets based on

IPv4 and IPv6 address range or mask
GTP (Inner UDP, Inner TCP, and SCTP fields)

Enhanced to process NG-911 text calls (SIP and MSRP), included MSRP messages in SIP Call Graph, and supports exporting of MSRP frame details to CSV files
Criteria-based voice/trace recording based on whitelist numbers or degraded voice quality, Failure calls, etc.
Display of frame wire-length and capture length for sliced packets
Packet Data Analysis support for IP traffic over Multi-Protocol Label Switching encapsulation
Supports decoding and reassembly of additional headers in Border Gateway Protocol
He further added, "GL's PacketScan™ HD is a high-performance network appliance for performing lossless packet capture and analyzing high-speed Ethernet and IP traffic over 1 Gbps, 10 Gbps, 40 Gbps, and 100 Gbps networks. It uses dedicated hardware with specialized Network Interface Cards along with the PacketScan™ software for performing the packet captures. It can come in portable or rack-mount variants. PacketScan™ can work with NetSurveyorWeb™, a central monitoring system for a comprehensive view of network performance. It features rich graphics, Key Performance Indicators (KPI), Ladder Diagrams, and Call Detail Records".

Back to Press Releases Index Page