GL's Voice and Data Testing Solutions Goes Mobile
Welcome to another August 2014 issue of GL Communications' Newsletter providing information and insight into our enhanced Voice Quality Testing software with Wideband Bluetooth support using the next gen Dual UTA.
Overview
Latest technologies such as VoLTE and Advanced LTE are expanding rapidly with deployment throughout all markets and all carriers. The VoLTE supports HD voice over AMR-WB networks and requires sophisticated testing for both voice and data quality. Testing must include older generation narrowband networks along with wideband networks when VoLTE to VoLTE calls are established and maintained. Along with voice and data testing, the next generation networks also require delay and call retention testing. GL's mobile test solution provides this capability with the flexibility of connecting to and between any network, any service, and any interface.
Typical networks that are supported by GL's VQuad™ - Dual UTA hardware/software include Wireless (VoLTE, LTE, 4G, 3G) via Bluetooth or wired headset, Broadband Internet (LTE, 4G, 3G), VoIP SIP, PSTN, and TDM. Automated testing using GL's VQuad™ includes the following attributes: Scripting with variable parameters, portability for mobile drive testing, remote accessibility from CLI or WebViewer™, centralized data retrieval along with mapping to Google Maps and analysis of Voice and Data.
---
Enhanced VQuad™ Software
The VQuad™ (Voice VQuad™) software is used for automated call control as well as to automatically send and record voice files from most any type of network (Wireless, VoIP, TDM, & Analog). It supports up to 8 telephony devices simultaneously. A minimum of two telephony nodes are required for transferring files, either within same VQuad™ Node or between multiple geographically separated VQuad™ Nodes.
VQuad™ along with the next generation Dual UTA, support for Wideband Bluetooth (as well as Narrowband Bluetooth) allows testing mobile devices supporting VoLTE networks (AMR Wideband).
For redundancy and load sharing, VQuad™ supports connections to as many as four Central Systems. Full access to modifying these connections is available directly from the WebViewer™, Network Status.
In addition to the VQuad™ multi-connection support, the File Monitor utility, which automatically transfers degraded voice files to the VQT system, also supports as many as four connections to the VQT system. Status and the ability to modify the connections is available directly from the WebViewer™, Network Status.
Enhanced VQuad™ now supports user defined GPS information. Without actually connecting to the GPS receiver, the user can configure GPS coordinates within the VQuad™ configuration, thus all results/events associated with the VQuad™ will include GPS coordinates.
VQuad™ includes a wide variety of updated test scripts, automatically included during VQuad™ installation.

Balanced - includes VQT and path confirmation testing
Bluetooth -includes VQT and Delay measurements with full call control
FXO - includes VQT and Delay measurements along with Fax testing
NetTest - includes PC based and Mobile based Data testing
PTT - VQT and Delay measurements with various synching methods
---
Other important Features include:
The VQuad™ Probe is a single box solution, which includes VQuad™, Dual UTA and PC. The VQuad™ Probe is portable for drive testing or leaving behind as a network probe, yet powerful enough to be used as a central node of the network (optional rack mountable).
Complete automation with enhanced scripting and remote operation including traffic generation and call control scripting. Additional commands available for Bluetooth® enabled Mobile phones including RSSI, Battery Level, and Network identity. Local VQuad™ can control remote VQuad™ systems to expand testing for an entire network. All results and events are automatically transferred to the Central Database
Auto configuration option for simple out-of-the-box setup within minutes
Remote operation using the WebViewer™ (web browser) or Command Line Interface (CLI) from both Windows® and Linux based systems
VQuad™ SIP option includes support for all VoIP Codecs. A more comprehensive list of codecs and their details with respective voice quality is provided at this link Codec Listings.
---
Enhanced WebViewer™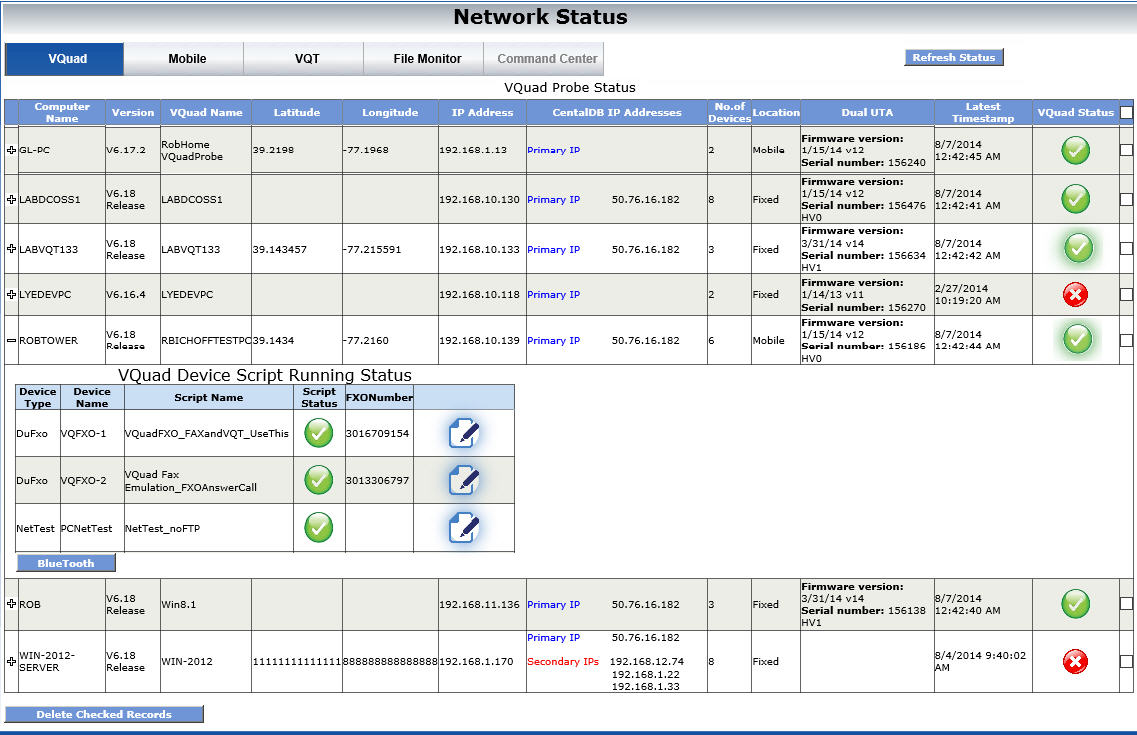 GL's WebViewer™ is used to query and filter all results/events/errors from connected VQuad™ Probes. Current status of the entire deployment is displayed along with customized user statistics and results of the active tests.
WebViewer™ now supports Network Status of all facets of VQuad™ deployment including VQuad™, File Monitor and VQT Applications, as well as all Mobile devices associated with VQuad™ NetTest (data testing). The network status also supports full remote operations. The following screenshot depicts network status information.
WebViewer™ filtering process has been enhanced with parameters associated with NetTest along with Mobile information and GPS location. In other words, using the WebViewer™ one can filter the results based on a location or user-specified coordinates.
Added to the WebViewer™, the ability to Remote control any connected VQuad™ regardless if the VQuad™ is connected via public or private IP networks.
---
Mobile Device Controller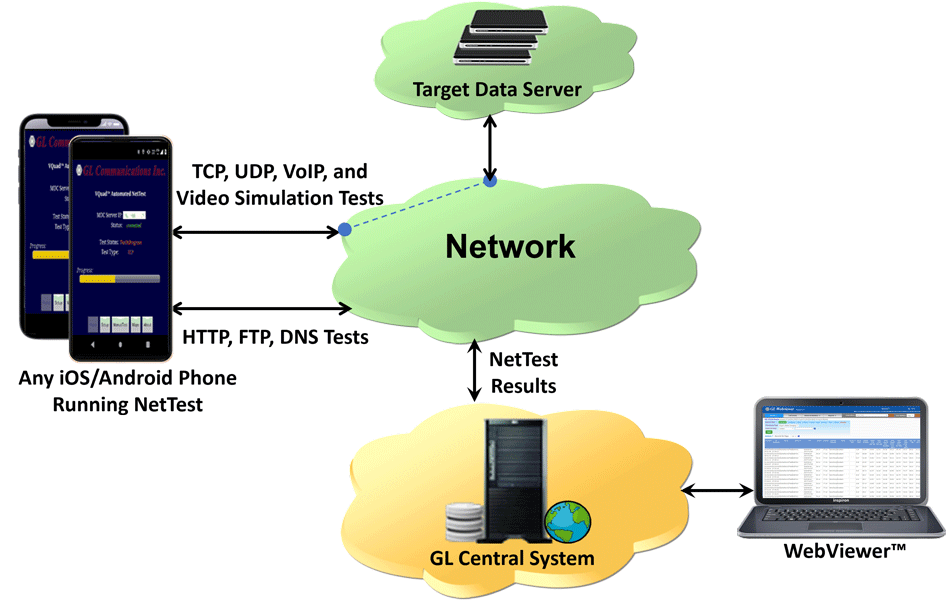 GL's Mobile Device Controller (MDC) provides a liaison to all supported Apple/Android based mobile devices for conducting data NetTests. The Data Tests can be remotely configured and automated from within any VQuad™ node irrespective of the mobile device proximity to the VQuad™ node.
Specifically for smart phones, the VQuad™ can fully automate the data tests to any GL app equipped phone irrespective of whether the device is on a voice call or not. The testing is fully automated with results sent to the central database (WebViewer™).
---
Important Features
Manage the mobile device connections using MDC. Accept, Reject, or Delete any connected Mobile Device.
Email alerts when new Mobile Device requests are received by the MDC
Automatically and remotely send all default test parameters to the Mobile Device or VQuad™ for consistent testing
Perform automated testing directly from the Mobile Device. Configure automated testing from any mobile device without VQuad™ intervention with results automatically sent to the WebViewer™

Back to Newsletter Index Page