Ultra-Portable Equipment for Voice and Data Testing
Welcome to the latest issue of GL's Newsletter providing insight into our enhanced Voice and Data Quality testing tool - vMobile™.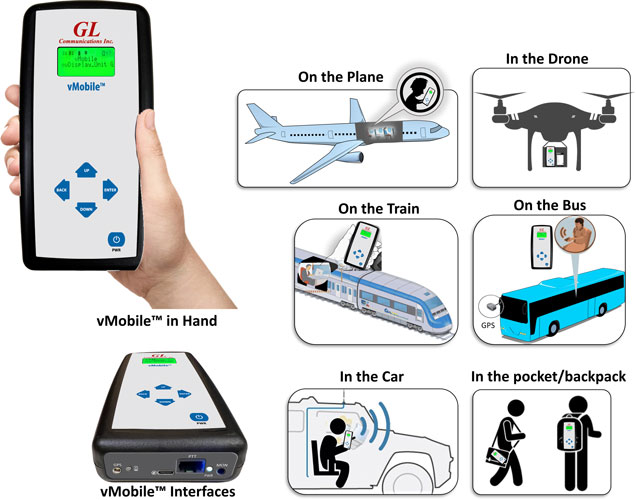 Overview
The vMobile™ is an ultra-handheld-portable device that brings true mobility to voice, video and data quality testing on wireless devices (any mobile phone or radio), changing the way automated drive and walk testing is performed. It is simple to setup and conduct simultaneous voice, video, and data quality tests to benchmark performance of any type of telephony devices.
vMobile™ includes two Bluetooth® modules, an embedded Wi-Fi module, and an onboard GPS. vMobile™ can operate either in Bluetooth mode or Analog mode (replace the headset on any analog device including Mobile Radio with PTT). The embedded Wi-Fi supports remote operation along with remote audio analysis and sends all results/events to a Central Database, accessed through GL WebViewer™ (web browser).
Key Features
Fully automated voice and data testing in any mobile network
Automation includes remote operation of far-end vMobile™ or GL VQuad™ system
Can operate either in Bluetooth mode or Analog mode (connect to any 4-wire Analog device including Mobile Radio with PTT)
Automated mobile Voice Quality Testing using embedded Wi-Fi for connecting to Central system and supporting full remote operation and analysis
Hand Portable including several remote options for operation and configuration
vMobile™ operation and configuration supported through Android and IOS apps
Drive and Walk Testing fully supported using any Mobile Phone (any carrier) or Mobile Radio
vMobile™ scripting supports all operations including conditional statements
Fully automated tests while sending events/results to Central System for analysis and Access (WebViewer™)
Full Audio Analysis using GL VAT™ supports One Way and Round-Trip Delay measurements, Signal and Noise Levels, Speech Activity, Audio Dropout Analysis along with additional analytical functions

Back to Newsletter Index Page