GL's Comprehensive SONET/SDH Testing and Analysis Solution
Welcome to GL's latest newsletter, where we discuss our solutions for Synchronous Optical Networking (SONET) and Synchronous Digital Hierarchy (SDH) carrying channelized TDM (T1, E1) traffic, and Unchannelized ATM and PoS traffic – SonetExpert™, a tester for high-speed OC-3/STM-1, OC-12/STM-4, OC-48/STM-16, and OC-192/STM-64 networks. An important feature permits auto detection of the SONET/SDH structure and constituents.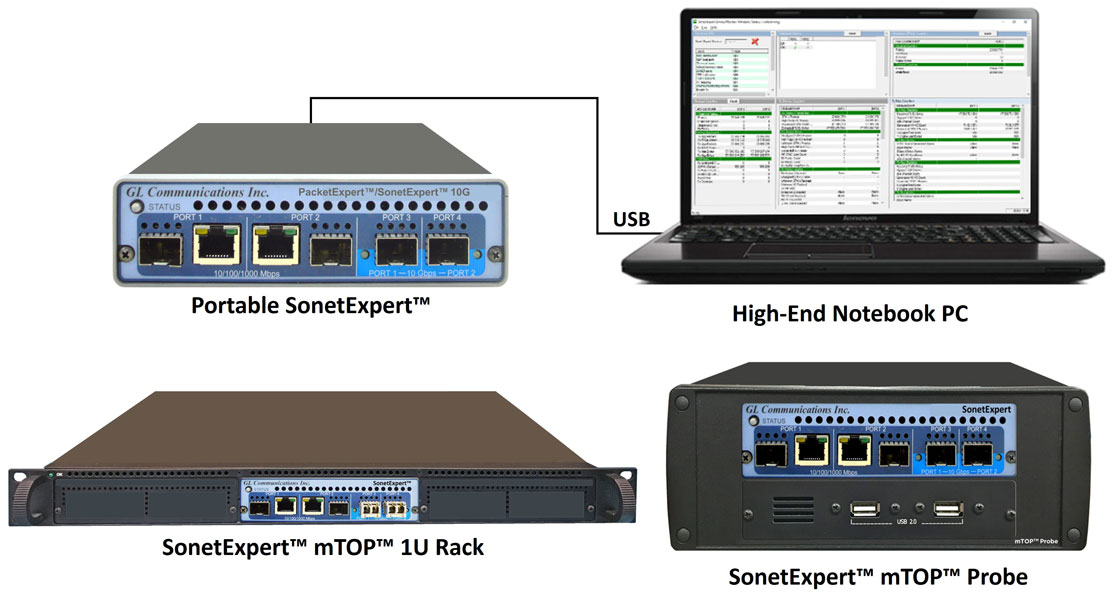 Overview
GL's SonetExpert™ is a powerful network testing tool designed to analyze, monitor, and test SONET/SDH networks. The software monitors the network in real-time and provides detailed analysis, reporting features of various types of SONET/SDH channels including STS-1, STS-3c, STS-12c, STS-48c, and STS-192c. The software provides a graphical user interface and is accessed through the web browser.
With its advanced capabilities, the tool can effectively analyze SONET/SDH networks, including channelized and unchannelized interfaces. The tool offers scanning and detection of incoming SONET/SDH traffic, ATM/PoS features, which allow in-depth analysis of ATM/PoS networks. It also supports test and measurement capabilities, such as Bit Error Rate Testing (BERT) to evaluate the performance of the network.
---
---
---
---
---
Key Features
2x channelized OC-3 STM-1/OC-12 STM-4 SONET/SDH interfaces per SonetExpert™ for simulating and monitoring in both directions
Configure the number of T1 E1 channels to multiplexed or demultiplexed to/from OC-3/12 STM-1/4
Analyze or emulate voice, data, fax, protocols, analog and digital signals, including echo and voice quality
Supports BERT over Raw SONET/SDH for OC-3/STM-1, OC-12/STM-4, OC-48/STM-16, and OC-192/STM-64
Supports BERT over PoS and ATM on OC-3/STM-1 and OC-12/STM-4
Monitors and reports various SONET/SDH Alarms (Section/Path/ Line as well as BERT Alarms) in real time
Provides Loss of Signal and Loss of Frames Hardware Alarms indication, Service logging, External Clock, Line and Diagnostic Loopback options, Through mode and Port Swap Cross-port options
Protocol analysis provides detailed analysis of higher layer protocols (for PoS and ATM) and decode of SONET/SDH frames in real time on both ports simultaneously
Provides options to capture Raw SONET/SDH or PoS/ATM wirespeed (OC-3/STM-1 and OC-12/STM-4) traffic on 2 ports simultaneously to a file on hard disk, with hardware filtering and timestamping
Supports playback of captured Raw SONET/SDH or PoS/ATM wirespeed traffic (for OC-3/STM-1 and OC-12/STM-4) traffic on 2 ports simultaneously from a file on hard disk, with highly accurate timing (as captured in the traffic file)
SCAN feature gives a complete overview of the incoming SONET/SDH traffic in an easy and intuitive graphical display and helps technicians to quickly identify the structure of unknown SONET/SDH traffic
Web interface allows multiple users to connect to a single web server and independently run tests on different hardware units

Back to Newsletter Index Page