GL's Multi-Functional Ethernet and IP Test Solution up to 100Gbps
Welcome to the latest issue of GL's Newsletter providing information and insight into our high-Speed Ethernet and IP Testing Solution - PacketExpert™ 100G. PacketExpert™ 100G is tailored for wire-speed Ethernet and IP testing at speeds of 1, 10, 25, 40, 50 and 100 Gbps.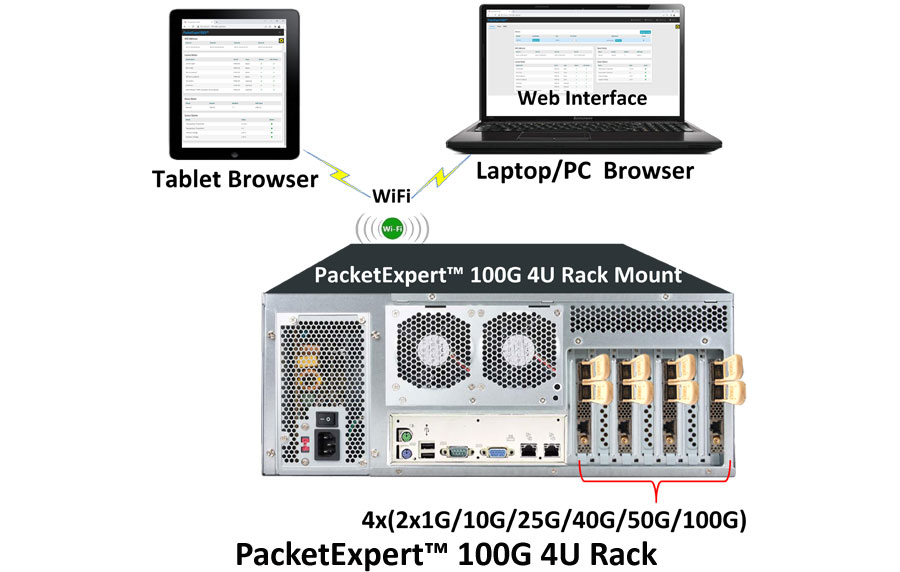 Overview
GL's PacketExpert™ 100G is a hardware platform designed for wire-speed Ethernet and IP testing up to 100 Gbps. Unlike previous version of the PacketExpert™, the PacketExpert™ 100G is a full-fledged PC with specialized Network Interface Cards, GL's proprietary PacketExpert™ software, optimized RAM, storage, processing, and cooling. The Ethernet ports support speeds of 1 Gbps, 10 Gbps, 25 Gbps, 40 Gbps, 50 Gbps and 100 Gbps.
Available in both portable ("Lunchbox") and rack-mount configurations, it can accommodate up to six 100 Gbps ports in a single appliance. The intuitive web-based user interface supports multi-user and multi-location access where users can configure test parameters, start, and stop tests, view real-time graphs and export results to PDF and CSV.
PacketExpert™ 100G can perform Bit Error Rate Testing (BERT), RFC 2544 (throughput, packet loss and latency measurements) and Loopback testing by default. It will soon support ITU-T Y.1564 testing (for verifying service level agreements) and Ethernet OAM (Y.1731) test capabilities. These applications make the PacketExpert™ 100G an ideal solution for testing high speed backhaul networks or data center interconnects.
Multiple Users with Multiple Servers and Devices
The PacketExpert™ 100G web Interface enables access to multiple servers across the LAN, supporting multiple connected devices.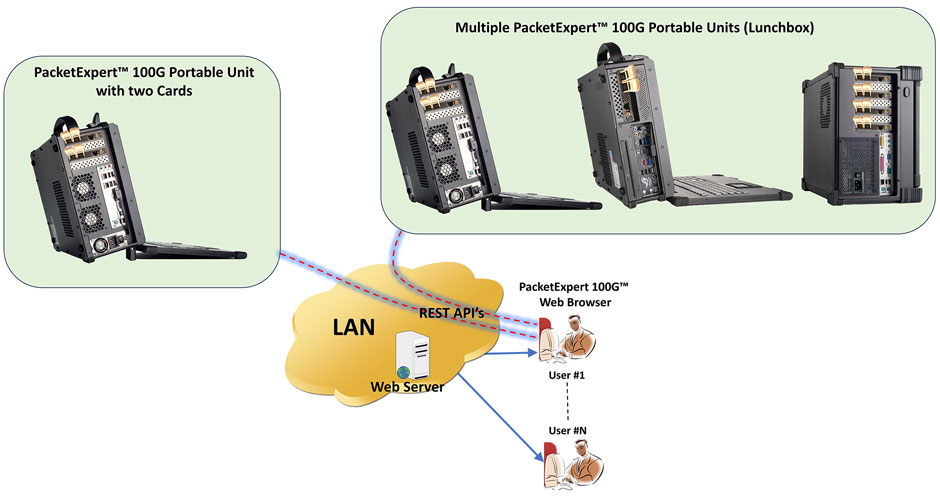 ---
Main Features
Portable PCIe based hardware supports 2 x 100G ports
Upgradeable to 4 x 100G ports or 10 x 100G ports with Portable Lunchbox PC
Each port supports 1/10/25/40/50/100 Gbps Ethernet rates
Supports QSFP28 form factor
Web-based interface, accessible through all standard web browsers across different operating systems
The web interface allows multiple users to connect to a single web server and independently run tests on different hardware units
Simultaneously generate and receive Ethernet traffic at 100% wire-speed (bidirectional 100 Gbps rate)
Wire speed BERT, Smart Loopback and RFC 2544 applications
Support for frame lengths from 64 bytes to Jumbo frames (up to 16000 bytes)
Test at Ethernet (Layer 2), VLAN / Stacked MPLS (Layer 2.5), IP (Layer 3 including IPv4 and Ipv6) and UDP (Layer 4)
BERT supports industry standard PRBS patterns – 29-1, 211-1, 215-1, 220-1, 223-1, 229-1, and 231-1, as well as user defined static patterns
BERT can be tested at Layer 1, Ethernet (Layer 2), up to 3 Stacked VLAN (Q-in-Q), up to 3 Stacked MPLS (Layer 2.5), IP (Layer 3) and UDP (Layer 4)
Multi-device support for wire-speed BERT, simultaneous BERT/Loopback, parallel RFC 2544, and all port loopback application to increase the number of ports
RFC 2544 can be tested on Ethernet, VLAN, MPLS, IPv4 / IPv6 and UDP layers and supports Throughput, Latency, Frame Loss, and Back-to-Back performance tests
Supports smart loopback (auto layer detection)
Python Application Programming Interfaces to allow scripting and automation (coming soon)
Supported Applications
BERT : Verifies end to end signal integrity of a telecommunications channel. It is a measure of the ratio of bits in error compared to the total bits received
RFC 2544 : An industry standard testing methodology used for testing isolated devices as well as end to end network paths. Measures packet performance metrics such as throughput, latency, frame loss and burstability
Smart Loopback : With smart loopback, the device intelligently decodes the incoming packet to swap all addresses and ports and sends back the received traffic at the same rate it was received

Back to Newsletter Index Page