GL Announces
Enhanced Voice Quality Testing Solutions
02nd Aug 2019
Welcome to our August 2019 issue of GL Communications' Newsletter providing information and insight into our enhanced Voice Quality Testing solutions. In this newsletter, we are highlighting the important features supported in the latest Voice Quality Testing software version 7.4, and VQuad™ software version 10.0.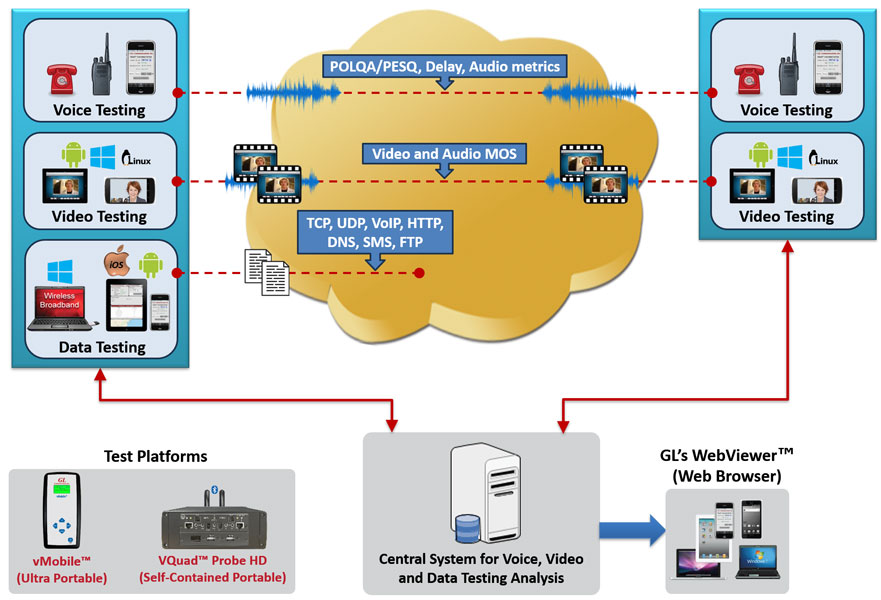 Supported VQuad™ Features
Delay Correlation and Audio Analysis
Enhanced
VQuad™
supports both automated (using script command) and manual OWD and RTD measurements using a correlation algorithm. Correlation method using Frequency domain provides higher accuracy and much shorter analysis times. The new Audio Analysis feature allows analyzing the recorded files (any *.pcm file) and provides Frequency Bandwidth and Power associated with the selected voice files.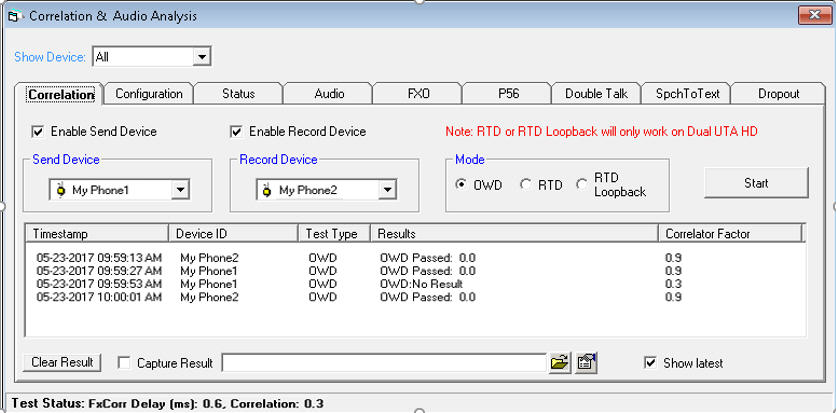 Voice Gap (Dropout) Analysis
Enhanced
VQuad™
software now supports manual dropout analysis function where the voice gaps (or muted voice or Dropout) are determined in the recorded file when compared to the Reference file. This will provide % of speech found in the recorded file when compared with the reference file and provides insight where the muted speech was found. This also provides a Pass/Fail (user-specified threshold).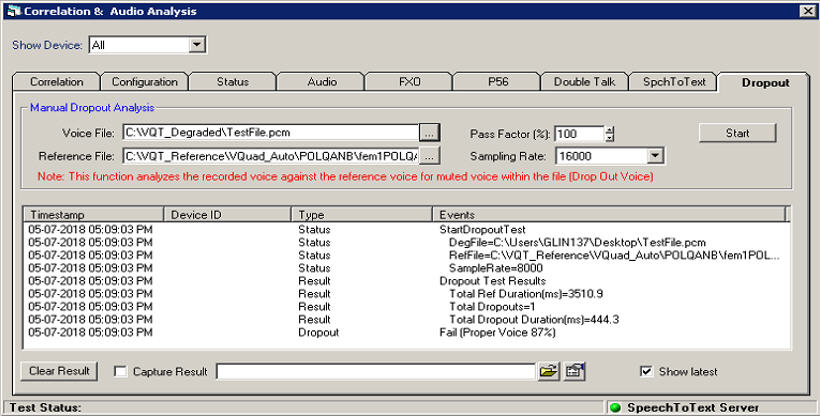 VQuad™ QoS Test
VQuad™ supports Double-Talk test for both 4W and 2W Analog. This test performs a Send/Record at near side to determine the Double-Talk within the network and provides a Pass/Fail results.
VQT POLQA Measurements (POLQA v3 coming soon)
Latest enhancements include Voice quality analysis from within VQuad™. The voice quality analysis can be performed manually by providing the Reference and Degraded files; and automate VQT analysis with VQT scripts. Supports analyzing files using POLQA (ITU-P.863) algorithms.

Various file formats are supported including A-Law, µ-Law, POLQA-NB, POLQA-WB, and POLQA-SWB. VQT POLQA testing supports 10 different Audio file languages - Italian, Japanese, Korean, Russian, Czech, Dutch, English, French, German, Greek. The user-defined Pass/Fail Threshold value are used to evaluate Events as VQT Pass or VQT Fail and test results are automatically sent to the Central DB, which can be accessed via WebViewer™.

VQT POLQA Measurement now supports Auto Profiles method in which INI configuration files are used. The Auto Measurement parameters can be defined in the files for up to 1000 profiles, which are loaded during Auto VQT POLQA measurements.
Mobile phone Testing using Bluetooth or Smartphone ACC Cable
GL's Smartphone ACC (Automated Call Control) cable is essentially used in 4-wire balance mode, which supports full audio send/record to/from mobile phone, and full Call Control.

Now, through the VQuad™ script (or manual operation), the VQuad™ can activate the iPhone SIRI or Android Google Voice and send a predefined file to the mobile device in order to perform different set of functions like Placing Call, Answering calls, Rejecting calls, Disconnect calls and Sending Messages (SMS).

With this new Smartphone cable, the Text-to-Speech functionality within VQuad™ can automatically create the necessary voice prompts for control of Siri and Google Voice. By invoking Siri/Google Assistant, it is also possible to setup calls and send messages using OTT VoIP applications like Skype, WhatsApp, Viber installed on iPhone devices and using Hangout app on Android devices.

The VQuad™ solution sysstem can connect to Bluetooth mobile phones or any end-equipment supporting HD (WB) audio. The Bluetooth solution supports full Call Control with ability to confirm current status of call as well as sending commands to the phone, via Bluetooth, to retrieve Signal Level (RSSI), Battery Level, Current Network, to name a few. While in the established call, traffic analysis and Voice Quality is fully supported for both NB and WB networks (VoLTE fully supported).
VQuad™ Script Editor
The VQuad™ script editor has been enhanced to support several new commands associated with Audio and Call Control as well as new Search options for easier development of VQuad scripts.
Enhanced DTMF Digit Detection with updated conditional support in Wait and IF commands
User-specified Script period (time between script commands) for rapid or slow script operation
New script command to request Custom Report generation from WebViewer™ based on user-specified parameters such as time period, filtering, and customer report configuration
Synchronize Clock command to support GPS or NIST (user-selectable) clock synchronize methods for timing and location
VQT Measurement command supports analyzing files for all PESQ/POLQA variants including PESQ/POLQA NB, PESQ/POLQA a-law/mu-law, PESQ WB, POLQA WB, POLQA SWB
VQuad™ remote connect command supports bi-directional connection; the far-end VQuad™ node can send user-defined events directly to near-side node
Place call command supports Secondary Place call command during which the dial number is sent as DTMF digits
Place call to list of dial numbers which are saved in the INI file and are loaded during script execution
Revised VQuad™ script with new search mechanism for better ease of operation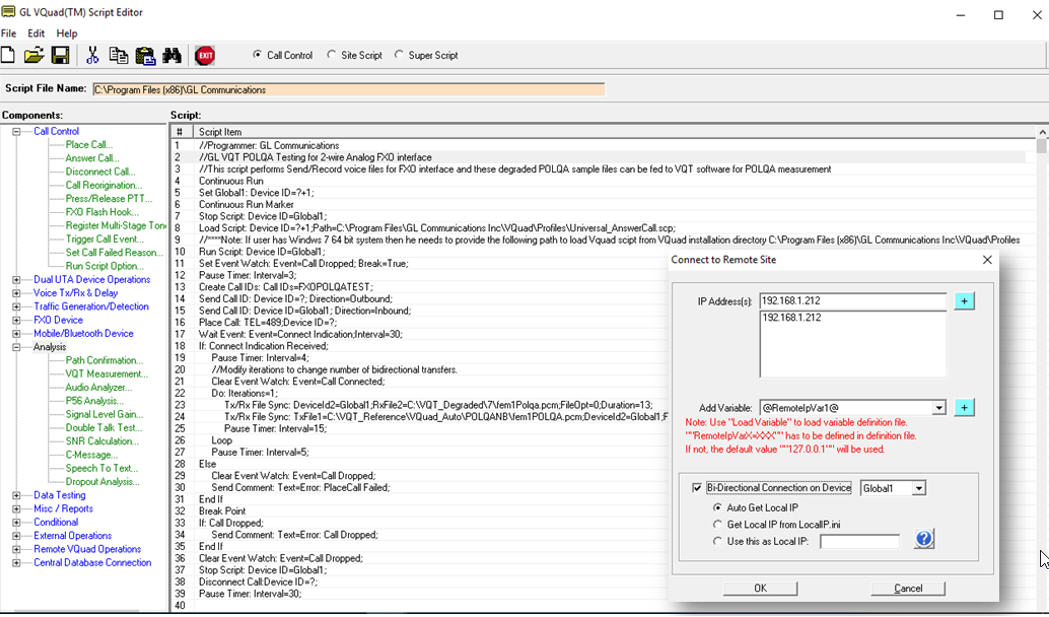 Other Important Features:
Full support for VQuad™ CLI (both Windows® and Linux) and VQuad™ API (both Windows® and Linux)
Test mobile end-to-end voice, video, and data, quality measurement and analysis results
Control Smartphones on any wireless network (Bluetooth®, 5G, VoLTE, VoWiFi, VoFemto, 3G) - both NB and WB voice supported
Different types of Data tests are supported over wired PC Ethernet connection and Mobile devices (i.e. iPhone, Android) – TCP, UDP, HTTP, FTP, DNS, VoIP, Route, SMS, Email, PhoneInfo, SimInfo, and UEInfo
Full FXO (2-wire, 4-wire) functionality support via flexible scripts. Wide Band (WB) and Narrow Band (NB) support (for HD and SD Audio).
VQuad™ SIP supports almost all standard Voice Codecs (PCMU, PCMA, G726_40, G726_32, G726_24, G726_16, GSM, G729, and Wideband HD audio codecs)
Voice quality analysis along with (RTD, OWD) delay measurements across all the interfaces
Send/record voice via T1 or E1 trunks and perform voice quality, echo and delay measurements, FAX, and various voice band analysis
Drive test with any GPS enabled Wireless devices and with real-time GPS information mapping all test results and VQuad™ call control
Automate the IVR testing process and monitor IVR System for voice and data quality
For comprehensive information on the applications, please refer to Complete VQT Solutions web page.

Please review the above and give us a call if you are interested in the above Product/Software or for any other application listed in our website. We would be happy to discuss your testing needs and we look forward to hearing from you. 

Warm Regards,

Shelley Sharma
Phone: 301-670-4784 x114
Email: info@gl.com


---

Back to Newsletter Index Page