GL Announces LTE Conformance Test Suite
Welcome to another issue of GL Communications' Newsletter providing information and insight into our MAPS™ LTE Conformance Test Suite for LTE S1 and LTE X2 interfaces in the LTE network (eNodeB, MME), per 3GPP standards.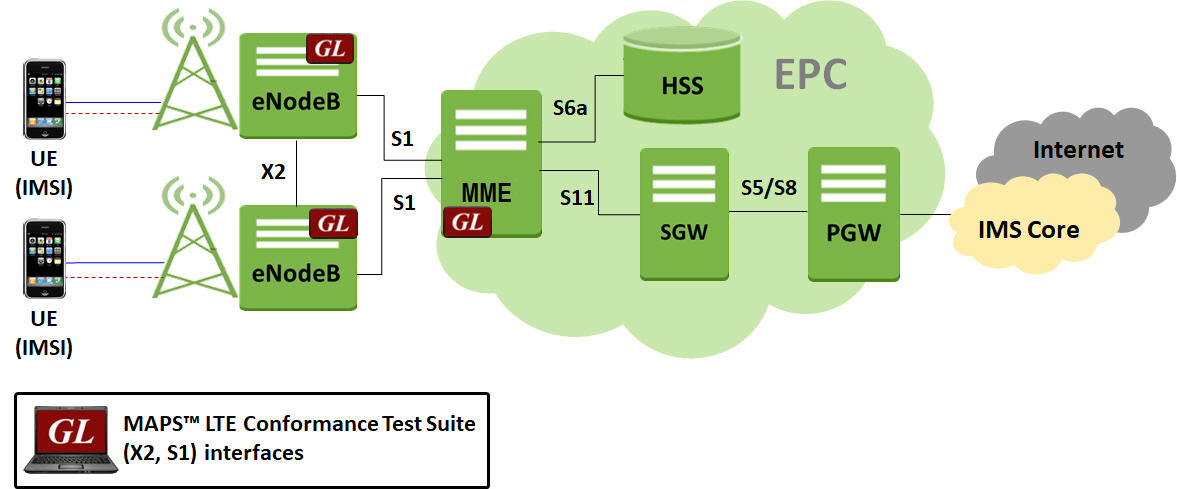 Overview
GL's MAPS™ LTE Conformance Test Suite is designed with 50+ test cases, per 3GPP TS 36.413 (LTE S1) and TS 36.423 (LTE X2) specifications, and includes built-in conformance scripts for eNodeB conformance in the S1 interface and multiple eNodeBs in the X2 interface.
Test cases include general Evolved Universal Terrestrial Radio Access Network (E-UTRAN), S1 Application Protocol (S1AP), and X2 Application Protocol (X2AP) messaging and call flow scenarios over LTE network. Test cases verify conformance of actions such as UE attach/detach, periodic updating, E-RAB setup, X2 setup, handover procedure, UE context release, and error indication.
---
LTE S1 Interface Conformance Testing
MAPS™ LTE S1 emulator can be used to test eNodeB for all the listed S1AP procedures, where the emulator acts as MME with conformance scripts to simulate various network side procedures and perform various success/failure test cases, automating the entire eNodeB (DUT) testing.
Supported Test Cases
Paging success/failure
Paging via IMSI success/failure
UE attach success, UE detach, UE tracking area update
Periodic updating
Service Request
E-RAB Setup procedures

GBR E-RAB setup success
Non GBR E-RAB setup success
E-RAB setup failure
E-RAB release
E-RAB Modify - priority trigger, QCI changes, UE AMBR
E-RAB Modify failure

Setup context – Fail, Success
UE Context Release, Modification
Handover

Success Handover S1 interface
Handover prepare failure
Handover resource allocation failure
Handover failed: Multiple E-RAB ID instances
Handover Cancel

S1 Setup

S1 Setup Success
setup failure and resend setup

Reset all resource, partial resource
Error Indication
Location report
---
LTE X2 Interface Conformance Testing
MAPS™ LTE X2 emulator can be configured as Source eNodeB connected to the Target eNodeB (DUT). The conformance scripts can simulate various procedures and perform various success/failure test cases, automating the entire target eNodeB (DUT) testing.
Supported Test Cases
Load Indication (send load to and receive load from target eNodeB)
Error Indication (send error to and receive error from target eNodeB)
X2 Setup

X2 Setup Success
Setup failure and resend setup

Configuration update

Send/receive configuration update
Configure update success after re-send
Resend Configuration update after failure
Response Configuration update failure
---
Important Features
Simulates MME to test eNodeB in LTE S1 interface and two eNodeB elements in LTE X2-AP interface
Supports LTE Control plane
Generates hundreds of UE Signaling (Load Testing)
Generates and process S1/NAS, X2-AP (valid and invalid) messages
Supports GTP Traffic (GTP User Plane Data) which includes verification like HTTP traffic generation capability
Supports Mobility Management, Load Management, Reporting of General Error Situations, Re-setting X2, Setting up the X2, and eNodeB Configuration Update procedures
Customize call flow and message templates using Script and Message Editor
Ready-to-use scripts for quick testing
Scripted call generation and automated call reception
Script based & protocol independent software architecture
Provides call statistics and events status
Automation, Remote access, and Schedulers to run tests 24/7
For comprehensive information, please refer to the MAPS™ LTE for S1 Interface Emulator and MAPS™ LTE for X2 Interface Emulator web pages.

Back to Newsletter Index Page