Newsletter: GL Announces Fax Test Solutions for IP Networks with T.38
Welcome to October 2015 issue of GL Communications' newsletter providing information and insight into our Fax Testing Solutions over IP.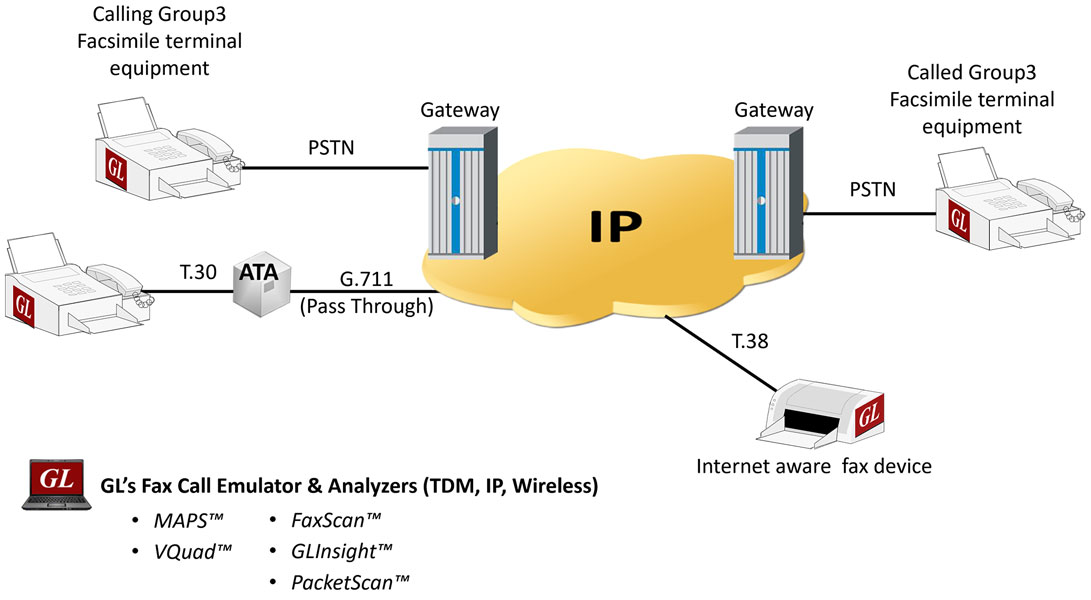 Overview
Be it a private or government establishment, FAX continues to hold its ground as a dominant form of communication over a wide variety of wired and wireless networks. Hence, there is need to test networks for the ability to send and receive FAX, and monitor quality of FAX transmissions in real-time.
With many carriers switching from traditional TDM to IP networks, new methods were formulated to address the ways and means of transporting FAX over IP (FoIP) networks. A typical fax communication between traditional PSTN/TDM and IP network is shown in the figure above.
One of the methods, G.711 fax pass-through mode, works similarly to a PSTN-based fax call with originating FAX machine converting the T.30 fax call to a PCM audio stream using G.711 codec (PCMU and PCMA), and gateway encapsulating the fax data with Real-time Transport Protocol (RTP) headers, before transmitting over IP networks. Basically, G.711 codec is used for transmitting and receiving voice over IP using pulse-code modulation (PCM). This standard does not distinguish between a G.711 voice call and a fax call, and it carries the fax message over the voice call.
A robust approach was offered using T.38 Fax Relay Protocol, for transmission of fax over IP, which offered redundancy, re-transmission, and efficiency. A T.38 FoIP call is very similar to a normal VoIP (voice) call where a session starts with audio transmission / reception, then switches over to T.38 mode upon fax tone detection, after the completion of which it either falls-back to audio or the session terminates. It is recommended to use T.38 method in FAX calls as opposed to normal voice codecs because voice codecs are lossy and are therefore unreliable for data transition. The T.38/V.17 configuration operates at the maximum 14.4 kbps speed, whereas the T.38/V.34 operates at the maximum 33.6 kbps speed.
GL offers a variety of test tools to perform FAX over IP (FoIP) simulation and monitoring. Recently added is the ability to perform Fax Simulation using T.38 Fax Relay protocol. Refer to the figure above.
---
Fax Emulation over IP using GL's MAPS™ Platform (T.38)
The fax call originating in PSTN network from Group3 Facsimile equipment, switches from analogue mode to digital mode between the gateways, and then again falls back to analogue mode in PSTN network at the receiving end. The T.38 Fax relay protocol is used to carry the fax control signals and image data between the gateways over the IP network.
GL's MAPS™ SIP is a useful tool for simulation of T.38 fax call. It uses SIP signaling to establish the session, and it sticks to standards like ITU-T T.30, ITU-T T.38, ITU-T T.4, ITU-T V.8, ITU-T T.6 during fax call. One could configure MAPS™ to perform different types of action like transmit file, digits, tones or Talk in audio mode before switching over to T.38 mode.
MAPS™ SIP generates Re-Invite to switch from audio mode to image (FAX) mode. Implementation uses UDPTL to carry T.38 frames. The below screenshot depicts the process.
---
Important Features
Support for V.34 operation mode
Support for Transmission/reception of multi-page tiff files
Support for ECM/Non ECM modes
Support for various transmission/reception rates( 2400 bps to 33600 bps )
Support for Rate Management 1 (local tcf) or Rate Management 2 ( transferred tcf )
Support for different error correction strategies like FEC or Redundancy for error recovery
Support for various page sizes A4, A3, B4, letter, legal
Support for various page resolutions 204x98, 204x196,204x391, 408x391, 200x200, 300x300, 400x400 during transmission or reception
Provides fax call quality parameters like Received Page Count, Received Page Error Count, Received Byte Count, Received Line Count, Received Bad Line Count, Received Bad Pkt Count, Transmitted Page Count, Transmitted Byte Count, Transmitted Line Count
Provides complete Fax call status
---
Fax Analysis over IP using FaxScan™ and GLInsight™ (T.38 and G.711 Pass-Through Mode)
Monitoring is done by recording the IP traffic using suitable call capture applications. These files are then decoded to investigate issues with protocol messages and Fax image quality.
Call Capture applications such as GL's PacketScan™ software supports capture, decode, and analysis of all types of calls over IP, including T.38 Fax and G.711 Pass through Fax calls over IP. The detail analysis and decode information of a fax call is available within PacketScan™. One can also save the captured file into a PCAP format, and then analyze independently using FaxScan™ or GLInsight™ applications.
FaxScan™ can process up to V.34 T.30 recordings and T.38 SIP/RTP Win PCAP captures. FaxScan™ can be operated as a stand-alone command line application from a Batch file or as an integrated module within the GL's PacketScan™ or Voice Band Analyzer application to decoded fax call and produce logs. The output of FaxScan™ contains the following information:
Extracted images (if present) in a TIFF file
T.30 Analysis - T.30 session trace as a linked list of events The T.30 analysis takes the form of a sequence of events detected in the session. T.30 analysis generated in all modes
Cumulative statistics for the session
T.38 Analysis - Analysis of each T.38 frame (optional output)
SIP analysis in the form of ladder diagram and is only available in SIP mode (optional output)
Verbose Output
GLInsight™ helps in decoding and analysis of captured T.38 FoIP calls as well G.711 Pass-through FoIP calls. GLInsight™ demodulates the raw transmissions and presents the decoded data in an easy to understand format. It produces extensive log files with all relevant debugging information for easy event tracing which in turn provides insight to potential sources of problems. The software supports:
Decoding of Fax over G.711 (over IP) transmissions
Decoding of Fax over T.38 (over IP) transmissions
Fax termination on each side
T.30 Fax data carried over T.38 UDPTL packets
CNG is detected, then demodulated, followed by transmission of raw T.30 data
Transmit/Receive T.38 packets

Sequence number
Modulation type
Raw data
Retransmission of lost packets

Decodes the packets and performs network analysis

packet loss, jitter behaviour,
no-signal/single-sided indication, bad packets detection, packet collusion detection

Complete fax analysis

T.30 Decoder Analysis
T4/T6 compression information and incompatibility
T.38 Fax TIFF Image
Improper state flow analysis
ECM problems

Back to Newsletter Index Page