GL Announces ExpertSAM™ to Quad Port Ethernet/IP Tester
Welcome to another October 2014 issue of GL's Newsletter providing information and insight into our enhanced PacketExpert™, a Quad Port Ethernet/IP Tester. It is enhanced with ITU-T Y.1564 test methodology referred to as ExpertSAM™.

Overview
ExpertSAM™ is an optional application with GL's PacketExpert™, a quad port Ethernet/IP Tester. GL's PacketExpert™ is a portable (USB based) Quad Port Ethernet / VLAN / MPLS / IP / UDP Tester with 4 Electrical Ethernet ports. 2 of the 4 ports can be Electrical or Optical, enabling testing on optical fiber links. The electrical ports support 10/100/1000 Mbps. The optical ports support 1000 Mbps using SFP Transceiver. Each GigE port supports testing at wire speed for applications such as Wirespeed BERT, RFC 2544 (Single and Dual Port) Testing, Smart Loopback, WAN IP link Emulation, Capture and Playback, and ExpertSAM™.
ExpertSAM™ is a set of test procedures that test the ability of Ethernet-based services to carry a variety of traffic (voice, data, and video) at defined performance levels. In particular, it is aimed at addressing limitations of legacy RFC 2544 test procedures, especially for Service Level Agreements (SLA).
ExpertSAM™ performs round-trip measurements in combination with a remote loopback. In the above test setup depicted pictorially, another PacketExpert™ is configured as a loopback device. In this case, the results reflect the average of both Tx and Rx test directions.
---
Comparison Table of ExpertSAM™ (Y.1564) vs RFC 2544
| | RFC 2544 | Y.1564 (ExpertSAM™) |
| --- | --- | --- |
| Measurements | Throughput, burstability, frame loss and latency | Throughput, burstability, frame loss, latency, packet jitter, and QoS |
| Services | Link level | Multiple concurrent service levels |
| Performance | Measuring maximum performance | Key Performance Indicators (KPI) validation |
| Throughput | No separation of the committed and excess traffic | Committed Information Rate (CIR), Excess Information Rate (EIR) and Traffic Policing constantly ensuring that KPI are met during the test |
| Frame Delay | Tests one frame in every test time and does not consider any latency variation that might occur over a longer test period | Latency is measured during the test on all the generated frames measuring any deviation out of the defined range |
| Frame loss | Frame loss is measured during rate distribution throughput test where the frame loss distribution doesn't align with committed rate without complying to the KPI | Frame loss measurement during throughput test |
| Frame Delay Variation | Frame delay variation is not measured | Frame delay variation is measured for traffic generated up to the CIR ensuring proper traffic prioritization |
---
Functional Procedure and Service Configuration
ExpertSAM™ is a single test conducted to validate SLA as per ITU-T Y.1564 standard. The ITU-T Y.1564 is built around two key subtests: the Service Configuration Test (SCT) and the Service Performance Test (SPT).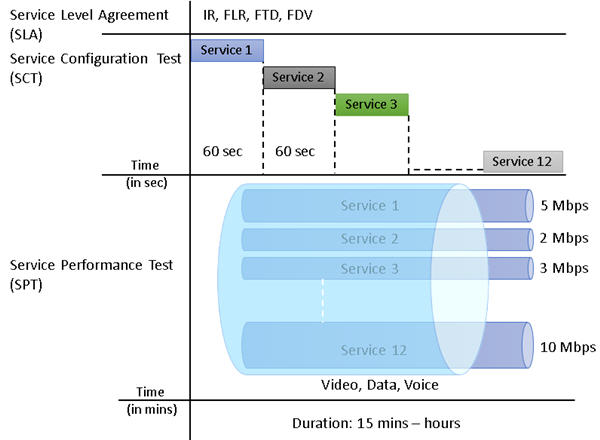 SCT includes sequential testing of each service validating the SLA parameters. A ramp test for each service is performed to verify the CIR, and EIR. Each service is validated within the specified time duration in seconds, which is uniform across all the services.
In ITU-T Y.1564 ExpertSAM™ test methodology, Throughput, Frame Loss, Frame Delay and Frame Delay Variation (cumulatively known as Service Acceptance Criteria, or SAC Parameters) are measured and compared to the expected values for each service ensuring it is within its committed range or the threshold defined for guaranteed traffic such as CIR.
Each Service can be configured for various attributes like the Frame Size(s), Layer Header Parameters (including VLAN Tag Information), the Bandwidth Profile (CIR, EIR and Policing Rates), Color Method and SAC Parameters as shown in the screenshot below -
User has been provided with the option to configure SPT in steps namely CIR, EIR and Traffic Policing. CIR can be configured either as Simple CIR (single step) or Step Load CIR (multiple steps). Each CIR step can be configured in % of CIR rate. Duration of each step can be from 1 to 60 seconds.
Once the configuration of each service is validated, the SPT simultaneously validates the quality of all the services traversing the network under full load with the SLA parameters over time. The SPT may take few minutes, or can be transitioned to longer testing hours.

---
Test Results
Detailed results are provided per service for both SCT and SPT, along with Pass/Fail verdict.
---
Important Features
Complete validation of Ethernet SLA in a single test
Compliance with ITU-T Y.1564 standard SCT and SPT
Supports multiple services (up to 12 services) with varying performance requirements that meets full load conditions
Simultaneous validation of all the services for quality over the time
Capability to generate traffic at throughput of CIR (guaranteed traffic), EIR (best effort bandwidth) and Traffic Policing (dropped bandwidth) rates ensuring KPI validation
Acceptable SLA parameter configuration for Information Rate (IR) or Throughput, Frame Loss Ratio (FLR), Frame Transfer Delay (FTD) and Frame Delay Variation (FDV) or Jitter and Pass/Fail verdict declared
Color Aware mode supported - generates Green/Yellow color marked traffic at the configured rates, and provides Green and Yellow measurements separately. VLAN PCP, IP TOS and IP DSCP color marking supported
Ethernet MIX (EMIX) frame sizes supported per service - up to 7 frame sizes can be defined per service
Stacked VLAN supported - Customer Tag (C-Tag) and Service Tag (S-Tag) to simulate Carrier Ethernet traffic
Command Line Interface for automated testing and remote accessibility

Back to Newsletter Index Page