Newsletter: GL Announces Ethernet/IP Multi-Stream Traffic Generator and Analyzer
Welcome to August, 2016 issue of GL Communications' Newsletter providing information and insight into our latest product Multi-Stream Traffic Generator and Analyzer that generates and analyzes up to 16 user defined Ethernet/IP streams of varying packet length traffic.

Overview
With increasing number of applications running over IP networks, modern day IP networks are becoming increasingly multi stream, to carry different kinds of traffic streams: Data, Voice, and Video simultaneously. Since IP networks are packet switched networks, they suffer from the inherent impairments introduced by Packet switched networks for example Latency (Delay), Frame Loss, Jitter, Packet reordering. The challenge for modern day IP networks is to provide a good Quality of Service (QoS) for all the different kinds of streams despite the aforementioned impairments.
Also, some of the streams like Voice or Video may need a higher QoS, necessitating prioritization of certain streams over others. Hence, testing modern IP networks under realistic network conditions requires the simulation of multi stream traffic with each stream emulating the characteristics of real world streams like Data, Voice, and Video. Also, there is a need to measure key IP metrics that of Throughput, Frame Loss, Delay and Jitter when the simulated streams are passed through the test network. There are also many enterprise-level applications designed to work on different networks such as enterprise networks, storage, cloud services, web services, ftp, audio/video streaming, and so on. Such applications also require testing with the real network conditions prior to live deployment. There are number of ways to do this. A basic method is to use Ethernet/IP multi stream traffic generation and analyzer devices.
Functional Procedure
GL's
Multi Stream Traffic Generator and Analyzer
is hardware based Ethernet tester capable of generating multi-stream Ethernet/IP traffic of varying packet length and also analyze the looped back traffic. This tool is especially useful for end-to-end testing of 1 Gbps and 10 Gbps WAN links. It is currently available on GL's powerful test platform
PacketExpert™ 10G
, that sports dual 10 Gbps optical and dual 1 Gbps optical/electrical ports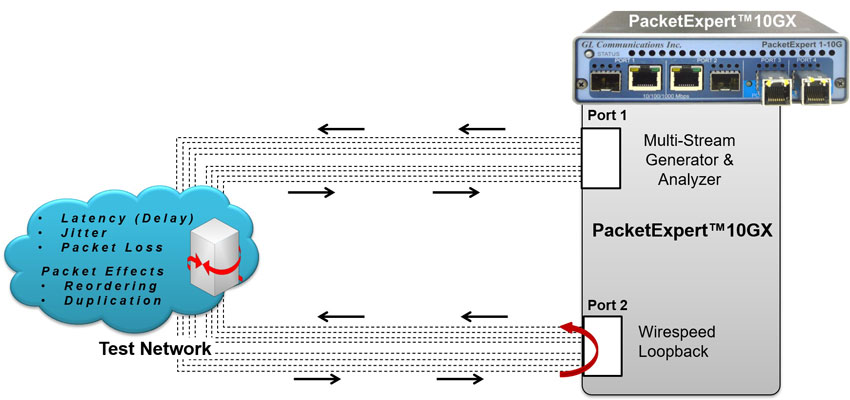 As provided in the main network diagram, streams can be defined according to the intended application type such as Data - HTTP, FTP, ARP, ICMP and more, VoIP - RTP streams (over UDP) carrying Voice codec payload viz., G711, G729, AMR and Video - RTP streams (over UDP) with H264 codec.
As shown in the above image, the multi streams generated at port#1 is sent to the Loopback port (either the port#2 in the same hardware unit or the loopback port on another remote unit) through the network. The Loopback port sends the traffic back to the port#1 again through the network. This way, the multi-stream traffic traverses the network twice (in the upstream and downstream directions), and is prone to network impairments: Latency, Packet Loss, Jitter, Packet reordering, Packet Duplication in both directions. The received traffic on port#1 is analyzed and the IP metrics are reported.
The test results include Throughput, Frame Loss, Frame Delay (Latency) and Frame Delay Variation (Jitter) metrics for each stream. User can easily monitor the bandwidth performance using live throughput consolidated graphical view for all the streams (16 streams over 1G/ 10G ports).
The Port#2 on
PacketExpert™ 10G
offers Smart Loopback functionality on both 10G/1G to loopback the incoming traffic back to the source in the network. Loopback option helps in easy test setup, especially in cases, where the other end is in a remote place and is not easily accessible. In such cases, only one PacketExpert™ hardware unit can be used locally, with the traffic from Port#1 arranged to be sent to Port#2, which then loops back the traffic to the Port#1 for analysis.
Important Features
Test tool with Ethernet traffic generation and analysis capabilities in one-box
Generate and analyze packets at 1GigE and 10GigE line rates, with zero packet loss
Dual Ports - with electrical ports support 10/100/1000 Mbps, optical ports support 1000 Mbps using SFP, and 10Gbps using SFP+s
Also available as Tablet-inspired Touchscreen Handheld platform (PacketExpert™ 10G with a Tablet PC) that makes it highly suitable for field testing

Traffic Generation -

Supports multiple streams with varying test configurations
Streams can be defined with various header fields viz., Source/Destination MAC Address, VLAN Id, Source/Destination IPv4 Address, Source/Destination UDP ports
Mix of frame sizes supported per service - up to 5 frame sizes can be defined per stream
Stacked VLAN supported - C-Tag and S-Tag to simulate Carrier Ethernet traffic

Traffic Analysis -

KPIs supported - Information Rate (IR) or Throughput, Frame Loss Ratio (FLR), Frame Transfer Delay (FTD) or Latency, and Frame Delay Variation (FDV) or Jitter, measured simultaneously for multi streams
Easily monitor the bandwidth performance using live throughput consolidated graphical view for all the streams (16 streams over 1G / 10G ports)
Detailed per stream statistics for unique streams
Provides per port frame statistics E.g. Total Frames/Bytes Received, Rx Frame Rate, Rx Data Rate

Command Line Interface for automated testing and remote accessibility
Applications
| | |
| --- | --- |
| Stress Testing | |
| | Stress test DUT/Networks by generating up to 16 user defined streams at full wirespeed (1Gbps or 10 Gbps) using Multi-Stream Traffic Generator. As provided in the diagram, user can send the traffic through the test network towards the loopback port (remote port or local port), and then perform the wirespeed loopback to send back the traffic towards the generator port at wirespeed. Now, one can perform the analysis of the received traffic, measure and report the IP metrics. This will help measure the Round trip metrics i.e. combined performance of both Upstream and Downstream directions. |
QoS Prioritization
QoS Prioritization can be verified in the network by generating background and foreground streams (up to 16 user defined streams) at full wirespeed (1 Gbps or 10 Gbps) using Multi-stream Traffic Generator. QoS Prioritization can be realized by generating background and foreground streams as illustrated in the following scenarios:
| | |
| --- | --- |
| Background Traffic Generator | |
| | Generate high volume and realistic background traffic to stress the network, while testing real foreground traffic. |
| | |
| Foreground Traffic Generator | |
| | Generate highly precise (hardware generated) Ethernet/IP traffic stream to send through a network and measure the performance in the presence of real traffic. |

Back to Latest News Page