GL Announces T1 E1 Emulation / Analyzer Products & Software Ver 8.10.1
Welcome to another October 2014 issue of GL's Newsletter covering the latest hardware, software, applications and enhancements introduced to our versatile T1 E1 Analyzer product line - now Version 8.10.1.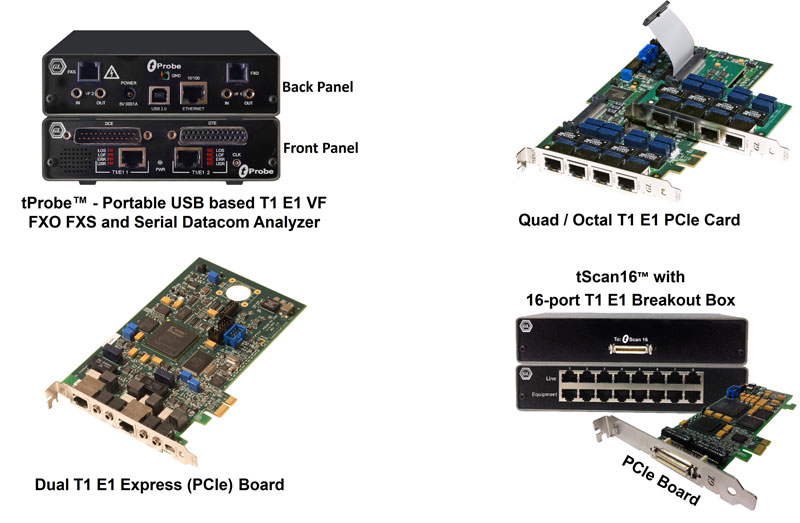 New Hardware
tScan16™ Analyzer

GL'stScan16™ is a high-density T1 E1 board with 16 Rx ports and the newer PCIe (x1) bus interface. The sixteen T1 E1 ports are Receive-only ports optimized for high performance voice and data capture, monitoring, and analysis requirements. tScan16™ extends the family of GL's T1 E1 platforms with greater density, increased ports, and reduced power.
Dual T1 E1 Express (PCIe) Boards

GL's Dual T1 E1 Express (PCIe) Boards are high-density Dual T1 or E1 boards with newer PCIe (x1) bus interface. These cards are identical to the portable tProbe™ units except for FXO FXS and Datacom functionality. In addition to basic T1 E1 applications and optional special applications, Dual T1 E1 Express (PCIe) Boards also support enhanced VF drop and insert with software selectable VF Tx and Rx impedances (135 Ω, 150 Ω, 600 Ω, 900 Ω, or High), Pulse Mask Compliance, Jitter Generation and Measurement testing applications.

---
New Software
---
Key Enhancements Introduced to the Existing Applications:
Analyzer software now supported on newer Windows® 7 / 8.1 32 & 64-bit platforms
An easier, all-in-one single software and driver installation for Windows® 7, Windows® 8.1 32 bit and 64 bit operating systems. Configuration changes for user-friendly driver installation for Universal T1 E1, tProbe™, and USB T1 E1 analyzers
Addition of "Enable Event Graph" check box to the graph dialog. The software now remembers the "Enable Event Graph" check / uncheck option
"Online Graph" enabled or disabled depending upon "Enable Event Graph" check option
FM0, FM1 and Differential Manchester encoding schemes added to the coding selections
Enhanced to support functions like BERT and Record Playback using the Datacom interface at user-defined custom frequency data rate
The Programmable Frequency Setting option to select a custom frequency data rate
Enhanced to support G.722 (64kbps) codec. G.722 is an ITU-T standard 7 kHz wideband speech codec operating at 64 kbps
A G.722 sample file inclusion in the installation subfolder "G722 Samples"
The CCA application is enhanced to capture SS7 calls on multiple T1 E1 trunks, which may use a signaling link that may be on a different physical trunk than the telephony circuits. The signaling time slots on other trunks may be used for a normal voice circuit. To allow capturing on trunks, CCA is enhanced with Circuit Identification Code (CIC) group configuration that includes Skip Timeslot 16 and non-consecutive CIC numbering options.
Detection Option for configuration of files to select the hyper-channel, timeslot or sub-channels of interest through configuration files
Stream-scan View to observe different stream configurations being scanned. An option to define the time for scanning
Port Selection option to select the port(s) of interest for the detection
Thread Configuration option to improve the parallel processing of HDLC streams
Added fetching information about number of cores (processors) running in a system and suggesting ideal number of Threads in Parallel Detection
The WCS application has been updated with the Launchpad to handle servers running with tScan16™, and Dual T1 E1 PCIe boards. Frequency Shift Keying Signal (FSK) demodulation is now made available in WCS using the "Monitor ADSI" command. This command instructs the GL Server to monitor the FSK signal arriving at the specified receive timeslot(s).
Supports loop current and line voltage monitoring
Added code set and query FXO line voltage or loop current latch. Either high or low line voltage or loop current latch may be set. The latch is triggered when line voltage or loop current transitions across the latch threshold
Added a WCS task to monitor the latch
Added code to tie together VF operations with FXO/FXS operations
Provided support for the optional INIT_TIMERS command which can be used for setting different MTP2 Timers
Reduced delay involved in the transmission of frames
MTP2 acknowledgment timer T7 handling has been changed
Message Automation and Protocol Simulation (MAPS™)
There are several important enhancements introduced to MAPS™ platform applications:
MAPS™ CAS supports Feature Group D simulation with additions of new scripts
TCL CLI Support for all MAPS™ TDM products
Multi-Interface support
Multiple interfaces and node configurations setup in a single test bed. Addition of several features viz. scheduler, script encryption, script coverage, script profiling, script flow and more
INI Files have been updated for ATM, CAS, Frame Relay, GPRS Gb, GR-303, GSM, HDLC, ISDN, SS7, TRAU, UMTS, and V5.x Protocol Analyzers to display correct default set of summary fields.
There are also enhancements to individual protocols:
All HDLC Based Analyzers support Multiple Hyper Channels selection per port
New timeslot selection for HDLC TX/RX Test, HDLC based analyzers, including ISDN, and SS7 analyzers
Enhanced CAS Analyzer withnew protocol standard Feature Group D decode
Addition of new protocol decode MTP3 UK (MTP3UK.h) to SS7 Analyzer to support British Telecom (BT) IUP
SS7 call trace ISUP includes Calling Name Delivery (CNAM) records for each call
PDA is now included with PPP, PoS (PPP over SONET), Frame Relay, and UMTS analyzers for all platforms. Offline PDA analyzer is now supported for PPP protocol analyzers.
PDA Offline analyzer includes the missing files, "megaco.dfa" and "megaco.llr" which help invoking MEGACO traces in PDA without any hassles.
In addition to the above, there have been several modifications and bug fixes to the T1 E1 Software. For more details, please refer to the link what's new in the current version 8.10.1 web page.

Back to Newsletter Index Page