GL Announces Comprehensive Ethernet and IP Test Solutions
Welcome to December 2014 issue of GL Communications' newsletter providing information and insight into comprehensive Ethernet and IP Test Solutions using our industry leading PacketExpert™ product.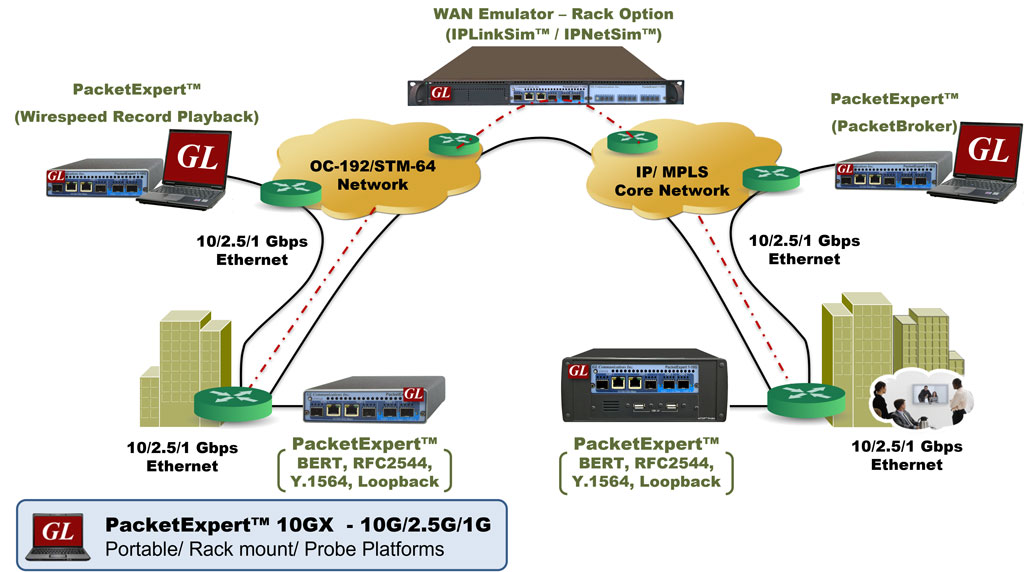 Overview
GL's PacketExpert™ is a comprehensive portable (USB based) Quad Port Ethernet Tester with 4 Electrical Ethernet ports. 2 of the 4 ports can be Electrical or Optical, enabling testing on optical fiber links as well. The electrical portssupport 10/100/1000 Mbps and the optical ports support 1000 Mbps using Small form-factor pluggable (SFP) Transceiver.
High Density (HD) - PacketExpert™offers higher densities from 12/24 GigE Ports form factor solution for testing GigE switches, routers and network conditions. The chassis comprises of both electrical and optical (fiber) interfaces.
With the capability to generate/receive traffic with stacked VLAN (Q-in-Q) and stacked MPLS, PacketExpert™ finds use in testing a wide range of networks – from testing individual links/switches, testing local Ethernet/IP networks (LAN), end to end testing of Wide Area Networks (WAN), testing Core/MPLS networks, and much more.
Each GigE port provides independent Ethernet/VLAN/MPLS/IP/UDP testing at wire speed for applications such as Wirespeed BERT, and Smart Loopback.
The PacketExpert™ supports all RFC 2544 Tests for the performance benchmarking of individual network elements. These include Throughput, Latency, Frame Loss, and Back-to-Back tests. Similar to BERT, RFC 2544 can be done over Framed Ethernet (Layer2), Stacked VLAN (Q-in-Q), Stacked MPLS, IP and UDP.
Live packet network can be captured and played back using the PacketExpert™ Record-Playback to simulate the varying characteristics of the real-time network in a test environment.
The PacketExpert™ with IPLinkSim™ feature emulates a bidirectional IP WAN link with varying capacities from 10 Mbps to 1 Gbps for the electrical interfaces, and 1000 Mbps for the optical interface using SFP.
The PacketExpert™ with the new ExpertSAM™ application is used to validate service-level agreements (SLAs) as per ITU-T Y.1564 standard with a single-test.
The applications are briefly discussed below:
---
Wire speed BERT
---
RFC 2544 Testing
---
WAN IP link Emulation
---
ExpertSAM™ - ITU-T Y.1564 standard Carrier Ethernet Validation

Back to Newsletter Index Page