GL's Cellular Network Monitoring Solution
GL Communications' PacketScan™ HD can capture and analyze high volumes of phone calls over a wide range of protocols on IP and Wireless (2G, 3G, 4G, IMS, and 5G) networks. The solution can capture, analyze and monitor large-scale networks for surveillance and troubleshooting.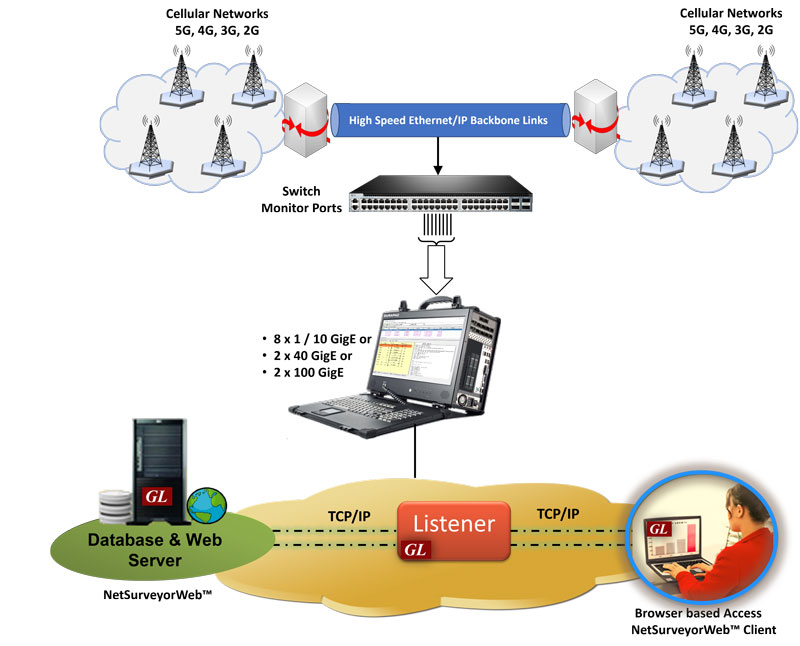 Overview
Wireless carriers, internet service providers, and equipment vendors must constantly monitor voice quality, call successes, failures, and drops, and other statistics to ensure customer satisfaction. Law enforcement agencies must be able to capture and listen to phone calls for national security and defense purposes.
GL provides an all-IP probe analyzer PacketScan™ HD which can capture, decode, and measure KPIs on all wireless protocols. This solution can monitor all 2G, 3G, 4G, IMS, and 5G wireless communication protocols such as GSM, GPRS, UMTS, SIGTRAN, LTE, and Diameter, in addition to IP protocols such as SIP, MGCP, MEGACO, Skinny, and H.323.
This solution can analyze signaling across multiple technologies (Mobile, 5G, VoNR, IMS, LTE, SIGTRAN, VoIP, etc.) and can monitor calls progressing through advanced 3G,4G, or 5G networks all from a central location.
GL also provides a distributed network surveillance system with protocol analysis probes deployed at various physical locations. The protocol analysis probes feed data such as call detail records or complete call recordings to a centralized database for remote analysis.
Important PacketScan™ HD key features:
Capture IP traffic across high speed (1 Gbps, 10 Gbps, 40 Gbps, 100 Gbps) links without loss
Filter on traffic of interest (source/destination IP addresses, ports, protocols, etc.)
Analyze signaling & traffic flows (VoIP, wireless traffic)
Call Detail Records
Voice quality metrics and other Key Performance Indicators (KPIs)
Signaling & Traffic KPIs
Record calls of interest (based on specific users, mean opinion score parameters, etc.)
Centralized dashboard for viewing data from many geographically distinct locations
Portable network monitoring and analysis tools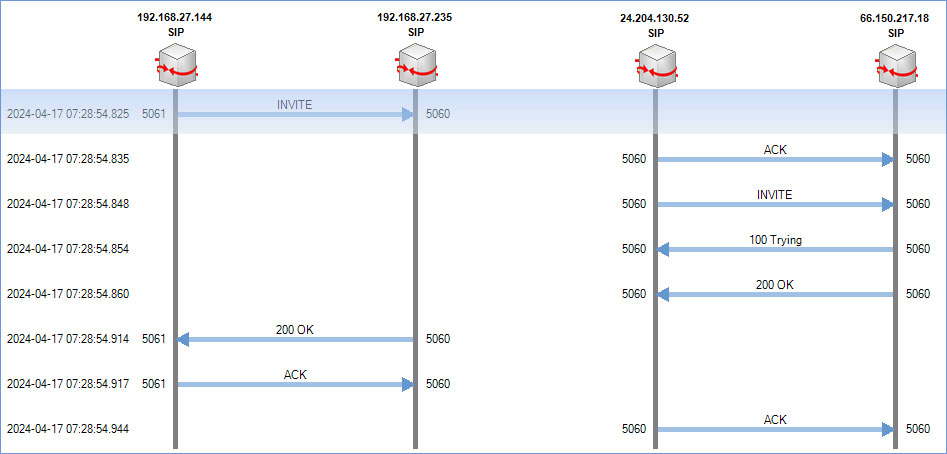 NetSurveyorWeb™ - Network Surveillance System
The protocol analyzer probe works with NetSurveyorWeb™, a centralized web-based monitoring system for a comprehensive view of network performance. It is a browser-based application that allows an operator to listen to phone calls and a convenient solution for monitoring a large geographically dispersed network from a centralized location. It features rich graphics, real-time and historical storage of call detail records, and allows the operator to build custom key performance indicators. It also allows the operator to filter on calls of interest and set up automatic alerts.


Back to Newsletter Index Page