OC-3 / STM-1 and OC-12 / STM-4 Analyzer
for ATM Mode
Overview
Asynchronous Transfer Mode (ATM) is a flexible network protocol carrying voice, video, and data in fixed length cells. ATM network has two kinds of interfaces, UNI (Interface between ATM User and Public ATM switch) and NNI (Interface between two Public ATM switches). Similar to the OSI Protocol model, ATM has an ATM Layer as Layer 2, ATM Adaptation Layer (AAL) as Layer 3 and other higher layers depending on C-Plane, U-Plane or Layer Management Plane.
GL's LightSpeed1000™ analyzer supports ATM interfaces on both ports and can be configured for either OC-3 or OC-12 rate. Multiple cards can be installed in a PC making it scalable to monitor or generate OC-3 or OC-12 traffic on multiple boards. Each port on a card can work independent of others, which extends analyzer's flexibility as test equipment.
The LightSpeed1000™ complies with ITU-T ATM standards. The ATM layer architecture and ATM cell structure in UNI and NNI formats are shown below:
Features
Supports signal rates of 155.52 Mbps for OC-3 and 622.08 Mbps for OC-12 interface.
Emulation and analysis modes are supported on UNI or NNI per port.
Wire speed cell generation and processing on single or multiple ports using internal logic.
Capture to file on individual ports, limited only by hard disk size.
Simultaneous synchronous capture or transmit is possible on both optical ports
Comprehensive transmit/receive testing capabilities; transmitting and verifying with incrementing sequence numbers with each packet/cell.
ATM Tx/Rx application - Supports ATM traffic generation and cell analysis.
Ability to configure ATM headers (GFC, VPI, VCI, PT, and CLP fields), and bandwidth during traffic generation.
Rx cell analysis reports resync count errors and sequence errors.
Multistage loopback - Supports Rx-to-Tx memory loopback, line loopback, diagnostic loopback and PL3 loopback options.
Ability to capture real-time traffic and playback the traffic for simulation.
Complex and flexible hardware based filtering includes sixteen 128 bit independent filters with bit masks, for both ports with AND/OR include/exclude conditions
ATM and UMTS protocol analysis supported on single or multiple ports
Supports both AAL2 and AAL5 decoding.
Bit Error Rate Test module supports generation and analysis of payloads at wire speed. Supports ATM header configuration, PRBS patterns and user-defined patterns as payload. Report on error count, error rate, sync loss, SES, and others is provided.
Received cells hardware time stamping to the accuracy of 10ns.
SONET level statistics for both Tx and Rx cells. Additional statistics for errors, alarms, and BERT test cells.
Monitor and configure section, line, and path overhead bytes.
---
Basic Applications
Alarms and Error Counters Monitoring
The alarms and error monitoring window provided for each of the OC-3/OC-12 port displays detailed status of the communication with the other end. Hardware LEDs are provided on the card to read line alarms.
Alarms and error counts include -
Line errors such as OOF, LOS, LOF, AIS, RDI, and APSBF
Line, Path, and Section error counts
Rx-To-Tx Memory Loopback
Software memory loopback is used for diagnostic purposes. It loops all the received packets / cells from the SONET to the transmitting ports. This module uses both ports on the selected board.
Features include
selection of source and destination ports to transmit and receive packets/cells,
selection of ports on different boards for Tx and Rx, where multiple boards are used in a single chassis,
display of Tx and Rx information
loop back the data either in the page mode, 4K bytes at a time, or in the packet mode, packet by packet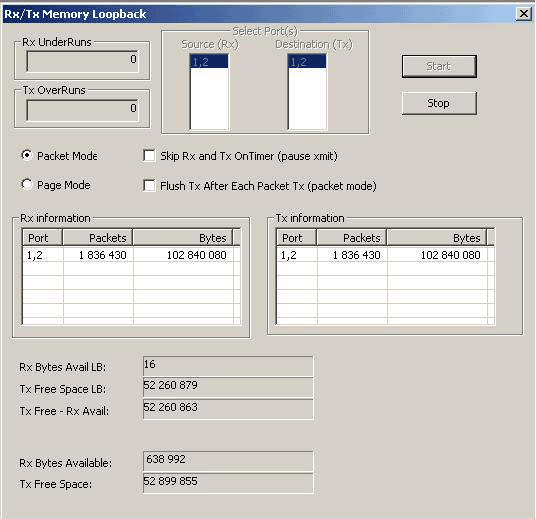 Memory Loopback
---
Optional Applications
Following are the other applications supported in LightSpeed1000™ ATM analyzer. Note that these applications require additional licenses. Visit the links below to get more information -
Resources
Item No
Item Description
LTS200
OC-3 / STM-1 ATM Monitor, BERT, Tx/Rx Test
LTS300
OC-12 / STM-4 ATM Monitor, BERT, Tx/Rx Test
LTS202
OC-3 / STM-1 ATM and RAW Record / Playback
LTS302
OC-12 / STM-4 ATM and RAW Record / Playback
LTS204
OC-3 / STM-1 ATM Protocol Analysis
LTS304
OC-12 / STM-4 ATM Protocol Analysis
Other Related Software
LTS201
OC-3 / STM-1 PoS Monitor, BERT, Tx/Rx Test, RAW
LTS301
OC-12 / STM-4 PoS Monitor, BERT, Tx/Rx Test, RAW
LTS203
OC-3 / STM-1 PoS and RAW Record / Playback
LTS303
OC-12 / STM-4 PoS and RAW Record / Playback
LTS205
OC-3 / STM-1 PoS Protocol Analysis
LTS305
OC-12 / STM-4 PoS Protocol Analysis
LTS206
OC-3 / STM-1 UMTS Protocol Analysis
LTS306
OC-12 / STM-4 UMTS Protocol Analysis
Related Hardware
LTS100
Lightspeed1000™ - Dual OC-3/12 STM-1/4 PCIe Card
LTS105
Lightspeed1000™ - Portable Dual OC-3/12 STM-1/4 USB Unit
LTS404
LTS405
SFP, Single Mode
SFP, Multimode

SA019a
SA019b
SA019c
SA019d
SA019e
SA019f

1 Gbps / 10 Gbps Fiber Optic Cable, Single-Mode, Duplex LC to Duplex LC
1 Gbps / 10 Gbps Fiber Optic Cable, Single-Mode, Duplex LC to Duplex SC
1 Gbps / 10 Gbps Fiber Optic Cable, Multi-Mode, Duplex LC to Duplex LC
1 Gbps / 10 Gbps Fiber Optic Cable, Multi-Mode, Duplex LC to Duplex SC
40G / 100G Fiber Optic Cable, Multi-Mode
40G / 100G Fiber Optic Cable, Single-Mode