MAPS™ GPRS Gb Interface Emulator
(Scripted GPRS Gb Interface Emulation over IP)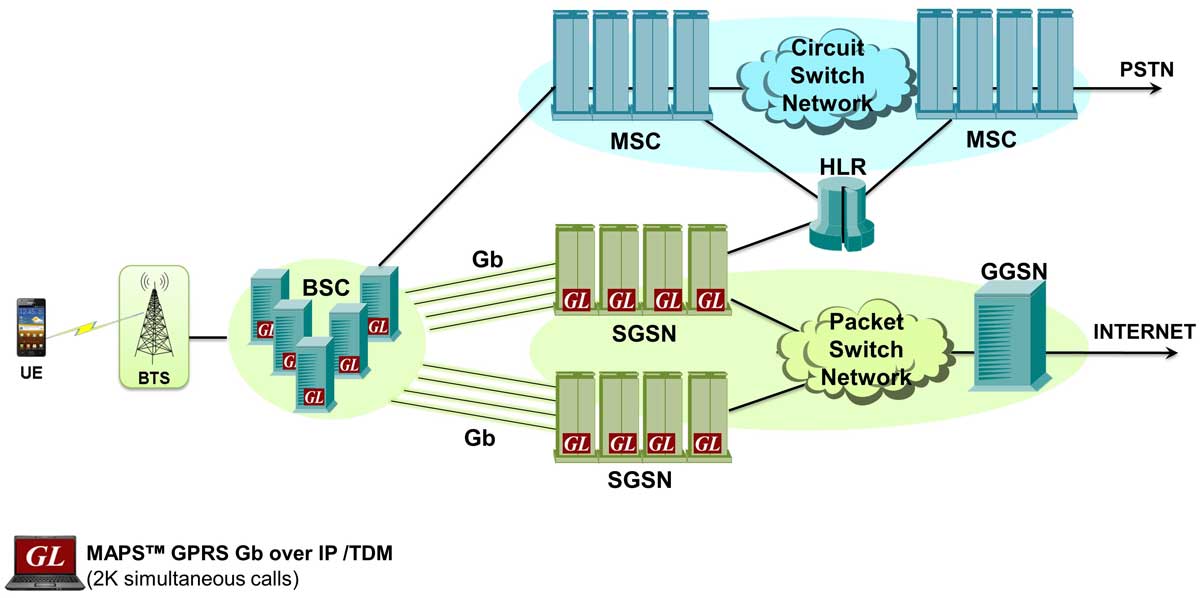 MAPS™ GPRS Gb Interface Emulator Software Ver 3.7.12 | Download Now!
---
Overview

GPRS, or General Packet Radio Service, was introduced (in the late 90's and early 2000's) to enhance data carrying capabilities of the basic GSM Network. Initially it used the conventional T1 E1 transport and frame relay protocol. As data traffic (IP) has steadily increased, the use of IP interface provides many advantages including increased throughput, capacity, and economy. Also as the wireless infrastructure evolves towards IP, the migration of 2G IP based systems to 3G and 4G is also more efficient and economical.

User's Guide
Product Brochure
Product List
View Presentation

---

GL's suite of "Wireless Networks Lab Solutions" Brochure
To permit our customers to emulate, test, and verify GPRS Gb functionality, GL has enhanced its MAPS™ (Message Automation & Protocol Simulation), a multi-protocol, multi-technology platform to emulate GPRS Gb Interface over IP. MAPS™ also supports many other protocol families including TDM, IP, ATM, and Wireless.
MAPS™ is designed to simulate GPRS Gb interface messages and signaling specification as defined by 3GPP standards. MAPS™ GPRS Gb currently supports Gb interface between the BSS (Base Station Subsystem) and the SGSN (Serving GPRS Support Node) over IP transmission protocol. Emulation over Frame Relay transmission protocol will be supported in future.
Besides testing network elements (SGSN and BSS), the tester also involves error tracking, regression testing, and load testing/call generation. MAPS™ GPRS Gb interface Emulator supports various procedures including Network Service Control, Identity Check, Combined GPRS / IMSI Attach, and Routing Area Update. It can run pre-defined test scenarios against the interface test objects in a controlled & deterministic manner.
MAPS™ GPRS Gb Interface Emulator supports powerful utilities like Message Editor, Script Editor, and Profile Editor which allow new scenarios to be created or existing scenarios to be modified as per the protocol standards listed in the table below.
GL's MAPS™ GPRS Gb software benefits Network Equipment Providers of SGSN, and BSS entities, with -
Accelerated time to market
Reduced development costs
Reduced project risk of internally-developed applications
GL also provides an independent GUI based GPRS protocol analyzer (optional application – XX155) for online capture and decode of the signaling in real-time both during tests and as a stand-alone tracer for live systems.
---
Supported Protocol Standards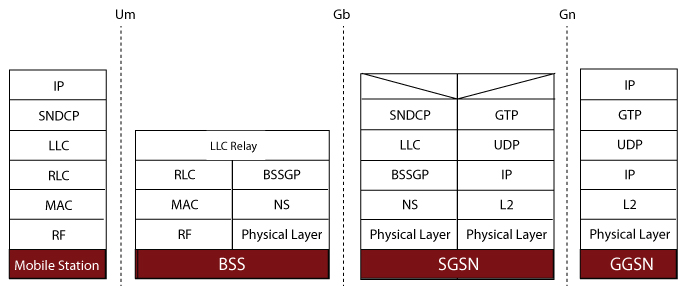 Gb Interface Protocol Standards
| | |
| --- | --- |
| Supported Protocols | Specification Used |
| BSSGP | 3GPP TS 08.18 V8.10.0 (2002-05) |
| LLC | 3GPP TS 04.64 V8.7.0 (2001-12) |
| NS (Network Service) | GSM 8.16 (ETSI TS 101 299 V8.0.0) |
| GMM | 3GPP 24.008 |
| SMG (GPRS Session Mgmt) | 3GPP TS 24.008 V5.16.0 (2006-06) (Release 5) |
| SNDCP | 3GPP TS 04.64 V8.7.0 (2001-12) |
---
Main Features
Simulates SGSN (Serving GPRS Support Node) and BSS (Base Station Subsystem) elements in GPRS Gb interface over IP.
Simulates Control plane Gb mode.
Generates hundreds of Control Signaling (Load Testing).
Generates and processes NS (Network Service), BSSGP (Base Station Subsystem GPRS Protocol), and various GPRS session procedure messages.
Supports Gb interface procedures including Network Service Control, Identity Check, Combined GPRS / IMSI Attach, and Routing Area Update
Insertion of impairments to create invalid messages.
Supports customization of call flows and message templates using Script and Message editors.
Supports scripted call generation and automated call reception.
Script based & protocol independent software architecture.
Provides Call Statistics and Events Status.
Supported on Windows® XP and Windows® 7 (32 bit and 64 bit) OS
Applications
Complete analysis and simulation capability.
Provides fault insertion, and erroneous call flows testing capability.
Functional testing, Regression testing and Conformance testing of network elements.
Ready scripts makes testing procedure simpler, less time consuming and hence time to market products.
QoS requests for greater or lesser bandwidth.
---
Test Configuration
The test configuration window allows users to configure the necessary parameters in order to establish communication between MAPS™ and the DUT. It includes UDP Source and Destination IP and port parameter configuration. Once the UDP layer is configured properly, NS, BSSGP, and GPRS session messages can be transmitted and received over the layer. Default profile is used to configure MAPS™ GPRS Gb with SGSN or BSC parameters, thus simulating the nodes.

Screen Shot of Testbed Setup
---
Call Generation
Call Generation option allows the user to simulate outgoing communications where an outgoing call is initiated by sending call control messages using proper scripts and profiles. The profile allows necessary parameters of call control messages to be changed during runtime.
The MAPS™ GPRS Gb Interface Emulator simulates various GPRS procedures over IP between the SGSN (Serving GPRS Support Node), and BSC (Base Station Controller) nodes.
A typical scenario is illustrated as below.

Network Service Control and BSSGP Procedure

GPRS Session Procedures
The screen shot below depicts a scenario where MAPS™ GPRS Gb configured to act as BSC initiates the Network Service Control and BSSGP Procedure by NS-RESET Request to the DUT (SGSN). Also, simulates the complete GPRS session procedure as in the 3GPP specification.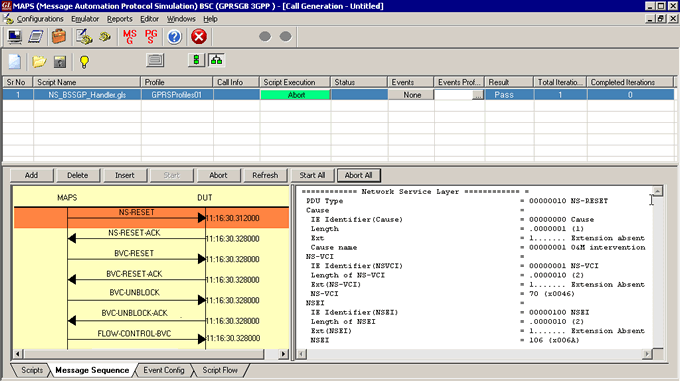 Call Generation (Network Service Control and BSSGP Procedure) at BSC Node
---
Call Reception
Call generated from other entity can be automatically detected in call reception window by pre-setting the required scripts in the Incoming Call Handler window.
This test is performed to ensure that the MAPS™ GPRS Gb (configured as SGSN) on receipt of NS-RESET request, SGSN acknowledges with an NS-RESET-ACK PDU including the NS-VCI and the NSEI.

Call Reception (Network Service Control and BSSGP Procedure) at SGSN Node
---
Bulk Call Simulation
MAPS™ supports Bulk Call Simulation and Stress/Load Testing capabilities through Load Generation feature. Load Generation window helps users configure Stress/Load Testing parameters such as Call per second (CPS) or Busy hour call attempts (BHCA), Max Simultaneous Calls and Burst parameters.

Screenshot of Load Generation Parameters
---
Customization of Call Flow and Messages Using Pre-Processing Tools
Script Editor - The script editor allows the user to create / edit scripts and to define variables for the protocol fields. The script uses pre-defined message templates to build call flow and perform send and receive actions. Script editor provides options to run the test for multiple iterations in sequential or random flow. Commands allow retransmission of messages with specific interval. It also includes traffic commands to send and monitor voice, tones, digits, on the created sessions.

Screenshot of Script Editor
Profile Editor - Profiles are used to provide the user configured values to the fields in the Messages (i.e., Message Template in MAPS™) through variables which are going to change during the course of a call.

Screenshot of Profile Editor

Message Editor - The Message Template is a *.HDL file that comprises of protocol encoding parameters with preset values. It is required to create a message template for every message in a protocol. The message templates are called within the scripts to perform scenario based testing.

Screenshot of Message Editor
---
Call Flow & Script Execution Control
Message Sequence - MAPS™ provides protocol trace with full message decoding, custom trace, and graphical ladder diagrams of call flow with time stamp while simulation is running. Call flow graph allows to easily verifying the messages exchanged between MAPS™ and DUT. See Call Generation and Call Reception for details
Script Contents & Script Flow - The Scripts Contents window displays the contents of the script selected for call generation or reception. The Script Flow window displays the set of statements successfully executed by MAPS™ to help users in troubleshooting a particular the call scenario.
Events & Event Profile Editor
- User-defined events allow redirection of script execution on-the-go. The custom parameters in the events can also be changed during script execution using Event Profiles.

Screenshot of Script Contents and Script Flow
---
Call Statistics & Status
Call Statistics & Status - By default, all call handling scripts (irrespective of the type of the functions) are assessed by MAPS™ to provide statistical information about Total Calls, Active Calls, Completed Calls, Passed Calls, Failed Calls, and Calls/Sec. It is also possible to characterize the statistical information under different groups of call handling scripts under a unique heading. In addition, Call Generation and Call Reception windows provide useful call status & script execution results.
In addition, Call Generation and Call Reception windows provide useful call status & script execution results.

Screenshot of Call Statistics and Status
Events Reporting – MAPS™ provides Event Log, Error Events, and Captured Errors windows that log the captured events and errors encountered during the progress of the call.

Screenshot of Event Log
---
Buyer's Guide:
Please Note: The XX in the Item No. refers to the hardware platform, listed at the bottom of the Buyer's Guide, which the software will be running on. Therefore, XX can either be ETA or EEA (Octal/Quad Boards), PTA or PEA (tProbe Units), UTA or UEA (USB Units), HUT or HUE (Universal Cards), and HDT or HDE (HD cards) depending upon the hardware.
Specifications are subject to change without notice.

Back to Message Automation & Protocol Simulation Index Page