GL's 2-Wire Solutions for IVR and VM Testing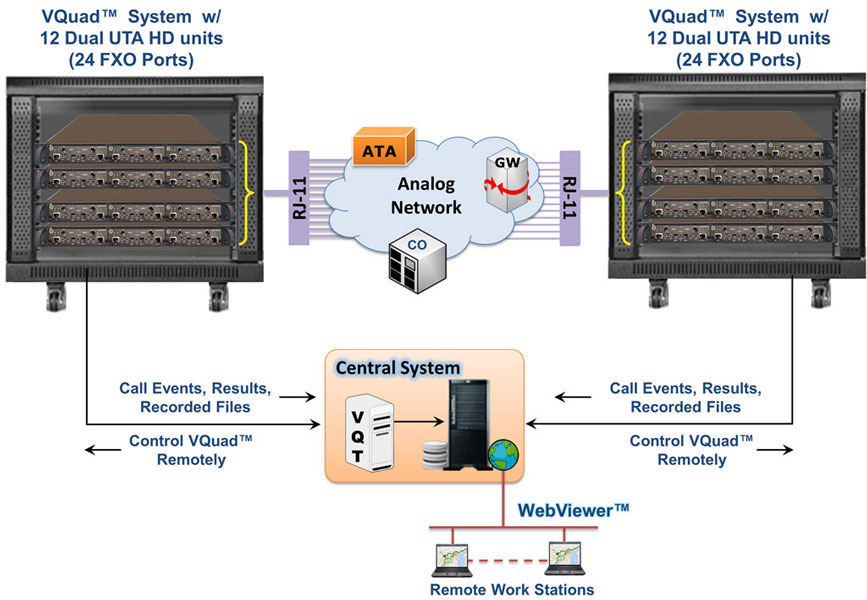 Requirement
Testing Interactive Voice Response (IVR) along with Voice Mail (VM) functionality and quality is crucial for any carrier or industry using such supporting methods for customer response. In addition, as the 2-wire Analog Audio moves toward High Definition (HD), testing for Voice Quality becomes crucial when connected through an ATA or Gateway to the home.
GL provides the complete automated solution for testing 2-wire and 4-Wire Narrowband and Wideband (HD Voice) through physical Analog interfaces using GL's VQuad™ and Dual UTA HD Hardware.
VQuad™ with Dual UTA HD provides a complete automated network testing solution. This includes 2-wire HD Analog FXO interfaces (RJ-11) which, when coupled with the GL Voice Quality software using the POLQA algorithm (per ITU-P.863), provides the necessary voice quality measurement and analysis tools.
When traversing the IVR or VM service confirming prompts as well as the deposited message within VM is crucial. Using the GL Speech to Text Conversion utility with automated analysis of the converted speech can fully support this requirement while executing within the VQuad™ scripting.
GL's VQuad™ mTOP™ Rackmount, a high-density form factor solution which includes one or two 1U rack units per VQuad system housing multiple Dual UTA HD hardware units, can be used for high density testing. This solution can be scaled up to support 12 telephony devices per system while adding additional remote systems to achieve much higher densities. If low density is required, the mTOP Probe all-in-one unit can support 2 telephony devices in a portable solution.
Devices under Test
Connects to any PSTN, ATA, Gateway, Central Office for automated testing and analysis. The GL solution supports Voice Quality, IVR, VM, Audio Path verification, and Call Control testing.
Solutions
To Test Interactive Voice Response (IVR) and Voice Mail (VM) Systems
GL's Speech-to-Text Conversion (STS) application can be implemented to record voice prompts associated with the IVR, perform a Speech to Text conversion on the recording to confirm the prompt was proper (based on what the prompt should be), and thus confirming their IVR functioning.
GL's test system is implemented at both sides of the network, placing a call from the near end while sending pre-defined voice mail over the established call. At the far-end, the Speech-to-Text method can simply record a pre-specified sentence. The recorded voice file is converted to text and, when analysed, can provide a certainty score of the recorded Text based on what was expected. The Speech to Text conversion could confirm if the received audio associated with the IVR or VM service matches what was expected which would confirm proper operation and functionality of the service under test.
In addition, GL's STS within VQuad™ can be deployed at the customer's location to automate testing of IVR tree traversal for pass/fail conditions with great precision. Record each prompt (IVR menus) in an automated fashion and forward the recorded audio files for speech-to-text transcription and analysis.
This application was successfully deployed for several IVR solutions thus confirming voice prompts, testing Interactive Voice Response (IVR) and Voice Mail (VM) systems, as well as voice transmission over any network.
Voice Quality Testing Scenario
GL's high density mTOP™ VQuad™ System can be deployed with up to 6 Dual UTAs for 2-Wire network testing while using only 2U Rack space. When coupled with GL's VQT POLQA solution for testing Voice Quality and the GL STS solution for testing IVR and VM prompts, a complete, fully automated testing solution can easily be configured with real-time results. Results can be queried and filtered using the GL WebViewer (web browser) with ability to create Custom Reports. If desired the Custom Reports can be automated with reports being sent to any email or SMS.