Remote Network Protocol Analysis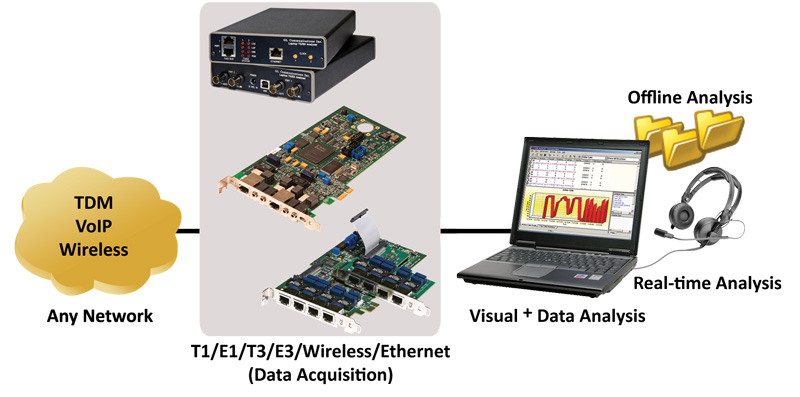 Overview | Main Features | ISDN Remote Protocol Analysis | HDLC Remote Protocol Analysis
GR303 Remote Protocol Analysis | V5.x Remote Protocol Analysis | SS7 Remote Protocol Analysis
Frame Relay Remote Protocol Analysis
Complete List of Real-time Network Protocol Analyzers
---
Overview
"Remote Protocol Analyzer" or RPA functionality is an extension of the feature rich capability available with GL's GUI based Protocol Analyzers. GLís Remote Protocol Analyzers are available as optional software. Functionally, they are similar to real-time protocol analyzers that are integrated with T1E1 Analyzers.
HDLC based protocols such as ISDN, SS7, GR303, Frame Relay, V5.x and others can be monitored remotely via a set of hardware and software features available with our T1 or E1 based protocol analyzers.
The RPA functionality permits:
unattended and 24/7 operation
remote accessibility for difficult connection situations
remote non-intrusive operation
remote detailed diagnostic capability
Pre-requisites of the remote functionality are:

At the site of monitoring
Dual T1/E1 PCI based cards or USB based T1/E1 units
T1/E1 Server software with HDLC capture software
At the client location
Appropriate GUI based "Remote Protocol Analyzer" such as ISDN, SS7, and others – licensed via "Dongle"
LAN/WAN TCP/IP Network with sufficient bandwidth to transport HDLC frames.
---
Main Features
Client side consists of a PC with Ethernet connectivity and GUI Remote Protocol Analysis software – no special T1 or E1 hardware is required.
Multiple T1/E1 servers may be simultaneously connected to a single remote client using a single GUI.
Multiple remote clients may access a single T1/E1 server. Also, the T1/E1 server is fully functional while being accessed as a server. Thus, a user may perform T1/E1 operations locally on the server while a remote client is accessing the same server, in real time.
Supports real-time and offline analysis at the remote client location.
Remote analyzers support capturing of encapsulated protocols and long frames.
Common filtering criteria can be set for T1/E1 cards located on multiple servers.
---
ISDN Remote Protocol Analyzer
GL's ISDN remote protocol analyzer can capture and analyze stream of frames on remote ISDN PRI links. It decodes LAPD according to Q.921, while, the ISDN information parsing is done based on the user's selection of ITU Q.931, ISDN ANSI, AT&T/Lucent switch 4ESS and 5ESS (TR41449, TR41459 and 235-900-342), Nortel's switch DMS-100 and DMS-250 (NIS-A2111-1 and NIS-A211-4), Bellcore National ISDN-2 (NI-2), Euro ISDN (ETS-300 102-1), ARINC 746, ETSI 300-102, QSIG ETSI/ECMA, National ISDN PRI CPE, DPNSS, and DASS2.
For more information on ISDN Remote and Offline Protocol Analyzer refer to
https://www.gl.com/isdn.html
---
HDLC Remote Protocol Analyzer
GL's HDLC remote protocol analyzer provides the capability to capture, and analyze HDLC data on a remote full duplex T1 or E1 lines. The data channel may utilize all or a fractional part of the T1 or E1 line. Also there may be multiple data channels within the T1or E1 line. After setting the HDLC data channel parameters and starting the decoding process, the main screen displays the received HDLC frames in hex format. Flags are stripped, all other data is presented, including CRC bytes.
For more information on HDLC Remote and Offline Protocol Analyzer refer to
https://www.gl.com/hdlc.html
---
GR303 Remote Protocol Analyzer
The GR-303 remote protocol analyzer is used to troubleshoot signaling problems between the switch and remote terminal: to determine call status, monitor for any dropped calls, detect any abnormal conditions, and identify when service was unavailable. With these extensive GR-303 protocol analysis tools, you can analyze call setup and monitor communications between network elements and resolve problems as new network challenges emerge.

For more information on GR-303 Remote and Offline Protocol Analyzer refer to https://www.gl.com/gr-303analysis.html
---
V5x Remote Protocol Analyzer
GL's V5.x remote protocol analyzer can be used to capture and analyze a stream of frames from the link between LE and AN. The analyzer provides V5.x based on ETSI / ITU standard in order to decode according to the corresponding standards. Supports capturing and decoding of LAPV5, ISDN Call Signaling - Q.93 as layer 3, Link Control Protocol (LCP), Protection Protocol (PP), Bearer Channel Connection (BCC), and PSTN.

For more information on V5x Remote and Offline Protocol Analyzer refer to https://www.gl.com/v5analyzer.html
---
SS7 Remote Protocol Analyzer
GL's SS7 (C7) remote protocol analyzer is used to capture and analyze stream of frames on the remote SS7 Links. Captured information can be saved to disk for later off-line analysis. MTP2 is parsed according to ANSI-ITU standards and the higher SS7 layer information parsing depends on the user's selection of TUP, ISUP, SCCP, TCAP, GSM-MAP, IS-41, INAP, etc., according to national and international variants.

For more information on SS7 Remote and Offline Protocol Analyzer refer to https://www.gl.com/ss7.html
---
Frame Relay Remote Protocol Analyzer
GL's Frame Relay remote protocol analyzer can be used to analyze and decode frames conforming to Q.921, Q.922, LAPF, Frame Relay Forum standard -FRF.9 and FRF.12, Multiple Protocol Encapsulation, LCP RFC1661, Q.933 SVC and LMI SNAP, PPP, IP, SMTP, POP3 and so on.

For more information on Frame Relay Remote and Offline Protocol Analyzer refer to https://www.gl.com/framerelay.html
Click here to view the protocol glossary page for more information