GL's Enhanced Packet Capture and Analysis Tool for Monitoring High Speed Ethernet Networks
Gaithersburg, Maryland, USA - January 24, 2023 - GL Communications Inc., a global leader in telecom test and measurement solutions, addressed the press regarding their enhanced FastRecorder™ and PacketExtractor™ application. This application provides wirespeed IP traffic filtering and recording up to 160 Gbps direct to disk for offline filtering, extraction, and analysis.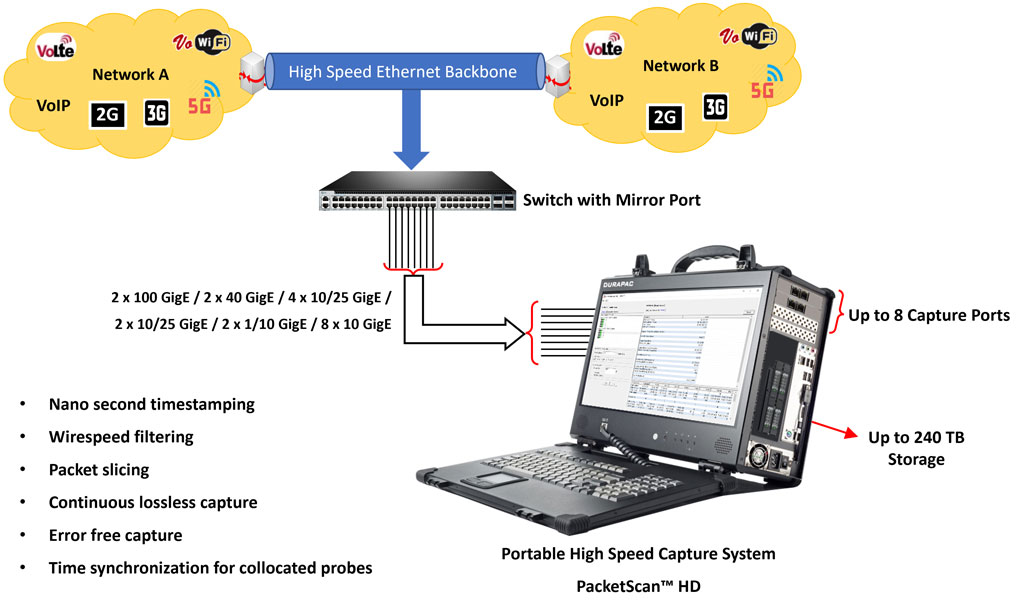 ---
Overview
"GL's FastRecorder™ and PacketExtractor™ is the ultimate packet capture and analysis tool for managing large and small-scale networks for lossless capture of high-speed IP traffic. FastRecorder™ and PacketExtractor™ applications work with GL's network appliance PacketScan™ HD (or Wireshark®) packet analyzers. They support 2 x 100 GigE or 2 x 40 GigE or 4 x 10/25 GigE or 2 x 10/25 GigE or 2 x 1/10 GigE or 8 x 10 GigE or 4 x 1/10/25 GigE Ethernet Interfaces", said Vijay Kulkarni, CEO of GL Communications.
FastRecorder™ is a dedicated application for easy interconnection to multiple interfaces, quick configuration, and subsequent continuous, error-free capture to a large disk (NVME SSDs) for long periods of time. Users can also define filters so that only packets of interest are captured. Users can also provide triggers to record the incoming traffic based on user-defined conditions.
PacketExtractor™ can then extract packets of interest, by defining complex filters, streams, periods, storage size, and even portions of packets, such as headers, and many other useful parameters for diagnosing problems. The extracted chunks/files can be in PCAP, PCAPNG, or HDL (GL's proprietary) format for analysis.
PacketScan™ HD, with the FastRecorder™ and PacketExtractor™ applications, can come in either rackmount or portable ("lunchbox") form factors. This makes it easy for engineers to deploy the solution in a lab environment or in the field.
Key Features
FastRecorder™:

Non-intrusive capture and record over Ethernet (Electrical and Optical) interfaces with nano-second precision
Merging traffic with high-precision timestamps for recording on multiple ports
Up to 120 TB of total storage (NVME SSD) in the portable platform
Record only traffic-of-interest by applying efficient hardware filters based on MAC, 802.1Q (VLANs), IPv4/IPv6, TCP, UDP, SCTP SIP, and RTP parameters
Filter on an inner layer of GTP, GRE, and VXLAN tunnel traffic like inner IPv4/IPv6 addresses and Transport Protocols (UDP, TCP, and SCTP) ports number
Slice packets to a limited length to store only selected packet content
Optimized distributed disk operation to achieve lossless recording to disk
Option to record traffic continuously by retaining the latest traffic with a user-defined record size (overwriting prior traffic)
Statistics such as captured, filtered/unfiltered, dropped frame percentage, and error counts per Ethernet interface or aggregated

PacketExtractor™:

Extract intended traffic from previous recordings into PCAP, PCAPNG (Wireshark® format), or HDL (GL Proprietary format) output traces
Extracted trace can be analyzed in PacketScan™ HD or Wireshark®
Option to extract the packets into single or multiple output traces
Extraction filter provides an option to filter IP, TCP, UDP, GTP-IP, GTP-UDP, Tunnel 1 and Tunnel 2, and other protocols
Extract traces with file size, time, or packet count as the limit criteria
Packets can be sliced to limited length to optimize output trace size
Option to compress extracted trace files using 7-Zip to optimize storage
Recent Enhancements
FastRecorder™

Provides predefined (customized filter) and advance hardware filter options
Provides options to customize filters which provides the flexibility to select the fields and use the logical conditions more efficiently
Supports recording of eCPRI traffic based on eCPRI message types and UDP port number
Graphical display option to view the recorded statistics as well as a history of overall rate, frames/seconds, per-port rate, per-port frames/seconds, and port link status along with Zoom in and out options
Trigger-based condition is configured based on Date Time/Time format, Capture Rate, Filter Rate, Per-port Capture Rate, Per-port Filter Rate, and Port link status
Provides error counters in the statistics
Supports E mail alert for a specified trigger condition

PacketExtractor™

Pre-Extraction filter has been introduced to eliminate the frames which are captured due to GL's SmartNIC™ limitation
Display of recorded as well as aggregated statistics of overall rate, frames/seconds, per-port rate, per-port frames/seconds, and port link status from the record start time to end time
Supports eCPRI analysis feature to monitor eCPRI traffic for packet impairments such as Missed Packets, Out of Order, Duplicate Packets, One-Way Delay, and more
Graphical display option to view the recorded statistics as well as a history of overall rate, frames/seconds, per-port rate, per-port frames/seconds, and port link status from the record start time to end time along with Zoom in and out options
Provides an option to view the configured hardware filters
Extraction can be done from user-specified start and end time

Back to Press Releases Index Page