GL's Multi-Protocol Emulation Test Suite for IP Networks
Gaithersburg, Maryland, USA - February 21, 2023 - GL Communications Inc., a global leader in telecom test and measurement solutions, addressed the press regarding their solutions for emulating various telecom protocols (VoIP, TDM, Analog, Wireless) within a single framework – Message Automation and Protocol Simulation. The application includes various test cases to confirm functionality of telecom infrastructure.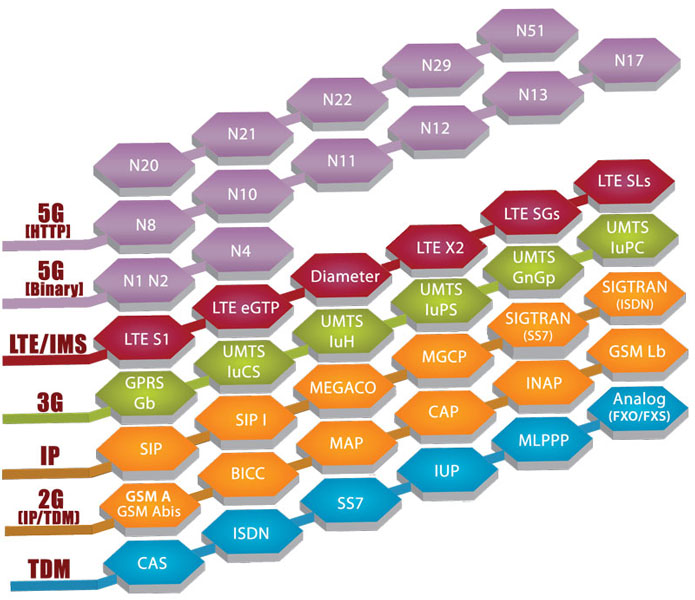 ---
Overview
GL's comprehensive Signaling and Traffic Emulation test equipment suite, commonly referred to as Message Automation and Protocol Simulation (MAPS™), provides a programmable, highly flexible, script based, multi-protocol, multi-interface emulation framework and makes it easy to perform cross-domain testing and transition tests to new technologies such as 5G. The core network and all its underlying entities can be accurately simulated for functionalities and performance.
"GL's MAPS™ test suite can emulate 5G, 4G, 3G, 2G and IMS networks. The same versatile tool can also emulate VoIP (SIP), ED-137 (Air Traffic Control Protocols) and legacy networks such as SIGTRAN. The application supports various test cases such as single interface testing, multi-interface testing, wrap-around / isolation testing, end-to-end network testing and can create all possible call scenarios to test real-time entities within a network to perform functional, conformance and load testing", said Vijay Kulkarni, CEO of GL Communications.
The test suite can work with GL's High-Density Call Generator for IP & Wireless Networks, a specialized hardware platform for generating tens of thousands of simultaneous calls. Using a stack of such servers, a larger test system with up to 100,000 simultaneous calls is achievable for enterprise testing.
MAPS™ Emulation for IP Network:
MAPS™ 5G Emulation:
MAPS™ 5G Emulator can emulate multiple UEs and interfaces such as N1, N2, N4, N8, N10, N11, N12, N13, N17, N21, N29, and N51 on the 5G core network.
For more details, refer to 5G New Radio (NR) and 5G Core (5GC) Network Test Solution webpage.
MAPS™ 4G Emulation:
MAPS™ 4G Emulator supports emulation of various interfaces of LTE (S1-u, S1-MME, S3, S4, S5/S8, S6a, S11, S13, SLs), and IMS (Diameter) (Cx/Dx, Mw, Mi) interfaces.
For more details, refer to Automated testing solutions for LTE, VoLTE, and IMS networks webpage.
MAPS™ 3G Emulation
MAPS™ 3G Emulator test all 3G interfaces such as IuCS, IuPS, IuH, IuPC, Gn Gp. MAPS™ UMTS Lg, Lh interface emulator supports necessary protocols in UMTS Location Service (LCS) architecture for emulating network elements over Lg (MSC/VLR, SGSN, GMLC), Lh (HLR, GMLC), IuPC (SAS and RNC) interfaces.
For more details, refer to 3G Network Analysis and Emulation webpage.
MAPS™ 2G Emulation
MAPS™ 2G Emulator emulate various interfaces of 2G (GSM, GPRS, MAP, CAP, INAP, BICCIP and GPRS) elements such as SGSN, and GGSN to support mobile call and traffic emulation.
For more details refer to 2G Network Analysis and Emulation webpage.
Key Features
Generic framework for the generation of telecommunications protocol messages and transmission of bearer traffic
Facilitates validation of any node functionality of any network element
Script based architecture allows customization of test scenarios
End-to-End Wireless Network Emulation
Complete user-access to customize any protocol messages according to standards
Automated bulk call generation
Centralized Control and Remote Access with APIs – Python and Java
Conformance Test suites
Call Status, Link Status, Message Statistics and RTP Voice Quality Metrics (LMOS, CMOS)
Automated Bulk Call Generation / Stress Testing with different statistical distribution patterns
All elements within 5G, LTE-IMS, 3G UMTS wireless infrastructure can be tested to emulate VoNR, VoLTE, 3G UMTS calls in lab, and study the network behaviour
Supports transmission and detection of various traffic types over IP with necessary hardware. Supported traffic types are –

RTP Traffic (digits, voice files, single / dual tones, fax, video, and IVR)
Mobile Traffic (User-plane GTP and Gateway – SMS, HTTP, Email, FTP, Video)

Back to Press Releases Index Page