GL Communication Introduces 5G Protocol Analyzer for Network Monitoring
Gaithersburg, Maryland, USA - July 11, 2023 - GL Communications Inc., a global leader in telecom test and measurement solutions, addressed the press regarding their new 5G protocol analysis tool. GL's 5G Protocol Analyzer enables real-time monitoring and capture of 5G network traffic, allowing you to effortlessly gather and analyze data across the network.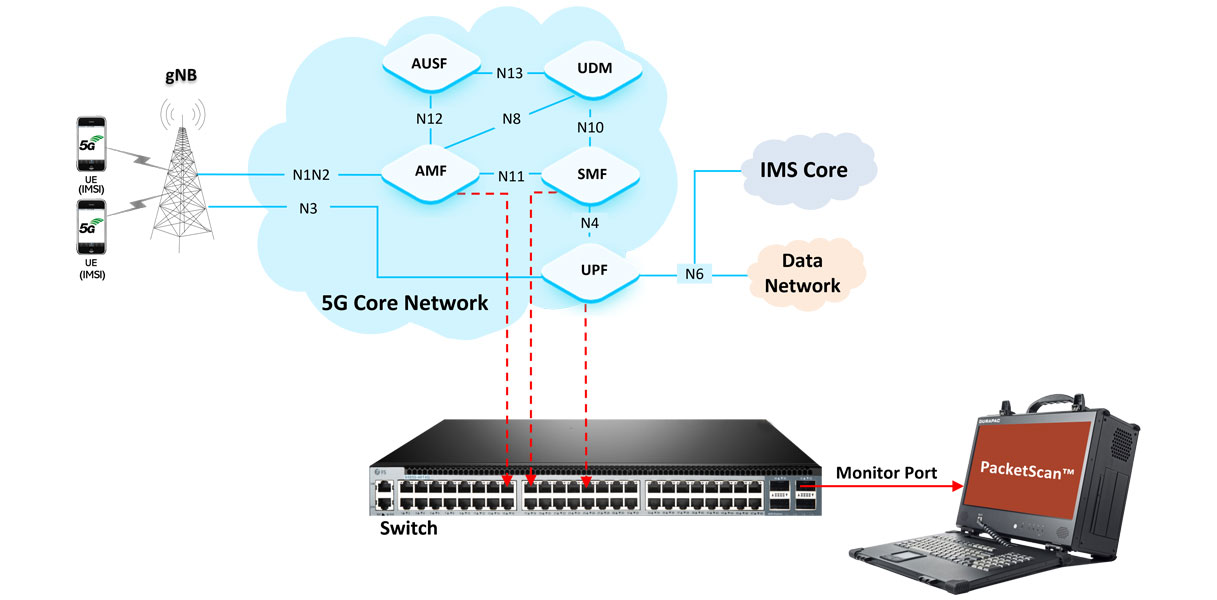 ---
Overview
"GL's 5G Protocol Analyzer offers comprehensive monitoring capabilities for 5G networks. It captures, decodes, and collects statistics over the N1N2, N4, N8, N10, N11, N12, and N13 interfaces, providing valuable insights into network performance and behavior", said Vijay Kulkarni, CEO of GL Communications.
The 5G Protocol Analyzer is an optional application for PacketScan™. PacketScan™ is a protocol analysis software supporting a large range of protocols and codecs. PacketScan™ is deployed on Windows® PCs and uses the host PC's network interface card to capture Ethernet / IP traffic. The PC should be connected to a network tap or a monitor port on a switch. PacketScan™ can also open packet captures offline and intelligently build call detail records, compute statistics on the calls, create graphs and ladder diagrams and more.
PacketScan™ includes the Packet Data Analysis (PDA) tool allowing users to monitor live IP/TDM networks including capture, analysis, and reporting of every phone call in detail. It also provides graphical presentation of analysis, including ladder diagrams of call flows.
---
Key Features
Capture, decode, and analyze calls in the 5G Network
Supported interfaces:

N1N2 Interface - gNodeB (also called Next Generation RAN), and AMF (Access and Mobility Management Function) nodes
N4 Interface - Session Management Function (SMF) and User Plane Function (UPF) elements
N8 Interface - Unified Data Management (UDM) and Access and Mobility Management Function (AMF)
N10 Interface - Unified Data Management (UDM) and Session Management Function (SMF)
N11 Interface - Mobility Management Function (AMF) and Session Management Function (SMF)
N12 Interface - Authentication Server Function (AUSF) and Access and Mobility Management Function (AMF)
N13 Interface - Authentication Server Function (AUSF) and User Data Management (UDM)

Supported protocols include Non-Access Stratum (NAS), Next Generation Application Protocol (NGAP), Packet Forwarding Control Protocol (PFCP), Xn Application Protocol (XnAP), SCTP, UDP, TCP, and IP
Decode Enhanced Common Public Radio Interface (eCPRI) protocol
Displays Summary, Detail, Hex dump, Statistics, and Call Detail Views
Save calls to PCAP (Wireshark® format) and in HDL (GL Proprietary format)
PDA in Packetscan™ provides a complete call flow of a 5G session
Advanced filtering and search based on user selected protocol fields
Add any protocol field to the summary view, filtering, and search features. This flexibility allows users to monitor the specific protocol fields they need
Trigger intelligent actions based on signaling and traffic conditions

Back to Press Releases Index Page