GL Announces Video Quality Testing Solutions
Welcome to June 2016 issue of GL Communications' Newsletter providing information and insight into our Video Quality Testing Solutions.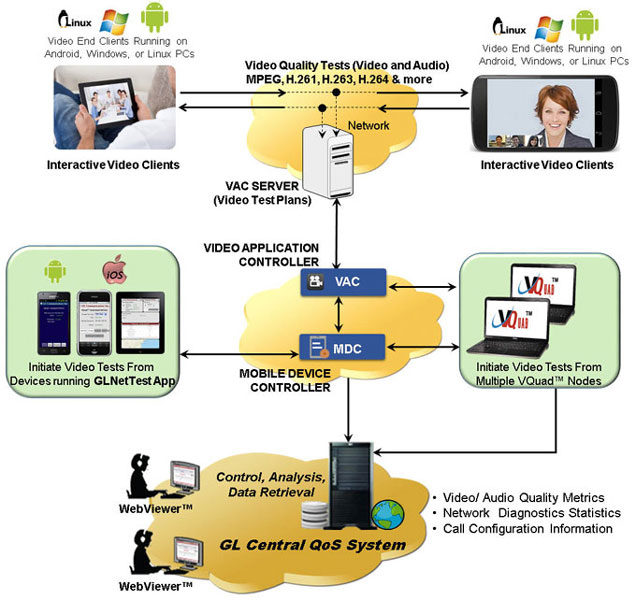 Overview
Video services can be broadly classified into two categories: Video Broadcasting or streaming if over IP, and Video Conferencing, sometimes called video chat for low end systems or telepresence for high end systems.
Video Broadcasting, basically streaming video to your mobile device, is undergoing a transformation in large part due to competition and technology evolution in Wireless and IP networks. This is radically affecting the entertainment and broadcast industry, the underlying telecom network that support them, and the end devices receiving, transmitting, playing, and recording video. Video broadcasting is essentially a one way application, downstream to the consumer and due to increasing availability of bandwidth, quality expectations from streaming video is also in demand.
Video Conferencing, used with a variety of phone chat applications, is on a similar path as Video Broadcasting in terms of usage. Prognosticators have been predicting the coming of video telephony for more than 50 years (since AT&T Picturephone). Video telephony applications are already being used in our day to day lives and the demand for better quality keeps growing. The proliferation of Video Chat or Video Conferencing equipment and services offered to consumers and enterprises is indicative of this shift.
Consumer applications include Google Hangouts™, Apple FaceTime®, Microsoft Skype®, along with Enterprise solutions from Cisco TelePresence®, Polycom® Video Solutions and BlueJeans, to name a few. Cisco WebEx®, and Citrix GotoMeeting™ also provide Video Conferencing along with screen sharing, texting, and audio conferencing.
Video conferencing is essentially a two way (interactive) application, much like voice, with simultaneous upstream and downstream bandwidth requirements, but with stricter combined specifications for audio and video. Typical low end system characteristics include:
One to one chat bandwidth of at least 1 Mbps uplink / 1 Mbps downlink; One to many chat may require at least 1 Mbps uplink / 2 Mbps downlink with more bandwidth required for better quality
Minimal one way latency of 150 to 300ms needed to avoid double talk (this is independent of video quality)
Resolution (Image size) can vary from 320 x 240 pixels with 15 fps, 640 x 480 pixels, 30 fps, to 1280 x 780 pixels, 30 fps
Acoustic echo cancelation is necessary if speakerphones are used
Codecs include MPEG, H.261, H.263, and H.264
Group of Pages (GOP) structure (group of frames are treated together to achieve greater compression)
---
GL's Video Testing Architecture
GL's enhanced VQuad™ solution provides an automated method to test all types of data to and from the Smartphone, confirming performance, quality and reliability. With the introduction of GL's NetTest a variety of data tests can be performed directly from the mobile device and controlled remotely from the VQuad™ script. Tests include TCP, UDP, HTTP, VoIP, FTP, DNS, SMS, and Email, basically a full array of tests to definitively confirm the performance of the network (and the Smartphone device).
As a next step towards complete Smartphone and Network testing, GL is introducing Video Conference Testing to determine real-time performance of Video over a given network. Using any two Android devices and/or PCs with the GL VAC Agent installed, fully automated Video Conference testing can be performed with QoS results provided along with several analytic metrics.
The Android devices (Smartphones and Tablets supported) and PCs (both Windows and Linux supported) become the agents or end points. Testing can be done between any two agents, Android to Android, Android to PC, or PC to PC. The user specifies the Test Plan configuration parameters such as Video Resolution, Codec, Frame Rate and GOP Structure along with test period (how long should the Video Conference last). Tests can be run directly from the Android device or using the VQuad™ interface. Both manual and automated tests are supported using flexible and versatile VQuad™ scripts.
In fact, using VQuad™ scripts, a complete test can be performed including Call Control, Voice Quality, Delay Measurements, NetTest (Data Testing), and Video Conference. All results and events are automatically sent to the VQuad™ Central Database and accessed using the GL WebViewer™ (web browser). Query and display results, statistics, status, and, if testing in a mobile environment, display Pass/Fail results directly on Google Maps™. In other words, complete testing and test reporting, including Custom Reports, within the GL intuitive solution.
---
Video Quality Testing Application
Functional Procedure
GL's Video test solution includes the Video Application Controller (VAC) which is used for fully automated control of all active test agents as well as communication from individual VQuad™ nodes for initiating tests and retrieving test results.
Video Tests can be configured between any two active agents with flexibility on specifying the characteristics of the Video Conference test. In other words, one Video Test agent generates simulated video conference calls to other Video Test agents.
To achieve active video testing, GL's video test agents are installed on Android mobile devices as well as PCs/servers (both Windows and Linux supported) at key locations within a service network. GL's Video Quality Test Solution provides support for Android, PC and Linux based clients (end points) for active Video Quality Testing.
Video and Data tests can be initiated directly from the GL NetTest app residing on any Android supported device. The video and data tests can be performed simultaneously with Voice Testing using flexible and comprehensive VQuad™ scripts.
Video Test Plan and Parameter Configurations
Using the VAC Server web UI, unlimited Test Plans can be configured for use within VQuad™ or Android device based on a variety of video parameters including Codec, Frame Rate, GoP Structure and Video Image Size. The Video Test Plans also have options for the Audio encoding - See Video Test Plan Configuration screenshot and Video Parameters Configuration Table.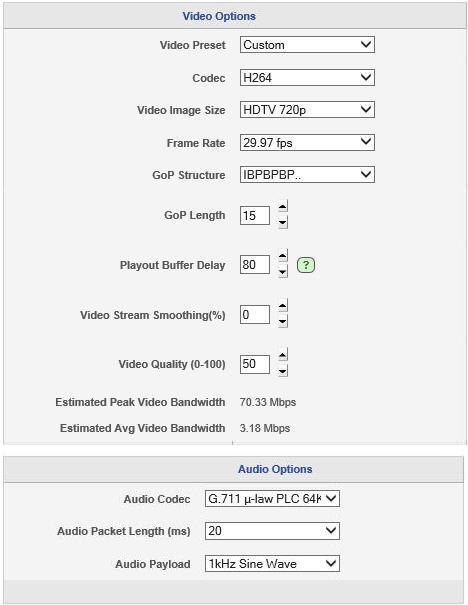 Codec
Frame Rate
GOP Structure
View Image Size

JPEG
H261
H263
H263+
H264
MPEG VIDEO
MPEG 4 VIDEO
MPEG 2 VIDEO
VC1

5 fps
6.25 fps
7.5 fps
12 fps
12.5 fps
15 fps
23.976 fps
24 fps
25 fps
29.97 fps
30 fps
50 fps
59.95 fps
60 fps

I…only
IPPPPP
IBBPBBP
P….only
IBPBPBP

HDTV 720p
HDTV 1080i
HDTV 1080P
SDTV 480i
CIF
QCIF
XGA
SXGA
VGA
QVGA
Video Quality Test Results
All VAC test results are sent to the central database and queried using the WebViewer™. Results can be output to file or custom reports. When running VAC from mobile device agents, video results can be plotted on Google Maps™ with pass/fail thresholds depicted for each test result. Video test results displayed using WebViewer™ include - Video MOS, Audio MOS, and Audio/ Video MOS along with a variety of analytical metrics and quality metrics - See Screenshot of Video Test Results below.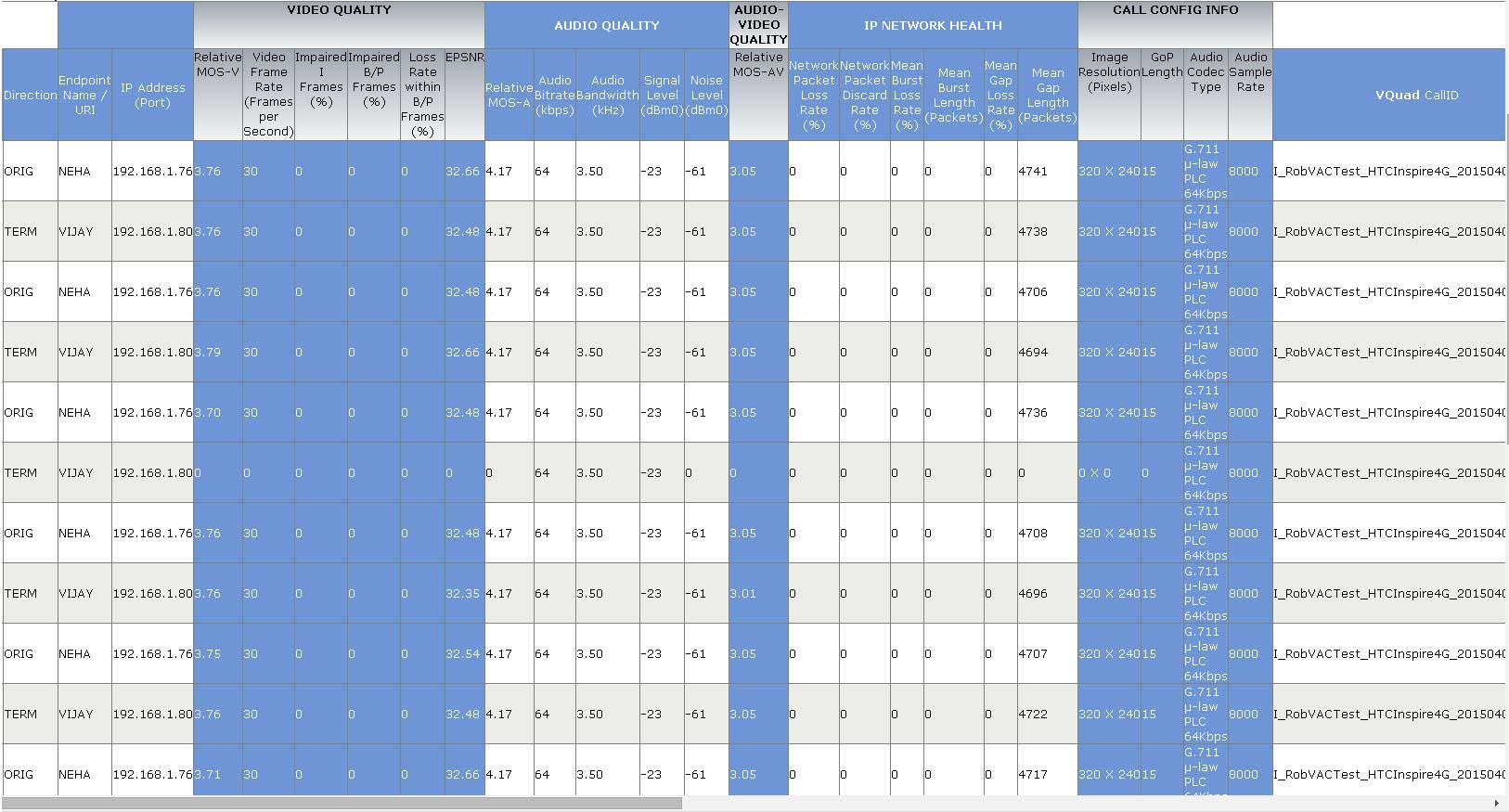 The Video Conferencing test records are also displayed in the VAC Server web UI, which contains a detailed performance metrics per video conferencing test call.
User can see in the above screenshot the details about each portion of the Video Conferencing test record includes - General Test Information with Endpoint Details, Video Quality (Relative MOS-V), Audio Quality (MOS-A), Audio-Video Quality (Relative MOS-AV), IP Network Health.

Back to Newsletter Index Page