GL Enhances Traffic Analysis Tool for Voice Over IP
Welcome to a February 2014 issue of GL's Newsletter providing information and insight into our IP Packet, Video, and Fax Analysis tool referred to as Packet Data Analysis (PDA).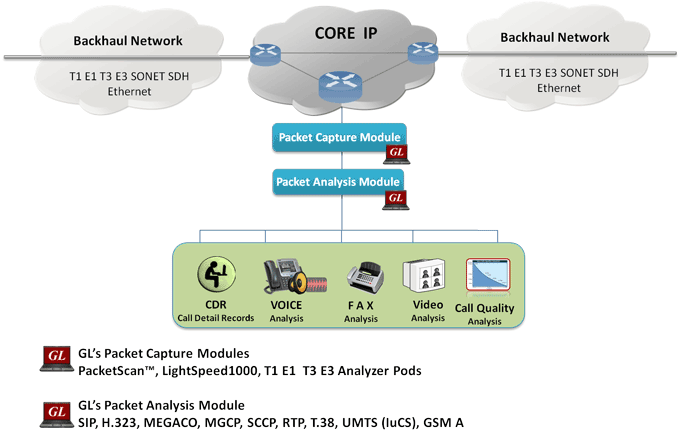 Overview
GL's Packet Data Analysis (PDA) is an outstanding tool for live monitoring of signaling and traffic over IP. Packet Data Analysis (PDA) is distributed with GL's Packet Analyzers, allowing users to monitor live IP networks including capture, analysis, and reporting of every call in detail. Supported protocols include SIP, MEGACO, MGCP, H.323, SCCP, RANAP (UMTS IuCs), and GSM A.
GL's Packet Analyzers can capture IP packets over different transmission lines, including - IP, T1, E1, T3, E3, and OC-3 STM-1 / OC-12 STM-4. PDA then processes the captured packets, identifies, and segregates calls based on signaling and traffic parameters.
Users can listen/record audio and video data of calls in real-time; perform power, frequency, spectral, tones, digits, and video analysis with ease and precision; get an exact picture of QOS (quality of service) and the technical adherence of the system under test (adherence to the protocols specified by the standardizing authority).
Detailed call statistics include packet loss, gap, jitter, delay, RTP performance statistics, R-factor & MOS scores, and unparalleled voice band statistics. Sophisticated filters permit zooming and recording of specific calls of interest. All or filtered traffic can be recorded into a trace file.
---
Brief Explanation of Important Features
RTP Packet Statistics and Call Flow Ladders
Packet Data Analysis feature provides RTP packet statistics for each direction of a call. And it also provides full RTP Analysis with audio record/playback supported for a wide range of codecs. A host of counters give the user an instant snapshot of VoIP traffic on the network.
PDA gives pictorial representation of the statistics including ladder diagrams for the calls of various protocols. It also provides ability to export complete or selected call summary report in PDF file format.
Performance Metrics
Call Summary View of the PDA application displays signaling, audio, and video QoS parameters for each calls. Signaling parameters include Caller & Callee information, Call Id, Call Start Time, Call Duration and more. And Audio parameters include Media Type, Packet Count, Jitter, Delay, Gap, MOS, R-factor, Lost packets, and so on.
For all video calls, video QoS parameters such as Video Channels, Codec Info, SSRC, Frame Count, Packet Count, Packets Lost, Frame Rate, Media Delivery Index (Delay Factor: Media Loss Rate), and Average Media Delivery Index are calculated. Detailed information is provided for detected Inband (DTMF & MF) events, RFC 2833/4733 events, RTCP reports per direction.
The PDA also calculates minimum, maximum, and average Round Trip Delay (RTD) values for SIP calls. It also provides Call Quality Of Service (QoS) for all calls with E-Model based (G.107) Mean Opinion Score (MOS) and R-factor with individual and summary statistics presented in graphical and tabular formats.
Audio & Video Analysis - Recording, Play to speaker
Users can listen/record audio and video data of a session in real-time and offline. PDA supports a wide range of Audio Codecs including G711, G729, G729B, GSM, G726 (40, 32, 24, 16-bits), HR, EFR, AMR, AMR-WB, EVRC, EVRCB, EVRC-C, SMV, Speex, Speex-WB, G722, G722.1 and iLBC. Supported Video Codecs include H.263+ and H.264.
T.38 Fax over IP Analysis
The T.38 Fax Analysis feature of PDA provides Fax (T.38 data) over IP monitoring and decoding capability. Fax calls can be analyzed with the help of a ladder diagram for T.38 traffic and it can also extract fax images in TIFF format.
Triggers and Actions
Triggers and Actions settings allow filtering of calls based on certain protocol parameters followed by a set of actions for these completed calls that satisfied the criteria. Action column lists one or more actions to be performed such as saving call to a file, sending an email, posting alert summary, viewing custom calls in summary view, creating Call Detail Records in CSV file format, and extracting Fax from calls in TIFF format.
CDR Report Generation
PacketScan™ provides the ability to export all terminated call details as a text file (csv format) during the live capture. This structured text file can be imported easily into Excel® using the custom addin (Excel-Dashboard-Tool-IP.xlsm) to generate different chart types, such as call volumes, call duration, call failure causes, CMOS, LMOS, packet loss, and more. For more details, refer CDR Analysis Tools web page.
Acts as Probe in Network Monitoring System
GL's Network Monitoring System uses probes with PDA to prepare and send detail packet statistics, call quality measurements, and Call Data Records (CDRs) to a centralized database. Later these records can be viewed remotely using a web client with graphical and historical reports.

Back to Newsletter Index Page