GL Enhances Multi-Functional Ethernet and IP Test Solution
Welcome to the latest issue of GL's Newsletter providing information and insight into our enhanced high-speed Ethernet and IP test solutions – PacketExpert™ 10GX used for testing local area and wide area networks and individual network infrastructure. In this newsletter, we highlight the important enhancements for PacketExpert™ 10GX software version 22.10.6.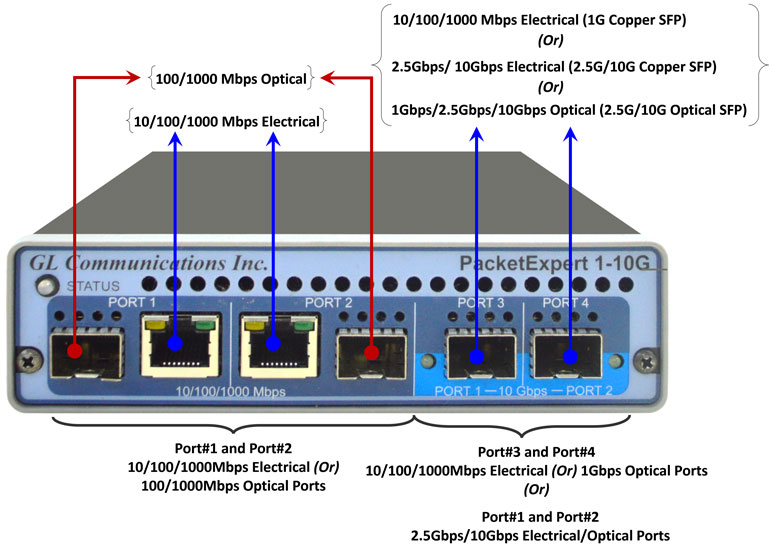 Overview
Testing performance of high-speed Ethernet links is challenging and requires specialized test tools. GL's PacketExpert™ is a multi-functional ethernet tester that supports both Electrical and Optical interfaces. It can conduct a wide variety of testing including Bit Error Rate Testing (BERT), RFC 2544, Wide Area Network Emulation, Packet Recording and Playback, Multi-stream UDP/TCP traffic generation and ITU-T Y.1564 testing for verifying service level agreements. It supports testing up to 10 Gbps. GL can also provide supporting SFPs and cables for a ready to use test solution.
Main Features
Wirespeed Bit Error Rate Testing
RFC 2544 - Throughput, latency, frame loss, and back-to-back performance tests
Comprehensive testing of Wirespeed Ethernet/IP networks up to 10 Gbps Available in Portable or Rackmount configurations
Rack-based variants provide up to 24 GigE ports (or 12 10Gbps ports) housing multiple PacketExpert™ devices
Easily control multiple devices and ports from a single Graphical User Interface
Automation, remote operation, and multi-site connectivity using C# and Python clients
Supports both smart loopback (auto layer detection) and user-defined layer-wise loopback capabilities for incoming traffic
Multi-device support for all port loopback application
Network Emulation - Emulate WAN conditions in the lab including bandwidth reduction, packet loss, increased latency and more
Can function as a wirespeed Ethernet tap to capture and filter real world traffic, generate triggers based on filters, and transmit filtered/aggregated/modified packets for deep packet inspection
Wirespeed Capture and Playback testing provides Packet Capture, Filter, Aggregate, and Storage features
Recent Enhancements
Bert/Loopback Module:

Provides option to add Loopback filters, 4 filters per port

AllPortLoopback:

Enhanced to support Loopback filters, 16 filters per port

Multi Stream Traffic Generator and Analyzer:

Added Loopback filters, 16 filters per port

ExpertSAM™:

Multi-device support capability

Filters (IPNetSim™, Record Only and PacketBroker):

Added MPLS/VLAN stack level selection in filters

Client Application Programming Interface (API)s:

Added a new method to BERT APIs which resolves destination MAC address based on destination IP, and sets it during Load Configuration process

Back to Newsletter Index Page