GL Announces Mission Critical Record/Replay System for Telecommunication Lines
Welcome to another August 2015 issue of GL's Newsletter providing information and insight into our enhanced Synchronous Trunk Record/Playback application for TDM facilities such as T1 E1, T3 E3, OC-3/STM-1 lines. Possible applications include:
A dispersed / coordinated mission that involves long and large communications over standard T1 E1 lines. Such a mission can be recorded and replayed precisely for diagnostic, regression, and training purposes
Record and Replay of precise and exact full duplex T1 E1 communications during a 1st Responder / Homeland Security crisis
Record and Replay of critical periods in a crisis
Overview
GL's Synchronous Trunk Record/Playback (or STRP) application has both Record and Playback features that permits the user to synchronously record any type of traffic (voice, digits, and tones) on many complete T1 or E1 lines (trunks) with accurate timestamp. Playback of some or all of the recorded data permits the user to recreate the transmission exactly as it occurred with precise time synchronization.
The STRP application records live T1 E1 traffic, and saves it to a file. The file naming convention is based on coordinated universal time (UTC) with the precision of 100 nano seconds intervals. UTC-based time is loosely defined as the current date and time of day in Greenwich, England.
---
Brief Description of the Application
Recording Feature:
Each record session will have an associated mission name. A mission folder will be created for each record session and it will have all the recorded files for that mission. Recording will be done synchronously on all the T1 E1 ports that are monitored (non-intrusivly).
Recording feature provides various options: User can record all the incoming live T1 E1 traffic on all or the selected T1 E1 ports. Live T1 E1 traffic record can run continuously or can be configured to record for a specific duration of time. In case of limited record, the "Countdown Time" displays remaining record time duration. It's also possible to schedule to automatically start the recording for a given day and time.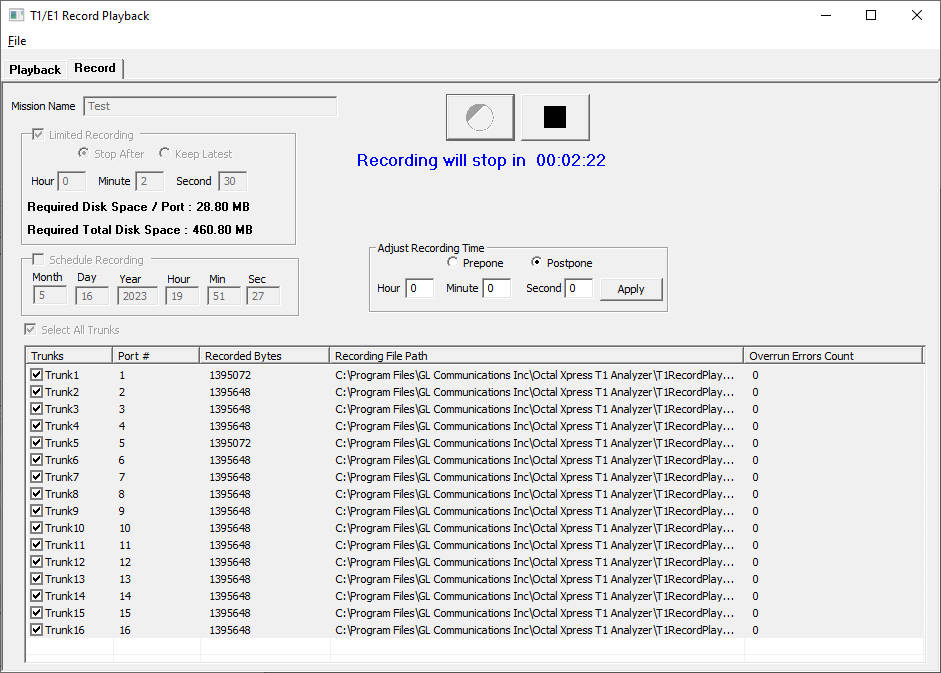 ---
Playback Feature:
Playback feature provides options to load the recorded files per 'mission'. Once the recorded mission is loaded, user can observe the Mission name, Total duration of playback, Start and End time of the recorded file. The Start and End times show the date and time when the traffic was recorded. Playback will be started synchronously on all of the selected ports.
User Defined Events:
During playback, events of interest can be saved at a particular time of playback. Once the event is saved, user can jump to that saved event time position.
---
Playback Options:
The options available are: Play, Continuous Playback, Pause, Stop, Backward, and Forward features to listen to a recorded file.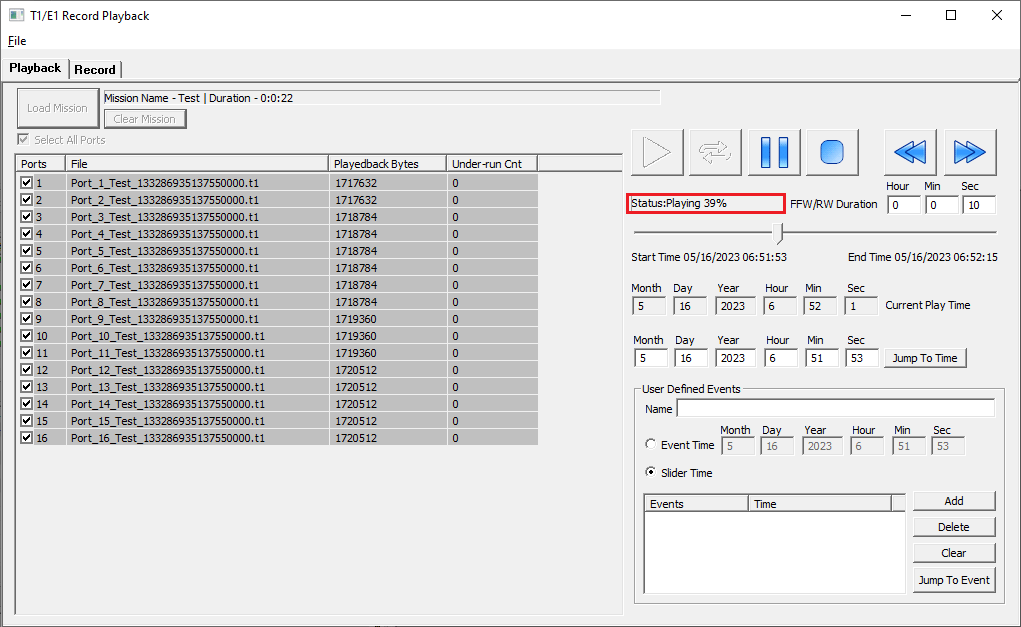 ---
Important Feature
Synchronously Record & Playback live T1 E1 traffic on multiple T1 E1 trunks
Record traffic on all 24 T1 channels (or all 32 E1 channels) for a specified duration or continuously
For large capacity, GL's Octal T1 E1 boards offers to record and playback on up to 192 T1 channels and 256 E1 channels per board. More scalability can be achieved with multiple boards
Schedule recording to auto start recording of T1 E1 traffic on a specified Date and Time (Day, Month, Year, Hour, Minute, and Second)
Recording performed using A-Law, and µ-Law codec
Mark the events as you playback recorded files. Jump to the event directly to start playing back from the marked event point
Most valuable application for critical data analysis in defense and research activities

Back to Newsletter Index Page