Latest Enhancements to GL's T3 E3 Analyzer
Welcome to our latest issue of GL Communications' newsletter providing information and insight into our enhanced T3 E3 analyzer to support T1 E1 frames transmission from within the software in addition to monitoring the data over T3 E3 lines.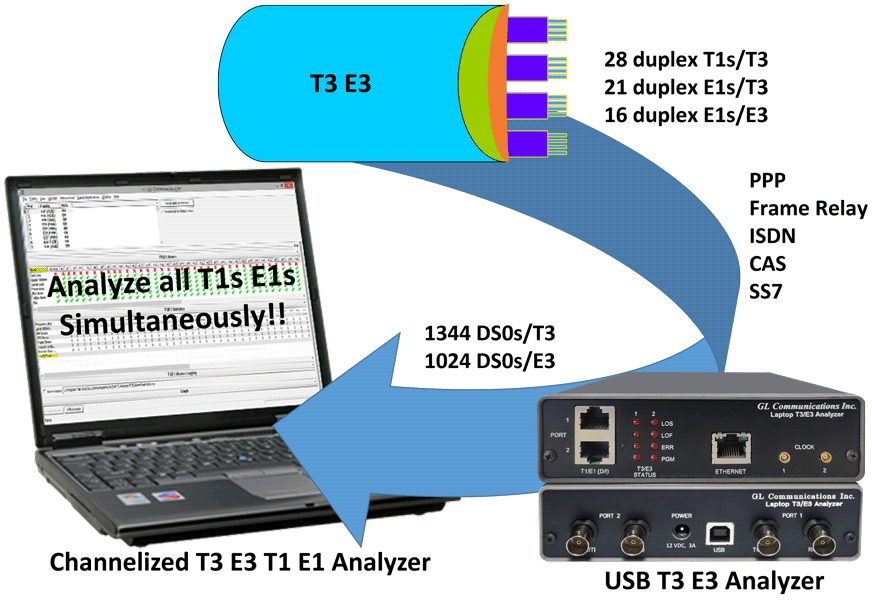 Overview
GL's T3 E3 Analyzer is capable of processing signaling, voice, and data full T3 (DS3) or E3 data streams, dropping and inserting T1 (DS1) or E1, and analysis of HDLC, ATM, Frame Relay, and PPP Protocols. It includes various signal testing capabilities for Unchannelized (Unstructured) and Channelized (Structured) T3 E3 Traffic.

A T3 line is an ultra-high-speed signal capable of transmitting data at rates up to 44.736 Mbps. An E3 signal is situated at the third level within the Plesiochronous Digital Hierarchy (PDH) and has a bit rate of 34.368 Mbps.

The channelized option in the T3 E3 Analyzer uses "software-only" approach to support direct access to all 2x28 T1s or 2x21 E1s or 2x16 E1s on a T3/E3 line per board for analysis and monitoring– all within a single PC, including differing T1/E1 framing formats, physical layer alarms, and payloads.

GL also offers mTOP™ T3 E3 Probe and Rack variants, which includes the USB based T3 E3 Analyzer hardware unit combined with necessary PC interface (Intel i3/i7, 256GB HDD, 8GB memory, Win10 Pro 64 bit), making it suitable for field testing (Probe version) and high density lab testing (Rack version) respectively.
Latest Enhancement
The T3/E3 hardware platform with associated T1/E1 Send Receive Server and Channelized T3 analyzer software can transmit T1 E1 frames over T3 E3 lines and capture, record, and monitor multiple T1 or E1 channels over Channelized T3/E3 links. It can perform analysis of various signal types including voice, digits, tones, fax, modem, and raw data.

The T1/E1 Send Receive Server application within USB T3/E3 analyzer acts as software-based Multiplexer- Demultiplexer application capable of channelization of a T3 signal into 2x28 independent T1 channels and an E3 signal into 2x16 E1 channels. The channelized streams containing T1/E1 frames are forwarded to T3/E3 Channelized T1E1 analyzer software over UDP using GL Message Protocol for analysing frames per channel.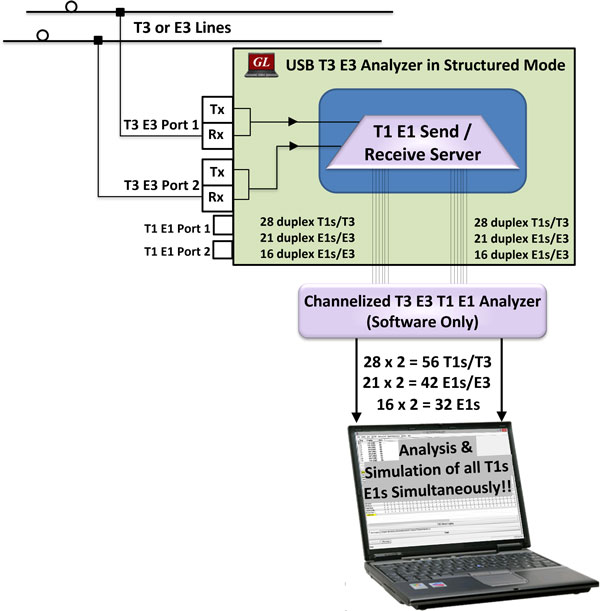 Features
Provides support for channelized T3 E3 to T1 E1
Supports up to 28 T1s and 16 E1s channels per T3/E3 port, in total it supports up to 56 T1s and 32 E1s
Analysis and generation of all 56 T1s (1.544 Mbps each), or 32 E1s (2.048 Mbps each)
Analysis and generation of Fractional T1s and E1s, N x T1s or N x E1s features
Supports monitoring and generation of T1/E1 alarms in channelized T3/E3 lines
Comprehensive analysis and generation of voice, data, fax, protocol, analog, and digital signals, including echo and voice quality testing
Supports Protocol Analysis and simulation of all structured protocols – HDLC, ISDN Analysis over T3E3 Signals (56 T1s), CAS, and more
Extracting T1s/E1s from multiple T3/E3 ports is supported.
Physical Layer analyzer to monitor T3/E3 and T1E1 line alarms and send SNMP traps to monitoring applications.
For comprehensive information on the application, please visit our
T3 E3 Analyzer
web page.

Back to Newsletters Page