Newsletter: GL Announces ISDN & T1 E1 Physical Layer Monitoring Software
Welcome to another April 2016 issue of GL Communications' newsletter providing information and insight into our ISDN Network Surveillance & T1 E1 Physical Layer Monitoring Software.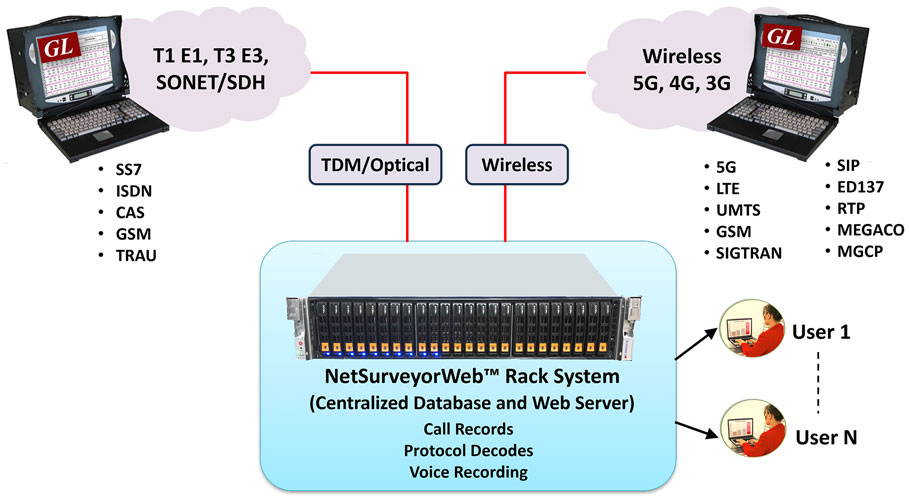 Overview
GL provides a variety of solutions for network wide monitoring and surveillance. GL's Network Monitoring Solutions using NetSurveyorWeb™ for TDM networks cover the following:
TDM and Optical Network Monitoring and Surveillance System (passive / non-intrusive probes) - SS7, ISDN, GSM Abis, TRAU
Digital T1 E1 Line Monitoring, Test, and Diagnostic System
GL's NetSurveyorWeb™ is based on a scalable and flexible architecture. It is used in conjunction with GL's Protocol Analyzer probes to non-intrusively monitor from one or many testing locations. GL's protocol analysis probes feed data to a centralized database (Oracle) in real-time for further analysis. The probes provide instant visibility into the performance and operation of TDM, VoIP, and Wireless networks. The NetSurveyorWeb™ client application then locally or remotely facilitates to view records from the database using a simple web browser.
---
Hybrid Network Surveillance SIP-TDM (ISDN/SS7)
---
T1 E1 Physical Layer Monitoring
Physical Layer monitoring is also available using the same capture probes. The layer 1 alarms and statistics are sent to the centralized database along with the protocol information of the call or as a stand-alone service. GL's NetSurveyorWeb™ provides easy viewing of the entire network or the option to drill down to a specific interface. Alarm timestamping, developing alarm trends and trigger-based actions are all features of the product.
---
ISDN Layer Monitoring
---
Key Performance Indicators (KPIs) and Reports
KPIs provide the user a graphical view of the collected data. These generally will show network summary information, but can also be used to view specific "events of interest". GL's NetSurveyorWeb™ provides a very flexible SQL-based query design for KPI configuration. This allows even the most complicated of scenarios to be graphed and monitored.
Inbound Vs Outbound Calls
Simultaneous Calls on All Trunks
Trunk-Wise Report
Call Types
Real-time Alarm Notifications
Users can configure the NetSurveyorWeb™ to search for "events of interest". When an event has occurred, the software can be configured to take an action. Actions include sending an e-mail to a Network Administrator or recording the event in the Alarm Log.
Examples: If ISDN-PRI call volume is greater than 90% capacity, send an e-mail to the Network Administrator Or, if 301-555-1212 appears in a CDR, then log event in the Alarm Log Or If T1 E1 link is down then send an E-mail alert.
Reports Scheduling
NetSurveyorWeb™ can be configured to send daily, weekly and monthly reports.
Example: Every night send an e-mail containing a report showing the number of inbound vs. outbound Calls entering a specific location.
---
Important Applications
Comprehensive analysis from overall network health to detailed protocol monitoring
CDR, fraud detection and location, remote protocol analysis and troubleshooting, real-time signaling monitor, traffic optimization engineering, and statistics
Determine actual call signaling routes to verify network functionality under all situations including congestion and loss of SS7 nodes
Revenue and billing verification, alarm monitoring, intrusive testing
Quality of service measurements, call trace and recording

Back to Newsletter Index Page